A 2020 EDlection Cheat Sheet: Recapping the 48 Key Races, Winners and Campaign Issues That Could Reshape America's Schools and Education Policy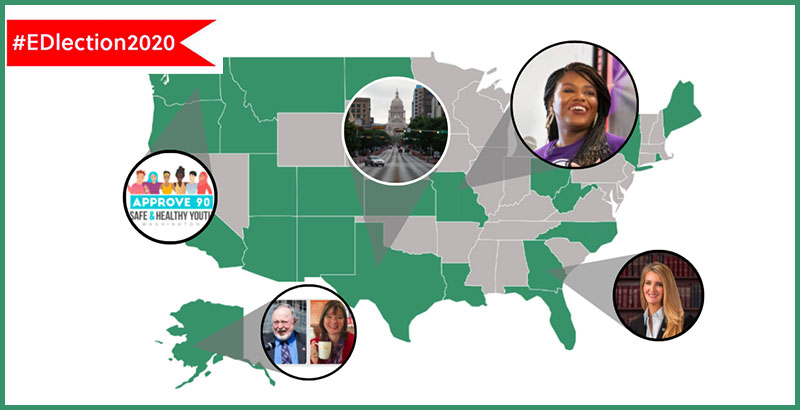 EDlection 2020: Follow our analysis as additional winners are declared at The74Million.org/Election — and get the latest results, news and investigations delivered straight to your inbox by signing up for The 74 Newsletter. 
While it was the outcome of the presidential election that had the nation on edge through election week until Joe Biden was finally declared the winner on Nov. 7, contests up and down the ballot in 2020 will have long-term consequences for education coast to coast. In the coming months, governors and state legislatures especially will play a pivotal role in determining how to steer schools through the public health and economic crises of the pandemic.
That's why we've curated 48 contests from the federal, state and local level with key implications for students, teachers and families, and why we're reporting both the outcomes and the those that remain too close to call. Among the races we've been watching: A first-ever ballot proposition on sex education in Washington state that critics decried as "school porn" but voters approved; a school board election in New Orleans to determine the fate of a highly watched district that remains largely undecided; and the victory by former Colorado governor John Hickenlooper, whose education background runs deep and who became one of the few Democrats to unseat a GOP incumbent for U.S. Senate.
Here's the full rundown of the 2020 votes that mattered most to educators; further down you'll see a full archive of our Election Week livechat, which included rolling updates on candidates, votes and the national conversation:
North Carolina: In a state on which Democrats had pinned their hopes this election cycle, voting results turned out to be anything but a blue sweep. Incumbent GOP Sen. Thom Tillis claimed victory over his Democratic challenger state Sen. Cal Cunningham in a tight race that Cunningham waited a week to concede (read our recap of the U.S. Senate race). And while Democratic incumbent Gov. Roy Cooper earned a second term (read our summary of the governor's race), Republicans sustained their majorities in both chambers of the state's General Assembly, which spells at least two more years of divided government (read our NC legislative recap). One bright spot for Democrats: political newcomer Ricky Hurtado outpolled an incumbent GOP candidate to become the first Latino to win a seat in the North Carolina state House (more on Hurtado's race). Republican Catherine Truitt, an education reformer and online university chancellor, won her race for state superintendent of public instruction (see our coverage of the contest).
California: 2020 was the year of the ballot proposition in the Golden State. Voters turned down a measure to end the state's ban on affirmative action (see our summary of the Prop. 16 vote), and a proposition that would have reversed a four decades-old tax law — and spelled new revenues for education — was defeated after a tight vote (read our coverage of what the loss means for California schools). At the municipal level, the state's Bay Area split over measures to let teens cast ballots, with Oakland lowering the voting age to 16 for school board elections while San Francisco rejected a similar measure (read our full story on the two measures). In Los Angeles, a costly campaign for school board has ended in a draw, with one candidate backed by the teachers union and one supported by charter advocates each winning a seat (read our story on the L.A. Unified board race). And in news heartily welcomed by school district leaders, voters approved a $7 billion bond measure that will pay for facilities improvements and new technology, among other things (read our recap of the bond vote).
White House: Joe Biden was elected the 46th president of the United States, pushing past the 270 electoral votes needed to win the White House as additional states were called (read our updates on the presidential contest & how Black and Latino youth fueled Biden's win). But as the dust clears from additional legal action by President Donald Trump, most experts believe that President Biden will assume office on Jan. 20 facing a divided Congress. As Thomas Toch, the director of FutureEd, a think tank at Georgetown University, warned, "There's no mandate momentum here." The composition of the Senate will also determine whether Biden would have to scale back his sweeping education agenda and whom they'll approve as the next secretary of education (see our coverage of predictions for the next education secretary).
Colorado: In a victory widely celebrated by Democrats, former Colorado governor John Hickenlooper defeated Republican incumbent Cory Gardner to win a seat in the U.S. Senate Tuesday evening (read what the flipped seat may mean). And through a ballot initiative, Centennial State voters approved an increase on smoking and vaping product taxes to provide pandemic relief funds for K-12 schools and preschool for the state's 4-year-olds beginning in 2023 (see our coverage of the vote).
U.S. Senate: Is it time to get better acquainted with Sen. Richard Burr? The education community expects Washington's Patty Murray, ranking member on the education committee, to take over as chair of the education committee if the Democrats assume control of the Senate. But now, needing to win both runoff elections for Senate seats from Georgia, that is far from certain. If Republicans retain control, North Carolina's Burr is in line to become chair, even though he stepped aside from leading the intelligence committee because of an investigation over a stock sale (read our story on the future of the HELP committee). Rand Paul of Kentucky — an advocate for abolishing the Department of Education — could also move into the chairman's position. Either way, a Biden education agenda would not be nearly as well received as it would have been if the oft-predicted "Blue Wave" had come to pass (read our story on how the makeup of the Senate could affect Biden's education agenda).
New York: Democrats achieved a long-shot supermajority in the state Senate, even after election night initially seemed to go Republicans' way. As the 1.87 million absentee ballots that Empire State voters cast this year were counted, Democrats pulled ahead in several key races, delivering their party the seats necessary to override the governor's veto pen (read why the supermajority could be a boon for education budgets). At the federal level, Democrat and former New York City principal Jamaal Bowman, with no major party opposition after upsetting 16-term Congressman Eliot Engel in July, stamped his ticket to the U.S. House of Representatives (read our full recap).
Georgia: Democrats' hopes of reaching a 50-50 split in the U.S. Senate hang on two runoff elections in the Peach State, after candidates in neither race surpassed the 50 percent threshold needed to claim victory. In January, incumbent candidate and HELP Committee member Republican Sen. Kelly Loeffler will face Democrat Rev. Raphael Warnock, who secured the largest share of Election Day ballots (read our summary of their contest), and GOP Sen. David Perdue will look to defend his seat against Democratic challenger Jon Ossoff. In the meantime, the state will conduct a full by-hand recount of its presidential race ballots, Georgia's secretary of state announced. At the local level, the Gwinnett County school board race delivered stark changes to a board that only saw its first Black representative in 2018. In a contest largely seen as a referendum on race in the county, two candidates of color won seats on the five-member board, and the race of a third narrowly missed unseating a longtime incumbent (check out our full recap of the school board race).
Texas: After picking up a dozen seats in the state House of Representatives in 2018, Democrats failed to flip enough seats this Election Day to gain a majority (read our TX legislative roundup). San Antonio voters passed a ballot proposition funding a pre-K program that serves disadvantaged families (read our recap of the PreK 4 SA vote).
Alaska: U.S. Rep. Don Young, a 47-year veteran of the House of Representatives and a legend of Alaska politics, fought off education activist and former educator Alyse Galvin to win his 25th term. Then hours after election results were finalized, the 87-year old announced over Twitter that he had tested COVID-positive (read our full recap of the U.S. House race, and the congressman's health).
Louisiana: Just four years after the state returned New Orleans schools to the control of an elected board, all seven school board seats were up for election this year. The results? Still largely undecided. Two races were declared, while the remaining five will head to a Dec. 5 runoff (read our full recap of the school board race).
Ohio: A ballot measure levying tax revenue for Cleveland schools appeared to be on its way to approval, giving the district extra money to handle the COVID-19 pandemic and avert the massive cuts a defeat would have brought (read more in our full recap of the tax levy).
Arizona: Two years after teachers in the state walked out for better pay during the 2018 #RedForEd protests, Arizona voters approved the Invest in Education Act, a ballot measure that could raise $1 billion for teacher salaries and school budgets through a tax on top income-earners (learn more with our recap of the measure). In the state legislature, Republicans retained control of both chambers, erasing Democrats' hopes of a possible double flip (read what the results could mean for Arizona schools).
Washington: Incumbent Chris Reykdal, a Democrat, has been reelected as Washington state's superintendent of public instruction over Republican challenger Maia Espinoza (see our summary of the state superintendent race). A key division in the race was the Referendum 90, which requires the state's public schools to provide students with comprehensive sex education. On Tuesday, it became the first-ever sex education mandate to be passed by voters through a ballot measure (read our recap of the controversial vote).
Rhode Island: Republican political newcomer Barbara Fenton-Fung outpolled Rhode Island's powerful Democratic House Speaker Nicholas Mattiello, but it's progressives in the state who are celebrating. As Democrats maintain strong control of the state House, many liberals cheer the chance for new chamber leadership, hoping it may lead to more education funding (read the recap of the House Speaker's race).
Montana: Republican Rep. Greg Gianforte defeated Democratic Lt. Gov. Mike Cooney in the bid for Montana governor Tuesday night — a win many advocates fear threatens public schools given Gianforte's past record promoting private education (read our recap of the gubernatorial contest). Also in Big Sky Country, Republican incumbent Elsie Arntzen held onto her position as Montana superintendent of public instruction, in a race that was a rematch of her 2016 contest with Melissa Romano (see our write-up on the superintendent's race).
Missouri: In a race where school reopenings were a top issue, Missouri voters elected Republican Gov. Mike Parson to a second term (read our recap of the governor's race). In the state's most Democratic-leaning district, Cori Bush — a pastor, nurse and Black Lives Matter activist — became Missouri's first Black congresswoman in a landslide win (more on Bush's victory). At the local level, St. Louis voters delivered a win for pre-K through the approval of a ballot proposition to fund early education (read our piece on the measure).
Florida: In a largely symbolic change, Florida voters chose to amend their state constitution this Election Day to specify that "only a citizen" can vote (read our recap of the ballot measure). In the Palm Beach area, voters sent Democrat and fourth-generation educator Omari Hardy to the state House after a commanding victory against Republican challenger Danielle Madsen (see our coverage of the race).
U.S. House: Speaker Nancy Pelosi could lead a House with the thinnest majority in 20 years. Democrats lost six seats, while the Republicans gained seven. A handful races remain too close to call, but membership of the education committee is coming into focus. Democrat Susan Wild in Pennsylvania's 7th district defeated Republican Lisa Scheller. Meanwhile, Republican Jefferson Van Drew, from New Jersey's 2nd district, held onto his seat, defeating Democrat Amy Kennedy, a former middle school history teacher who married into the Kennedy family. A tighter margin means Pelosi will have to work more with moderate Republicans and ensure details of major bills are negotiated with caucus leaders before they reach the House floor. Throughout the Trump administration, the education committee has occupied itself with investigations into how Education Secretary Betsy DeVos conducted business. But under a Biden administration, the adversarial tone will likely be replaced with appeals to party unity.
Maine: Maine Sen. Susan Collins, a moderate Republican whose seat was widely seen as endangered, won reelection to a fifth term after outpolling Democratic challenger Sara Gideon. Collins's victory is key to the GOP retaining control of the Senate (read our summary of Collins's clutch win).
New Mexico: A strong majority of the New Mexico electorate voted in favor of a bond package to appropriate $156 million for public higher education, tribal schools, and schools for the visually and hearing-impaired (read more about the vote).
Oregon: In Multnomah County, home to the city of Portland, the passage of a ballot proposition means that an income tax on the top 10 percent of earners will fund 7,000 free pre-K seats for the county (read our recap of the ballot measure result).
North Dakota: Superintendent of Public Instruction Kirsten Baesler handily won reelection for a third term overseeing the education of about 120,000 students, the third-lowest state enrollment in the nation (read our coverage of the race).
Idaho: Republican Julie Yamamoto, a teacher and principal who recently retired after a 32-year career in education, won a commanding victory over her Democratic opponent in a race for the Idaho state House (read our recap of the state House contest).
Kansas: Former teacher and school administrator Brenda Dietrich, a Republican endorsed by the Kansas National Education Association, won a seat in the Kansas state Senate (read our summary of the state Senate race). And Stephanie Byers, a retired band teacher, made history as Kansas's first transgender legislator, and the nation's first transgender lawmaker of Indigenous ancestry, winning a seat in the state House (read our recap of Byers's victory).
Utah: Utah Lt. Gov. Spencer Cox, a Republican who made education and boosting school funding a core tenet of his campaign for governor, claimed victory after outpolling his Democratic opponent Chris Peterson (read our summary of the gubernatorial contest).
West Virginia: Republican Gov. Jim Justice easily won reelection for a second term over Democratic challenger Ben Salango, despite two teacher strikes and a controversial bill that allowed charter schools to open in the state during his tenure (read the full story).
Washington, D.C.: After a crowded race, voters in the nation's capital have added four new members to a board of key education advisors, and at least three of them have expressed interest in revisiting the city's controversial mayoral control model (read our recap of the race and its implications).
---
Election Week Flashback — Here's our full archive of The 74's Election Week liveblog, tracking the candidates, vote tallies, campaign buzz and national conversation from November 2020:
EDlection 2020: Follow our analysis as additional winners are declared at The74Million.org/Election — and get the latest results, news and investigations delivered straight to your inbox by signing up for The 74 Newsletter. 
Get stories like these delivered straight to your inbox. Sign up for The 74 Newsletter