Progressive Black Lives Matter Activist Cori Bush Scores House Victory in Missouri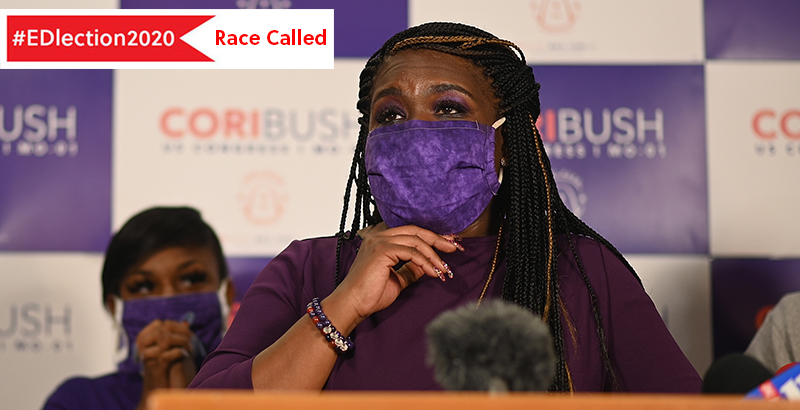 Welcome Cori Bush to "The Squad."
Bush — a pastor, nurse and Black Lives Matter activist — is the latest progressive to upend the political career of a well-established moderate Democrat. She became Missouri's first Black congresswoman Tuesday, winning in the 1st Congressional District, the state's most Democratic-leaning region, according to the Associated Press.
"This is definitely a night to remember," Bush said during her acceptance speech, after capturing an overwhelming 84 percent of the vote. "This has been a historic day from the beginning to the end."
Bush was expected to join the likes of New York's Alexandria Ocasio-Cortez and Minnesota's Ilhan Omar after securing a primary defeat this summer against two-decade incumbent William Lacy Clay, whose family has held the congressional seat since the tail end of the Civil Rights Movement in 1969. Education wasn't the cornerstone of her campaign, but she's tied one of her key issues — criminal justice reform — to classrooms by vowing to "end the school-to-prison pipeline."
Protests in Ferguson, Missouri after a police officer killed Michael Brown in 2015 have been credited for motivating Bush's political career. After George Floyd was killed at the hands of a Minneapolis officer in May, she promised to "defund the police and refund our social services."
"Don't like this idea? Well, we don't like dead Black & Brown bodies & broken families at the hands of those sworn to protect us," Bush tweeted. "The police have failed at fixing themselves—so we're going to do it."
However, she hasn't offered public comments on the recent wave of protests demanding police-free schools, a movement that gained steam after the Minneapolis school district terminated its contract with the city's police department. Her campaign didn't respond to requests for comment on the issue.
Instead, her campaign website proposes ending the "school-to-prison pipeline" by "increasing teacher pay and adjusting the student to teacher ratio so that our children get the proper attention and learning they deserve."
Other education priorities include a goal to "eliminate all $2.6 trillion in college debt," expand Pell Grant eligibility to students who are undocumented or incarcerated and incentivize high school certificate programs to "train a new generation of skilled workers without college degrees."
Support The 74's year-end campaign. Make a tax-exempt donation now.