Democrats Achieve Long-Shot Supermajority in New York State Senate, Potentially Creating School Funding Boon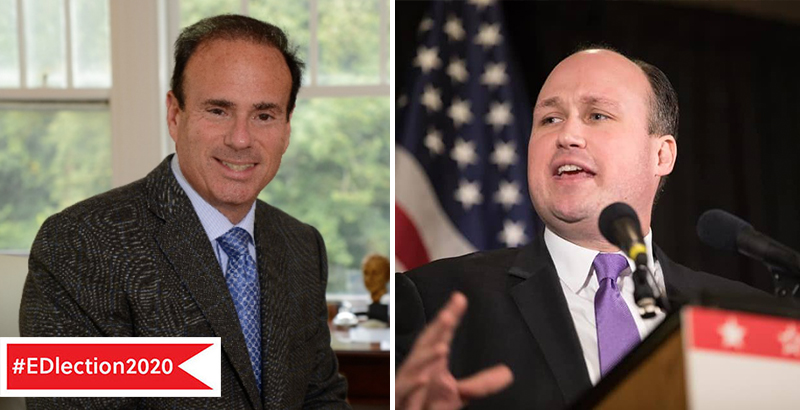 Updated, Nov. 30
On Nov. 24, Pete Harckham proclaimed victory over Republican rival Rob Astorino, securing Democrats a veto-proof supermajority in the New York state Senate. His win followed on the heels of a handful of other closely contested races, including Michelle Hinchey in upstate New York, Jeremy Cooney in Rochester and Jim Gaughran on Long Island. While hopeful, party leaders considered a supermajority a long shot soon after the election, even as absentee ballots began to steadily erode GOP leads in key districts. A number of Democrats who claimed seats have expressed support for increases to public school funding amid the pandemic, including by taxing the state's wealthiest residents, progressive measures opposed by Gov. Andrew Cuomo. 
2020's KEY EDUCATION VOTES: See our full coverage of the 46 races that could reshape America's schools following Election Day — and get the latest updates on state policies and students' challenges during the pandemic by signing up for The 74 Newsletter. 
Election night seemed like a success for New York Republicans, with GOP candidates not only pulling ahead in enough contested state Senate races to stave off what some had hoped would be a Democratic supermajority, but also taking back seats in Albany's upper chamber.
Voters, however, returned about 1.87 million absentee ballots statewide this year, according to the New York State Board of Elections, and those votes are beginning to turn the tide in certain districts, leaving some wondering if the state could have experienced its own "red mirage." Absentee ballots, cast in far greater numbers this year because of the pandemic, have skewed heavily Democratic across the nation.
Going into the Nov. 3 vote, Democrats needed just two more seats in the 63-member Senate, barring defections, to secure a supermajority. While Republican and Democratic party leaders are still unclear on what 2020's outcome will ultimately be for the state Senate overall, most agree that a supermajority remains a long shot.
"If we gain three [seats] upstate and lose three downstate, no, it doesn't give you a supermajority," Democratic state Chairman Jay Jacobs told The 74 Friday. "If you save some [seats] on Long Island, it just might."
According to the New York Times, Democrats have won 28 seats and Republicans have won nine, leaving 26 races too close to call.
Had it been achieved, a Democratic supermajority would have cost Andrew Cuomo, the state's moderate Democratic governor, his veto power. That, in turn, could have ushered in major changes for school funding, as lawmakers try to pay for the precautions necessary for sending kids back to school amid the pandemic. Several of the bills up for consideration would have delivered that money to schools by taxing the state's wealthiest residents. That also appears unlikely now.
Cheryl Couser, the deputy director of public information at the New York State Board of Elections, said that while in the past, absentee ballots have comprised a very small percentage of the state's overall vote, this year has been different.
About 2.4 million absentee ballots were distributed to voters statewide, she said, and the 1.87 million that were sent back — over four times the number received in 2016 — are now in the process of being reviewed and counted. Ballots submitted by military or overseas voters postmarked by Nov. 3 can still be received through Nov. 16 by county boards.
New Yorkers weren't able to start counting absentee ballots until Nov. 6. Since then, Democrats have made gains in eight state Senate districts, and progressives hope that change signals an overall shift in their favor.
Democrat Rachel May of Syracuse saw that movement in her own district: late on the night of Nov. 5, she was in a near-even tie with Republican challenger Sam Rodgers, but she pulled ahead once the absentee votes started rolling in.
"I was expecting to pick up about 8,000 or 10,000 in the absentee votes," she told The 74. "I'm on track to pick up over 12,000. That bodes well for some of my colleagues who are right on the edge."
May, whose 2018 win coincided with the Democrats winning a majority in the Senate after nearly a century of GOP control, declared victory Thursday night.
"All of the races are shifting," she said. "It's changing as we speak."
Jacobs was hopeful about potential Democratic wins but said the jury's still out. "The outcome is dependent on whether or not the margins can be overcome by the heavily Democratic absentee voters," he said. "We'll just have to see."
He's not hopeful about Sen. Monica Martinez's race in Suffolk County, where the progressive is down by a huge margin: 43 percent to Alexis Weik's 57 percent. But he thinks other incumbent Democrats, including Sen. Jim Gaughran in Long Island's 5th Senate District and Kevin Thomas in the neighboring 6th, could win with roughly 500-vote margins.
"Then there's [Andrew] Gournardes in Brooklyn," he said. "There are a lot of absentee ballots to be opened there, we may win that. And [Westchester incumbent] Peter Harkham's in a similar position. A lot of Democratic absentee ballots are in, we just have to count them."
New York State Republican Chairman Nick Langworthy disagrees. "We're confident that we've stopped the supermajority, and we'll make gains," he said. "We're just not sure how many."
Without the supermajority, Democrats would be fighting an uphill battle to get tax-the-wealthy legislation passed.
"Some of [the bills] are, in theory, good ideas," said Jacobs, a longtime Cuomo ally, "but the practicality of it— I think there are unintended consequences." He cited the oft-mentioned possibility of wealthy New Yorkers fleeing the state. The bills under consideration would tax New Yorkers making at least $1 million a year.
"A stronger Republican conference will hopefully slow down some of the aggressive leftward policies we've seen in the last two years," said Langworthy, whose candidates ran on law-and-order concerns and their opposition to the state's recently adopted bail reform.
Last week, when it looked more like Republicans had carried the day, Cuomo said, "It shouldn't have been this close. I believe the Republicans beat the Democrats on the messaging. I think they branded Democrats as anti-law and order. And that hurt Democrats."
Jacobs told City & State New York this week that the agenda embraced by U.S. Rep. Alexandria Ocasio-Cortez and other New York progressives "doomed" Democrats in more purple parts of the state.
Looking ahead, he and May were hopeful that the Democrat who won on the top of the ticket, president-elect Joe Biden, will offer some support in January.
"One way or another, we have to figure out how we're going to fund schools and educate children in every community in New York," Jacobs said.
2020's KEY EDUCATION VOTES: See our full coverage of the 46 races that could reshape America's schools following Election Day — and get the latest updates on state policies and students' challenges during the pandemic by signing up for The 74 Newsletter. 

Get stories like these delivered straight to your inbox. Sign up for The 74 Newsletter