California Ban on Affirmative Action in College Admissions Likely to Stay in Place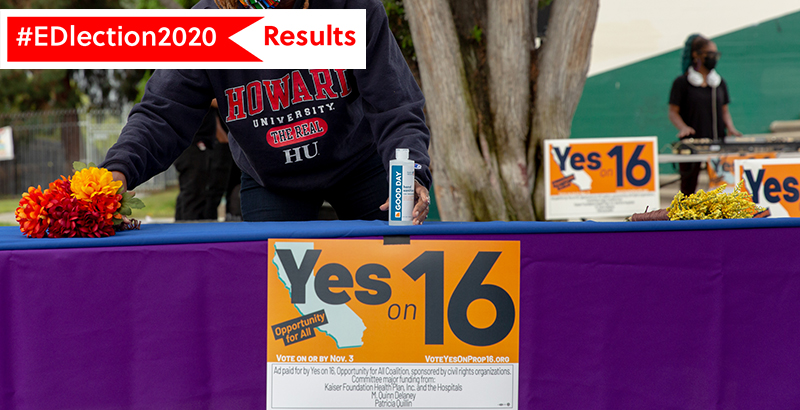 ---
Updated
The effort to reinstate affirmative action in California officially failed Wednesday, with the no vote staying at 56 percent.
Ward Connerly, who led the effort to pass the original ban in 1996, tweeted that voters "said to the Legislature and all who want to impose 'equity' race politics on California, NO, NO, NO! We are very content with our policy framework of prohibiting discrimination and preferential treatment."
California's ban on considering race and gender as a factor in college admissions will likely stay in place, as voters Tuesday leaned toward rejecting a measure that would have reinstated affirmative action.
Proposition 16 would have repealed Proposition 209, which voters approved in 1996. That measure prevented governments and public institutions in the state, including colleges and universities, from considering race and gender in admissions and contract decisions.
With 72 percent of precincts reporting, the measure was losing, with over 56 percent voting no.
The Legislature put the repeal on the ballot over the summer, and Gov. Gavin Newsom endorsed it. Many viewed it as a way to improve equity at a time of nationwide attention to racial disparities.
Earlier this year, the University of California system voted to stop requiring applicants to take the SAT or the ACT for admission, and a state appeals court ruled last week that the system must stop accepting those exams. Without such information on high school students, supporters hoped the return of affirmative action would serve as a vehicle for creating more balance in student enrollment.
A 2019 report from the Campaign for College Opportunity showed a 17 percentage point gap between the proportion of Black and white students completing courses needed to qualify for admission to the state's two university systems. In addition, 63 percent of Black community college students in the state don't earn a degree or a certificate, or transfer to a four-year college, within six years.
But the issue has divided Asian Americans. While many favor such policies as a way to increase diversity, others argue that it would hurt Asian students' chances of gaining admission to top schools.
Asian students already make up the largest share of students in the University of California system — representing 30 percent of the fall enrollment in 2019, compared with 24 percent for white students and 4 percent for Black students.
Opponents argued that college admissions should continue to be based on merit and that affirmative action policies are inherently biased. The measure would have allowed "California's public universities to keep students out because of their race, in order to help students of another race get in," Tom Campbell, the former dean of the business school at the University of California, Berkeley, said on the opposition's website.
Ward Connerly, a former member of the University of California Board of Regents who led the effort to pass 209, said a repeal would contribute to "racial divisiveness" across the country.
While polls showed that most voters supported the concept of greater diversity in the state's colleges and universities, the proposition also confused them because they were asked to remove a law passed almost 25 years ago.
2020's KEY EDUCATION VOTES: See our full coverage of the 46 races that could reshape America's schools following Election Day — and get the latest updates on state policies and students' challenges during the pandemic by signing up for The 74 Newsletter.
Get stories like these delivered straight to your inbox. Sign up for The 74 Newsletter