Dear Adult Leaders: America's Young People Need to Be Seen and Heard. 3 Lessons From 22 Open Letters From Youth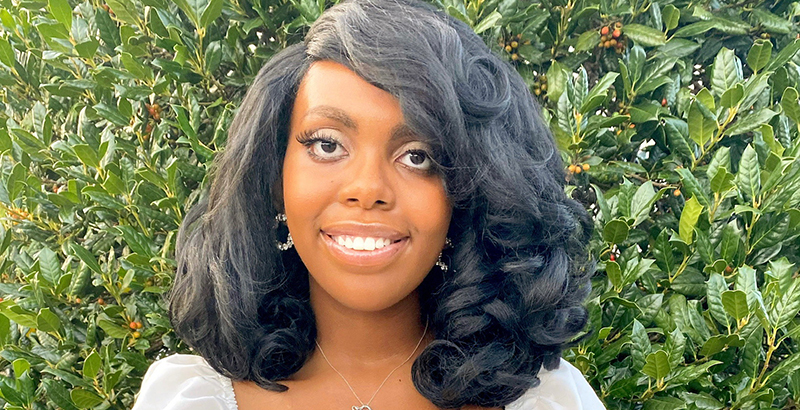 This piece is part of "Dear Adult Leaders: Listen to Youth," a four-week series produced in collaboration with America's Promise Alliance to elevate student voices in the national conversation as schools and districts navigate how to educate our country's youth in a global pandemic. In this series, students write open letters to adult leaders and policymakers about their experiences and how, from their perspectives, the American education system should adapt. Read all the pieces in this series as they are published here. Read our other coverage of issues affecting young people here. 
In March of this year, the advocate in me felt hopeless. I watched college students whisked away from their campuses in uncertainty, K-12 students thrust into virtual learning and educators at a standstill in the midst of all of the adjustments. I watched small businesses in my area close their doors. And if that was not enough, we had a summer filled with nationwide civil unrest. As these problems converged and compounded, I felt as though I failed those that I represent: Black women, students of historically black colleges and universities, and youth.
But after reading the letters from young people published as part of the "Dear Adult Leaders: #ListenToYouth" series, I am hopeful and optimistic about our future. I have seen each youth writer take a challenge and turn it into an opportunity. I have seen each of them create avenues for improvement from the struggle we call 2020.
Having served on many advisory boards and in various student government positions, I thought I was an expert in advocating on behalf of youth. But from these letters over the last five weeks, my eyes have been opened to the perspectives of youth from different age groups, backgrounds and experiences from across the country that all share the desire to be a valued voice in decision-making. In this series, three powerful messages stood out to me.
1 Students represent different ages, backgrounds and perspectives, but they all share a desire to contribute to decision-making — and have real, actionable recommendations.
Over the past few weeks, we have heard realistic suggestions from youth writers. From making our current Eurocentric curriculum more representative of our country's diverse citizenry to having student advisory boards in school systems across the country, the recommendations presented by young people aim to give those affected a voice in the matters most dear to them.
An issue close to me is the need for school systems to provide teachers with adequate training to understand the impact of trauma on student behaviors and how to help students with adverse childhood experiences. Many students may have lost a loved one to COVID or have seen the horrid videos of police brutality this year. These difficult events can definitely have an impact on their classroom performance.
This past summer, I was an intern for the Congressional Black Caucus Foundation. With increasing coronavirus cases and deaths, as well as the rise of racial tensions, some days it was hard for us to focus. But because we had leadership that understood how issues outside of the workplace affected the productivity of the group, we implemented initiatives like "Freedom Fridays" where we could have a day to not only breathe but express our emotions about the world around us. Every young person needs their own "Freedom Friday" of sorts. These letters affirm that we must put a stop to the assumption that issues beyond the four walls — or virtual boxes — of the classroom do not affect students' performance within them. We cannot reduce our youth to test scores or enrollment numbers; they are our future and we must treat them as such.
Read what the students had to say, in their own words:
Dear Adult Leaders: Policies Implemented Without the Input of Young People Are Failing Students. Now, More Than Ever, We Must #ListenToYouth — Gabe Abdellatif, former member of the America's Promise Alliance Board of Trustees
Dear Adult Leaders: Give Students a Break Through COVID-19. Trade Letter Grades for Pass/Fail Scores — Grayson Shaw, 18, Alaska
Dear Adult Leaders: We're Still Teaching Like We're Training 19th Century Factory Workers. Think Beyond Classroom Walls to Nurture Innovators and Thinkers— Brittan Gallo, 16, Rhode Island
Dear Adult Leaders: Stop Pushing for In-Person School. Provide Every Student, Especially the Underprivileged and Indigenous, Equal Access to Resources for Remote Learning — Nyché Tyme Andrew, 17, Alaska
Dear Adult Leaders: Give Students an Organized Platform to Discuss Hard Subjects — Patton Byars, 17, South Carolina
Dear Adult Leaders: Here are 3 Simple Things Educators Can Do to Help Engage Students More During Remote Learning — Alexa C.P., 15, California
Dear Adult Leaders: Don't Just Try to Copy-and-Paste In-Person Instruction to Online Learning — Margarida Celestino, 18, Maine

Dear Adult Leaders: Incorporate Hands-On, Project-Based Learning to Keep Students Engaged Virtually — Benjamin Brady, Virginia
2 Youth don't dodge the big problems. From racism to mental health, this generation wants to and is prepared to have hard, honest conversations.
Too often, challenging topics like racism and mental health awareness are brief, optional conversations. Topics like the civil rights movement and how to handle stress and anxiety are often discussed for about 30 minutes in the classroom before moving on to the next task of the day. But this generation is demanding an end to that. We have recognized that these issues affect students on a daily basis and deserve more attention from the education system.
One recommendation I support is having a Black history curriculum that does not just talk about slavery and well known figures like Rosa Parks, Martin Luther King, Jr., and Barack Obama. There are, sadly, modern-day examples of racism that would help students who don't pay attention to the climate of our country understand the unfortunate reality that racism and bigotry are not a thing of the past.
Growing up, my grandmother always had a Black history program at her church. Each year, I would help her in some way, whether it was cutting out pictures for educational posters, or helping her set up the sanctuary on a Saturday afternoon. One of my favorite Black history month memories is when my church's youth ministry allowed us to act as often overlooked figures in African-American history. Activities like these are where I learned about Women's Rights activists like Fannie Lou Hamer and Ida B. Wells. As a student at Hampton University, an HBCU, Black history is all around me. Our campus houses the Emancipation Oak, which is the site of the first official reading in the South of the Emancipation Proclamation and one of our most notable alumni is Booker T. Washington. During my freshman year,I was required to take African-American history. Many of my classmates' eyes were opened because it was the first time they were taught in such depth and beyond the textbook about their own history.
These letters affirm the desire for a curriculum that does not just share what makes America seem perfect, but includes the country's entire — sometimes ugly — history. This history is one that many do not want to address, but by facing our history honestly and holistically, we understand our present much more. We cannot leave it to the world and social media to teach youth the truth. That is the job of the education system.
Read what the students had to say, in their own words:
Dear Adult Leaders: Black Students' Disadvantage Isn't Just in the Achievement Gap. Give Them an Equal Chance to Take Advanced Courses— Ava President, 18, Pennsylvania

Dear Adult Leaders: We Must Understand Our Country's Truthful Past to Shape Our Present & Future. Adopt Honest Standards — Lillian Perriello, 16, Massachusetts
Dear Adult Leaders: Provide Resources By 2022 to Train & Support Teachers to Build School Environments that Can Tackle Racism and Discrimination— Bhavana Akula, 17, New Jersey
Dear Adult Leaders: Enough With the Suicide Prevention Videos. Have Real People Talk to Students About Mental Health — Jena Le, 15, Maryland
Dear Adult Leaders: Access to Mental Health Resources Should Be a Right, Not a Privilege — Agha Haider, 17, Missouri
Dear Adult Leaders: Work with Students to Eliminate Racist Teachings From Our Textbooks & Classrooms — Jazmin Moran, 17, Washington
Dear Adult Leaders: Stop Wasting Time Debating Whether Schools Are Too Politicized. Reform Discipline, Inclusion & Curriculum Instead — Darlene Folas, 18, New Jersey
Dear Adult Leaders: Black Students Want to Escape Their Schools' Oppressive Cultures. Declare Systemic Racism a Public Health Crisis— Christian Gaines, 18, Massachusetts
Dear Adult Leaders: The Fear of Speaking Out About Mental Health Is Persistent. We Need to Reach Out to Each Other — Cecile Stone, 16, Colorado
Dear Adult Leaders: Introduce an Informative Mental Health Class in Every School — Hannah Wyman, 25, Michigan
3 It is critically important for decision-makers to solicit a diversity of youth voices.
It is critical to have my generation in the room. We are unafraid and unapologetically ourselves. We do not take no for an answer without at least a conversation. We turn opposition into opportunity. And those qualities are something that every decision-making body needs.
In the education system and nonprofit sector, it is our duty to uplift and improve the lives of those we represent. What better way to do that than giving them a seat at the table to help us help them?
I think Nyché Tyme Andrew said it best in her letter: "[My school district] is one of the most diverse in the country, but students of color are constantly being let down." Students of color are being disproportionately affected by policies and practices, but many districts are not taking the first step to consult with them and that is the issue.
Similarly, Azariah "Z" Estes stated in her letter that "students are the foundation of schools, so it's critical that we have a seat at the table." And that is simply the point we are trying to get across in this letter series. There would be no school without children to teach, so the education system should want to hear from us. All of us.
Often, superintendents and principals choose their "best and brightest" students to serve on their advisory committees, but we must have all students at the table. Not just the students constantly receiving awards and getting good grades, but also the students that feel that they are left out of these spaces who are just as, if not more, affected by the issues in their district.
Read what the students had to say, in their own words:
In many spaces, I am a minority on several fronts: African-American, female and an HBCU student. This combination of characteristics used to frighten me. I used to wonder how I would be received in male-dominated spaces or in rooms with my colleagues from predominantly white institutions. That was until I realized that my unique experience as a Black woman at Hampton University, from Suffolk, Virginia, was one that was valuable and needed to be heard: My story of being a great-granddaughter of a Negro League Baseball player (who was not allowed on the same field as white people), now in board rooms with some of the country's most well known CEOs; My story of how being raised in church led to my passion for giving and helping others; My story of having my support system push me toward greatness every step of the way; My story of how advocating for my fellow Hamptonians has paved the way for me to represent youth.
I am passionate about environmental justice because in many predominantly Black areas in my city, we have factories that emit pollution that disproportionately affects individuals of color. I am passionate about diversity in the education system because I know first-hand how important it is to see someone that looks like you. Every experience is a puzzle piece that built who I am today and plays a role in how I advocate for others.
This year when I was asked by the Nansemond-Suffolk Branch of the NAACP, to speak on how voting impacts environmental justice, and when staff at America's Promise asked me how I was feeling as a Black woman in America, I was confident that I was not living for myself, I was living to represent those who are not given these platforms. And that is simply what every youth leader is trying to do: To be the voice for the voiceless and hope that they can be heard.
All a youth leader could ever ask for in these spaces is to have the opportunity to have our unique stories embraced and appreciated. On behalf of all of the youth writers: Thank you for allowing us to be seen and heard.
Trinity Woodson is a junior at Hampton University and a member of the America's Promise Alliance Board of Directors.
This series highlighting the perspectives of American youth is in part sponsored by Pure Edge, Inc., a foundation that equips educators and learners with strategies for combating stress and developing social, emotional and academic competencies.
Get stories like these delivered straight to your inbox. Sign up for The 74 Newsletter