Dear Adult Leaders: Black Students Want to Escape Their Schools' Oppressive Cultures. Declare Systemic Racism a Public Health Crisis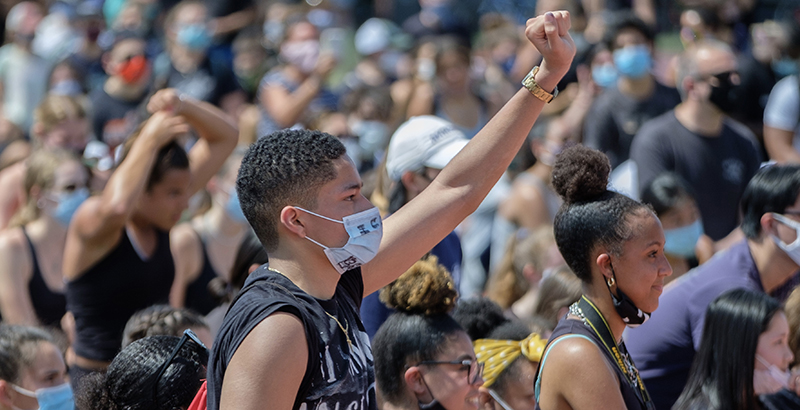 This piece is part of "Dear Adult Leaders: #ListenToYouth," a four-week series produced in collaboration with America's Promise Alliance to elevate student voices in the national conversation as schools and districts navigate how to educate our country's youth in a global pandemic. In this series, students write open letters to adult leaders and policymakers about their experiences and how, from their perspectives, the American education system should adapt. Read all the pieces in this series as they are published here. Read our other coverage of issues affecting young people here. This week's letters focus on the issue of race and racism in schools.
Dear Newton, Massachusetts Mayor Ruthanne Fuller,
Last year, my closest friend faced perpetual racial abuse at school. Teammates called him a "cocky n***er" in the locker room, and he was ostracized by football coaches as they practiced after METCO buses (Boston's integration program) had left. The overwhelming distress and his countless failed attempts to receive support drove him out of Newton North High School. Make no mistake — this is racism. This is a direct removal of integrated Black students from our school.
In May, our police department held a Black father at gunpoint. The officers have yet to issue a mere public apology. By dismissing this incident as a case of mistaken identity, the city is neglecting the fear the Black community faces, as we wonder, "What if that was my father, my brother, my son instead?"
The second-hand trauma, debilitation and fear among the Black community constitutes a public health crisis. We, the Black community, represent approximately 3.5 percent of Newton's population, yet we should not be made an afterthought in the city's agenda.
Your mayor's initiative, Overdue: Confronting Race and Racism in Newton, publicized a much-needed community dialogue in our city. But this initiative must be the starting point, not the finish line. Newton Overdue is only reaching the already educated and racially sensitive community members. This fact inhibits us from transforming into a safer, equitable and more inclusive city. For all it may teach, Newton Overdue alone is not capable of quantifiably remedying the detriments systemic racism has inflicted on Black Newtonians. I am proud to have helped launch the initiative, be a post panelist for Ibram X. Kendi's citywide webinar, and for continuing to grow social media outreach. Still, we deserve more. Newton deserves more.
Systemic racism must be declared a public health crisis to prolong and reinforce the racial justice awakening in our city. The city contributed to the removal of Black residents during the Turnpike's expansion in the 1960s. Despite civil rights lawyer Richard Cole's 2016 advisory for all incidents of discrimination in schools to be reported to both the school's central office and police, administrators have left Black and other minority students vulnerable to further racial abuse as even tenured teachers were never informed of this necessary protocol. Newton's first basic step towards providing reparations to the Black community, whom they have alienated in recent decades, begins with this declaration.
There is not a more urgent time to declare systemic racism a public health crisis. As with whites nationally, white Newtonians' conviction to address this pertinent issue is plummeting. If we remain on the sidelines, content with our work of instituting Newton Overdue, the social justice movement will inevitably die in our city, effectively delaying the progress Newton has deserved for generations.
I lost one of my closest Black friends, someone I considered a brother, from my school to communal racial abuse that was so toxic, it forced him to leave after 10 years in the Newton Public Schools. I, and my Black peers, should not be waiting for the day we graduate to escape this city's toxic environment. Please move further than standing in solidarity with us, and be the leader that begins to heal the detachment and loss we feel living in this otherwise thriving community.
Wholeheartedly,
Cristian Gaines, 18
Newton North High School
Newton, Massachusetts
This series highlighting the perspectives of American youth is in part sponsored by Pure Edge, Inc., a foundation that equips educators and learners with strategies for combating stress and developing social, emotional and academic competencies.
Get stories like these delivered straight to your inbox. Sign up for The 74 Newsletter