Dear Adult Leaders: Incorporate Hands-On, Project-Based Learning to Keep Students Engaged Virtually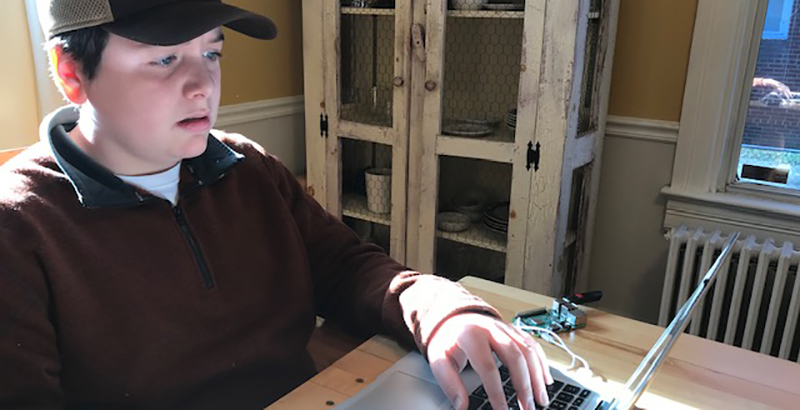 This piece is part of "Dear Adult Leaders: Listen to Youth," a four-week series produced in collaboration with America's Promise Alliance to elevate student voices in the national conversation as schools and districts navigate how to educate our country's youth in a global pandemic. In this series, students write open letters to adult leaders and policymakers about their experiences and how, from their perspectives, the American education system should adapt. Read all the pieces in this series as they are published here. Read our other coverage of issues affecting young people here. This week's letters focus on the issue of providing meaningful learning in a COVID-19 environment.
Dear high school teachers,
While COVID-19 has barred me from entering and learning in a school-building-based environment, I still have the resources to learn from home. And just because I'm at home learning in front of a screen doesn't mean that I can't have as rich of an educational experience as when I was going to school in-person. It's critical for teachers — now more than ever before — to include hands-on learning during virtual schooling.
Virtual learning has been mostly fine in my experience but many people don't feel the same way. Many children in my community are feeling alone and separated from others. My school has addressed this issue by allowing students to sign up for the chance to work in the school with faculty and other students in smaller, scheduled groups. Many students don't have access to technology, so my school loaned laptops to all students in the district before the school year started. This gave students that aren't as fortunate an opportunity to work from home and use a device that enables them to do school work. Other schools should learn from this approach to ensure all students have the opportunity to engage in meaningful remote learning.
Schools should also incorporate more hands-on and project-based learning to further enhance the experience that students have during virtual learning. Many students, myself included, work better when we can work with our hands. Some of my classes incorporate this hands-on philosophy regularly. In biology, we are able to do various experiments at home that teach us about different topics. But many of my classes lack this hands-on experience. During English class, we have to stare at a computer screen while the teacher explains to us what we will be doing over the next two hours. After about 30 minutes, my brain doesn't register the information and I find myself dozing off. If they could just give us 30 minutes to read a book or do a school-related activity, we could concentrate more and it would remove some of the stress that comes with being a high school student.
There are a number of creative ways to keep students engaged. No matter where you live, most people have a window. A teacher could give students a 10-minute break to look out their window and document what they see. This minuscule amount of time would give students a break from school, let them clear their minds, and simultaneously practice their observation and communication skills.
I could ask any number of faculty members or even go to the superintendent but the person who can change this problem is the teacher. The principal or superintendent could mandate any number of rules and regulations, but the choice on how to teach eventually boils down to the teacher and the teacher only. If at the end of every week a teacher set aside 20 minutes to talk with students about what they did well during the week and what they can improve on, it would vastly improve the experience of school for me and various students in my school.
Sincerely,
Benjamin Brady, 14
Wakefield High School
Arlington, Virginia
This series highlighting the perspectives of American youth is in part sponsored by Pure Edge, Inc., a foundation that equips educators and learners with strategies for combating stress and developing social, emotional and academic competencies.

Support The 74's year-end campaign. Make a tax-exempt donation now.