Dear Adult Leaders: Stop Wasting Time Debating Whether Schools Are Too Politicized. Reform Discipline, Inclusion & Curriculum Instead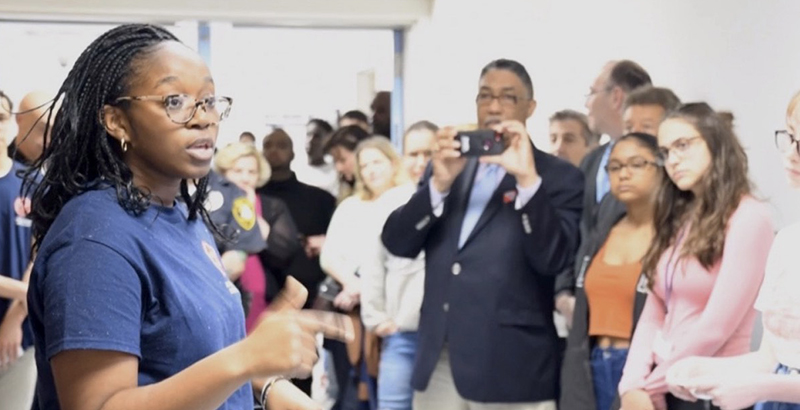 This piece is part of "Dear Adult Leaders: #ListenToYouth," a four-week series produced in collaboration with America's Promise Alliance to elevate student voices in the national conversation as schools and districts navigate how to educate our country's youth in a global pandemic. In this series, students write open letters to adult leaders and policymakers about their experiences and how, from their perspectives, the American education system should adapt. Read all the pieces in this series as they are published here. Read our other coverage of issues affecting young people here. This week's letters focus on the issue of race and racism in schools.
Dear Angelica Allen-McMillan, Acting Commissioner, New Jersey Department of Education
American schools are inherently political. So spending time debating whether they have become too political is a gross misuse of resources. Instead, we should be dedicating our time and money to schools to work toward anti-racism by reforming disciplinary practices, equitable access to resources, and diverse staff and curricula.
The COVID-19 pandemic has only amplified this issue across the country. We see this in how the debate to reopen schools has been correlated more with party politics than safety and merit. We see this in President Donald Trump's attempt to accuse public schools of "extreme indoctrination." And we see this in the attempts to nullify progressive projects like The 1619 Project through the "1776 Commission".
The ever-increasing movement to depoliticize schools is ultimately a disservice to our society with inherently hypocritical goals. Let there be no mistake; schools are political. They always have been. What they teach is political. Who they teach is political. Who they don't teach is political. Everything down to the when and where is political. And there is not a more significant example of this than racism in America.
When white supremacists created laws to criminalize black people's education, they subjected blacks to subordinate citizens. When Southern Segregationists designed separate and unequal schools, they reinforced a racists society. When curricula are intended to be "color-blind" yet maintain the white savior complex, they severely misconstrue our perception of race.
American public schools have been routinely used as places to reinforce bigotry, discrimination and bias. And let's be frank, this is not a tendency of the past. Schools continue to be facilities that are racialized and politicized. Consider how the achievement gap, the higher rate of discipline among students of color and the segregation of schools among white and black students have persisted since Brown v. Board of Education. These trends are not just disturbing. They are potent in reinforcing an unequal society. These conditions have led to the increased income gap between white and black families, the funneling of black bodies into the carceral state and the maintained racial strife in America.
We cannot ignore these facts, in the same way that we cannot neglect how schools — at the very least — passively allow this to happen and — at worst — empower this. Debating if schools have become too political is a gross misuse of our time because they were designed to be political. Instead, we should recognize schools' power in enabling inequality, acknowledge their impact, and design anti-racist solutions that reflect the changes we would like to see.
There are many solutions for fighting racism in schools.
First, I urge you to support efforts to integrate New Jersey public schools. Integrating schools equalizes resources (like quality teachers and technology) and fosters crucial interactions among students from diverse backgrounds.
Additionally, I strongly recommend a review of disciplinary policies across the state. We must end "zero tolerance" policies, stop depending on the juvenile justice system to discipline students, and address the alarming punitive rates of students of color. These efforts must be supplemented by a shift towards restorative justice programs, increased funding for counseling departments, and other intervention services.
Lastly, I would like to see efforts to standardize inclusive curricula and efforts to hire diverse staff members — like guidance counselors and teachers — who can best serve the interests of students of color.
The rise of the Black Lives Matter movement has increased our awareness of phenomena like the school-to-prison pipeline. But awareness is not the goal; action is. Awareness should only be used as a tool to stimulate action within our schools. The solution will not be easy, and it certainly will not be one-size-fits-all. But right now, you have a historic opportunity to create change and have access to countless students who are willing to be allies.
So I challenge you to deepen your awareness of the practices and policies that contribute to reinforcing racism. More importantly, I challenge you to take action to terminate our current systems of racism. I challenge you to encourage equitable access to resources through integrating New Jersey public schools, reduce the disproportionate rates of discipline by emphasizing mental health resources, and ensuring that faculty and curricula reflect our diversity and values.
Warmly,
Darlene Folas, 18
Swarthmore College
West Orange, New Jersey
This series highlighting the perspectives of American youth is in part sponsored by Pure Edge, Inc., a foundation that equips educators and learners with strategies for combating stress and developing social, emotional and academic competencies.
Support The 74's year-end campaign. Make a tax-exempt donation now.