Dear Adult Leaders: We Must Understand Our Country's Truthful Past to Shape Our Present & Future. Adopt Honest Standards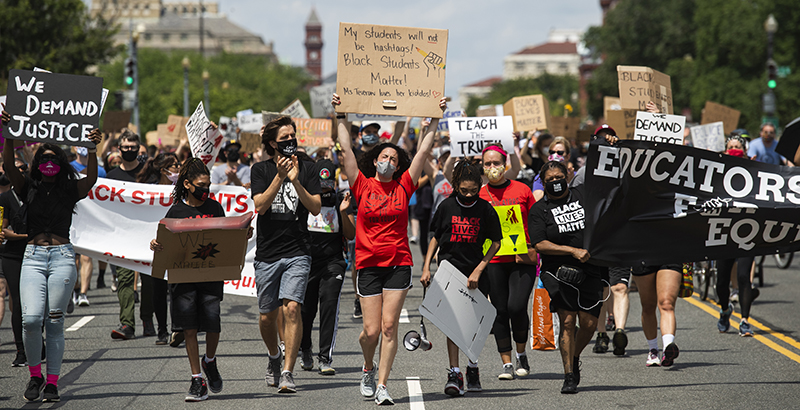 This piece is part of "Dear Adult Leaders: #ListenToYouth," a four-week series produced in collaboration with America's Promise Alliance to elevate student voices in the national conversation as schools and districts navigate how to educate our country's youth in a global pandemic. In this series, students write open letters to adult leaders and policymakers about their experiences and how, from their perspectives, the American education system should adapt. Read all the pieces in this series as they are published here. Read our other coverage of issues affecting young people here. This week's letters focus on the issue of race and racism in schools.
Dear Massachusetts state board of education members,
In the last half century, America's demographics have rapidly diversified, but in many schools, the curriculum does not reflect these changes. As classrooms and our nation become more diverse, it is essential that schools become more inclusive and representative in how they teach our shared history. To do so, state boards of education like ours should adopt social studies standards that encourage an honest, inclusive teaching of our nation's history and that highlight the contributions and experiences of people of color.
Every country's history includes aspects that are brutal or even disgusting. Often, the first inclination is to sweep these parts of our nation's history under the rug. American growth and establishment, for example, sacrificed many Native American lives and civilizations. Yet, to this day many Americans are unaware of the sacrifices endured by Native Americans and the everlasting effects of American colonization.
America's southern economy heavily relied on slavery and founded a system where African Americans were inferior. The mindset was and is a precursor to many systems prevalent in American society determinedly affecting our black communities.
Throughout history, minority groups: Irish, Italian, German, Japanese, Chinese, Spanish, Muslim, were all discriminated against and ostracized from society. Each group had to prove their alliances to America through hard work, sacrifice and loyalty. Confronting these parts of our history can be difficult and uncomfortable for students and teachers alike.
Yet one concept history guides us all to is unity. Americans cannot look at any other American and not see the common blood, sweat and tears our ancestors endured to create the identities we share and the country we live in. Part of what defines a nation is how it reckons with and teaches its past, including the parts that some would rather ignore or forget. Either we honestly confront and teach our past, or we risk creating a generation of young people ignorant of history and vulnerable to continuing the same bigotry, brutality and discrimination of past generations.
In my experience, many ethnic groups' histories are hidden from American history books because they do not neatly fit into the traditional image of the American experience. I come from an immigrant background and am forever grateful for my American identity. I was privileged to receive my citizenship where so many individuals sacrifice everything or even die in pursuit of it.
Originating from a different country allowed me to see that America's greatest and most unique strength is its diversity. America truly embodies the image of a melting pot but we cannot celebrate our strength when we do not acknowledge the process it took to attain it. Everyone deserves to be heard because each and every story is a piece of gold supporting the vast melting pot.
Massachusetts is overall a very diverse state compared to many others. I look at my peers from all different backgrounds representing diverse segments of history. Yet, when we reflect on our textbooks to receive the truth, we are only taught from a very narrow-minded perspective. Different races may be included but their perspectives are absent. Their experiences in pursuit of achieving the "American Dream" are invalidated and hidden. The history of my classmates are deemed insignificant and overlooked. My classmates have a right to their history being known because they too are American.
The image of America has changed: our classrooms are more racially and ethnically diverse now than ever before. A complete and truthful history deserves to be included in textbooks and taught in classrooms because the struggles minorities faced were not only real, they shaped the nation we are today.
By adopting social studies standards that encourage an honest exploration of history, state boards of education will help my generation come to terms with our history. The purpose is not to sow hate, but to foster a shared understanding of the struggles and sacrifices that paved the way for the privileges we now enjoy.
We must understand how our country's past continues to shape our present and future. A truthful accounting of our history should humble all young people and help us to come together to move closer toward a more equitable and fair society. This starts with ensuring that all Americans, including racial and ethnic minorities, are represented in our history books and lessons.
State boards of education have the power to instill in young Americans a shared and complete understanding of our nation's history. I urge all states to adopt standards that do not shy away from the truths that have for too long been left in the shadows.
Sincerely,
Lillian Perriello, 16
Wilmington High School
Wilmington, Massachusetts
This series highlighting the perspectives of American youth is in part sponsored by Pure Edge, Inc., a foundation that equips educators and learners with strategies for combating stress and developing social, emotional and academic competencies.
Support The 74's year-end campaign. Make a tax-exempt donation now.