12 Important Education Storylines We'll All Be Reading About in 2018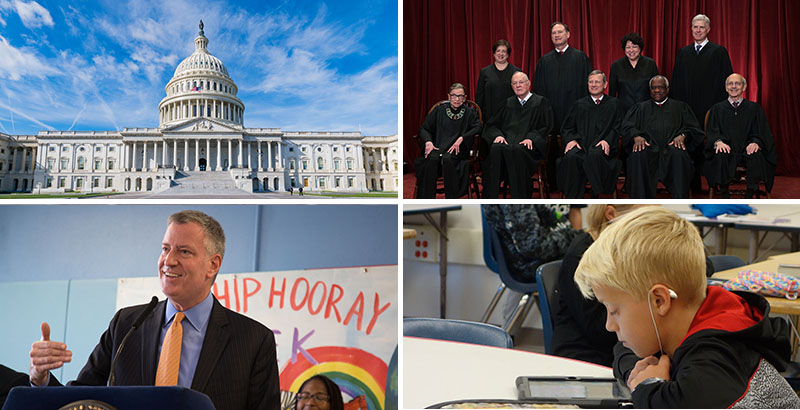 This is a quick primer of 12 groundbreaking education storylines we'll be following in the new year. For a look back at our most memorable coverage from 2017, here are our three most popular flashbacks:
Now, on to 2018: 
1. TEACHERS UNIONS BRACE FOR JANUS
The Supreme Court on Feb. 26 will hear Janus v. AFSCME, the third case in recent years that asks the justices to consider whether forcing public employees, like teachers, to pay union dues violates their First Amendment rights. Unions say that fees some workers pay (dues, minus funds for political activity) prevents "freeriding" employees from benefiting from union-negotiated contracts without paying their fair share and makes it easier for governments to negotiate with one representative of all employees. Those opposed to so-called agency fees say that even standard bargaining issues, like salary and layoff policy, are inherently political and that forcing employees to support unions is unfair.
A decision will come by late June, and it seems likely the justices will side with those opposed to mandatory dues, given that four justices decided that way in the 2016 Friedrichs case, and opponents of dues are "cautiously optimistic" about newly added Justice Neil Gorsuch's stance. The impact on teachers unions — key forces in Democratic politics — could be far-reaching, and some unions are already bracing for a loss in membership and dues. — Carolyn Phenicie
(Be smarter: 5 things to know about the Janus case)
2. REFORMING PUERTO RICO'S SCHOOLS
Although the majority of Puerto Rico's schools are back up and running after Hurricane Maria devastated the island last fall, work to repair the island's tattered education system has just begun. In 2018, Puerto Rico Education Secretary Julia Keleher will continue an ambitious campaign to reform schools that have struggled for years.
Even before hurricanes closed all 1,113 schools, Keleher had begun to restructure the island's singular education department, which she said was strained by bureaucratic inefficiencies. But the hurricane offered a clean slate reminiscent of education reform efforts in New Orleans after Hurricane Katrina in 2005. Though recovery efforts will likely span years, Keleher has focused on dividing the department into seven regions where officials can make decisions locally. Also at the top of the list is a plan to implement project-based learning at schools across the island. — Mark Keierleber
(Be smarter: Thousands of displaced students have already flown to Florida)
3. AMERICA'S 'ABSURD' HIGH SCHOOL GRADUATION RATE
In 2018, we'll no doubt see school districts, states, and perhaps even the U.S. Department of Education tout the latest uptick in high school graduation numbers. Yet we seem to have reached a tipping point when it comes to such statistics. With a surge of reports of grade inflation and rigged diplomas on the one hand, and an increase in expensive college remediation on the other, skeptics are looking beyond the numbers to ask: What's the real value of a high school diploma?
In December, the Fordham Institute issued a report asking that very question the same day the Education Department released data showing the national high school graduation rate had reached a record high of 84.1 percent in 2016. Fordham called the situation "absurd and untenable," its analysis bookended by two seemingly serendipitous events in the weeks surrounding it: a scandal at a Washington, D.C., high school in which half of its graduates missed three months or more of class, and an investigative report out of Chicago that revealed an alarming difference between the number of students graduating and those passing yearly tests. — Andrew Brownstein
(Be smarter: 3 indicators that prove high school diplomas are losing value)
4. CONGRESS'S LOOMING HIGHER EDUCATION DEBATE
Two years after crafting the Every Student Succeeds Act — the bipartisan K-12 lovefest law now turned perpetual point of contention — lawmakers are moving to a rewrite of the Higher Education Act. The reauthorization will touch on contentious issues such as student loans and grants, regulations of for-profit colleges, and sexual assault on campus. A GOP-authored bill passed out of the House Education and the Workforce Committee in December and is expected on the House floor in early 2018.
The real action, though, is in the Senate, where bipartisan dealmaker dream team Lamar Alexander and Patty Murray will craft what ends up being much closer to the final bill. House Republicans, after all, can pass anything without Democrats' support, but this bill will require the backing of at least nine Democrats to get through the Senate. Alexander and Republicans will want to roll back federal rules, but Murray has expressed reservations about giving too much latitude to the Trump Education Department, given her displeasure in how it's handled ESSA implementation. — Carolyn Phenicie
(Be smarter: GOP higher ed overhaul looks to spotlight apprenticeships, competency-based programs)
5. AMERICA'S MOST AMBITIOUS PERSONALIZED LEARNING EXPERIMENT
Rhode Island may be the smallest state, but it has become a national leader for its statewide $2 million personalized learning initiative. Summer 2018 marks the end of the first year of Rhode Island's Lighthouse Schools, three schools awarded grants in an effort to cultivate best personalized learning practices to share with other schools around the state. Some educators have already started visiting these learning labs to see what practices they can bring to their own classrooms, but a more formal process for reflecting on and sharing their work will be developed this summer.
The state is also working on studies due this summer to measure the efficacy of its personalized learning implementations, as well as to see how mentors can prepare teachers for personalized learning environments. Additionally, Rhode Island has teamed up with districts to collect open educational resources to be shared across the state in the fall of 2018. Interest in personalized learning grew significantly in 2017, as large funders like the Chan Zuckerberg Initiative and the Bill & Melinda Gates Foundation contributed millions to supporting these programs and the research behind them. In a recent letter, Mark Zuckerberg emphasized the need to focus on technology that can give students the personalization of an individual tutor, equipped with technology that can let students work at their own pace. — Kate Stringer
(Be smarter: How to do personalized learning well — and why it could be key in narrowing the equity gap)
6. NEW ORLEANS'S NEXT CHAPTER
As Louisiana's Recovery School District completes the process of returning New Orleans schools to a locally elected school board in 2018, the nation's most dramatic modern school reform effort will enter a new chapter. Following a decade of radical change and policy innovation, the performance of the city's mostly public charter schools went from the systemwide equivalent of an "F" to a "C." But 10 years after Hurricane Katrina, school performance flattened and then, in 2017, actually dropped.
Has the urgency that propelled the brave experiment waned? Or will the Orleans Parish School Board forge a strategy that will help the schools push past the plateau? It's a storyline The 74 will follow closely in the new year. — Beth Hawkins
(Be smarter: New book recaps New Orleans's education breakthrough)
7. SEARCHING FOR ANSWERS ABOUT NYC'S TURNAROUND PROGRAM
Despite continuing coverage over the past years, a great deal remains unknown about Renewal schools and how the students in them are learning. How is the city's hundreds of millions actually spent? What does the Renewal program's administrative structure — as large as many districts — look like: Who makes decisions, what is City Hall's role in the division of labor, why do many principals hate how the schools are managed? Have Community Schools and their wraparound services for needy students and families helped, hurt, or both? How are they funded? Is Mayor Bill de Blasio's new designation for the 21 Renewal schools that are doing better — now called Rise schools — meaningful, rigorous, arbitrary? How much improvement is reasonable to expect from a long-failing school? What are the success stories?
The early actions and language of de Blasio's next schools chancellor may tell us a lot about the extent to which the administration will double down on Renewal or take a much lighter hand, though it's not clear what its exit strategy would be. Getting answers to the myriad of questions surrounding Renewal in 2018 — as well as understanding what the program means to the ongoing struggle of school turnaround in other places — requires more data and more accounts from those working in the schools and those who recently left them. The goal is to really learn both what makes Renewal tick and how that does or doesn't lead to improvement — and what can. — David Cantor
(Be smarter: Why I'm taking my child out of a Renewal school)
8. THE NEW NATIONAL STANDARD FOR SPECIAL EDUCATION
The Supreme Court last year unanimously rejected the idea that schools are complying with the Individuals with Disabilities Education Act if students with special education needs receive a "barely more than minimal" educational benefit. "When all is said and done, a student offered an educational program providing 'merely more than de minimis' progress from year to year can hardly be said to have been offered an education at all," Chief Justice John Roberts wrote for the court in Endrew F. v. Douglas County School District. Instead, the justices decided, schools should make sure students' Individualized Education Programs are "reasonably calculated to enable a child to make progress in appropriate light of the child's circumstances." The Education Department released a Q&A document to help districts better meet the new standard.
Funding will also be a key conversation this year, as districts will have to absorb the costs of those new and often costly educational benefits. Congress is supposed to provide 40 percent of special education expenditures but hasn't come close to meeting that; in the current year, it's about 15 percent, according to a policy letter from several education advocacy groups. Bipartisan groups of lawmakers have introduced bills for the past several years to boost the federal share of IDEA funding. They've gone nowhere on Capitol Hill, but new education costs post-Endrew could change the calculus. — Carolyn Phenicie
(Be smarter: Everything you need to know about the Endrew decision in 100 seconds)
9. A NEW ERA FOR SCHOOL DISCIPLINE
As the Trump administration puts all Obama-era policies under a microscope for potential revocation, advocates on both sides of the school discipline debate are bracing for big changes in 2018. Already, Education Secretary Betsy DeVos has scrapped similar guidance that had aimed to protect transgender students and survivors of sexual assault. Now, her department is looking at 2014 guidance that had called on schools to rethink punitive school discipline, including suspensions and expulsions, and warned districts that racial disparities in suspensions could violate federal civil rights laws.
While proponents contend the Obama-era guidance protects the civil rights of students who are pushed into the "school-to-prison" pipeline by an overreliance on punitive discipline, critics argue the efforts have prompted chaos in classrooms and actually hurt minority students by disrupting their learning environment. Near the end of 2016, top department officials held meetings with educators and advocates from both sides, though federal officials haven't yet offered public comment on how they plan to proceed. — Mark Keierleber
(Be smarter: Is DeVos near ending school discipline reform?)
10. GETTING SERIOUS ABOUT SOCIAL-EMOTIONAL LEARNING
Research shows that social-emotional learning leads to positive outcomes, from grades to graduation rates, which is why education leaders from the classroom to the federal government are trying to make sure that schools are teaching more than academics to their students.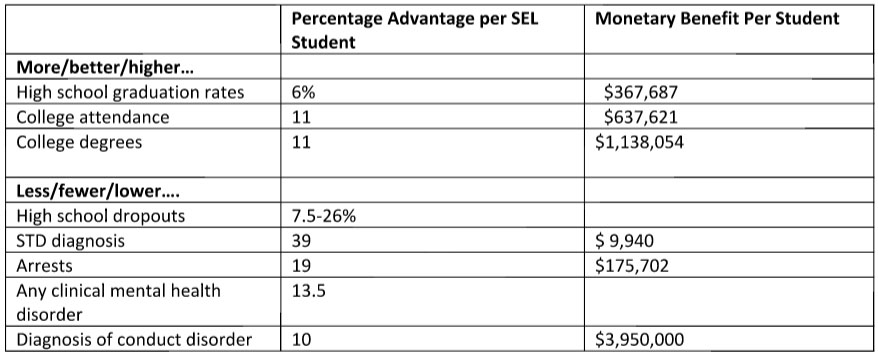 In 2018, leaders in social-emotional learning will continue building upon the research supporting the field, especially when it comes to figuring out how to assess how well schools teach skills like empathy, resilience, kindness, and cooperation. It's an area that's proven challenging, and especially at the federal level, states shied away from linking assessment of SEL to accountability. In the spring, watch for reports from the Collaborative for Academic, Social, and Emotional Learning, which will share findings designed to give schools practical tools for measuring SEL competencies. Making sure SEL programs are culturally appropriate and emphasize equity will also be 2018 focus areas. Additionally, leaders will look for ways to support teachers' social-emotional competencies through professional development and teacher training, an area where SEL has so far come up short in research, policy, and practice. — Kate Stringer
(Be smarter: Study shows that 83 percent of principals don't know how to measure the success of SEL efforts)
11. ESCALATING POLITICS SURROUNDING SCHOOL DESEGREGATION
School segregation and integration will continue to occupy a spot near the top of education reporters' agendas as the 50th anniversary of the landmark Fair Housing Act of 1968 — sometimes referred to as the Civil Rights Act of 1968 — approaches.
After Nikole Hannah-Jones's marquee reporting for This American Life and The New York Times Magazine, 2016 and 2017 saw a flurry of coverage — much of it lacking in context. Expect that to change in 2018, as a press corps that now knows more about the topic begins asking more nuanced questions as legislative and legal pushes to desegregate the nation's schools move forward. The 74 will track the lawsuits, model legislation, and other renewed integration efforts — some of them backed by powerful groups that oppose school choice — and we'll also be watching to see whether those pushes in fact take aim at schools where black, brown, and Native American students are flourishing. — Beth Hawkins
(Be smarter: The desegregation war heats up)
12. ILLINOIS' SPIRALING PENSION CRISIS
Most states have struggled over the past decade to respond to the shock and awe of paying for their workers' pension plans. For the most part, the extent of the problem hasn't taken hold of the public imagination despite innumerable warnings from bankers, financial publications, state politicians, and think tanks, along with a steady heightening of the stakes each year. Given the very large spike in baby boomer retirements expected in coming years, the consequences could be enormous and affect nearly every area of domestic policy.
The issue has gained some traction in a few states' electoral races. In California, which faces nearly half a trillion dollars in unfunded liabilities, pension payments have figured in the gubernatorial campaign. The crisis is clearly being felt in Illinois, where pension payments have risen from 5 percent of the state budget in 2011 to 25 percent this year. Every household in the state owes $27,000 in pension debt, according to the Illinois Policy Institute, and the state's total $130 billion pension liability has begun to significantly erode funding for social services and education. The problem is so acute in Chicago that it came near to sparking a strike and forcing schools to close.
These issues will play out against the context of a bitter governor's race, as well as the shifting relationship between Chicago and the state capital, Springfield, and between factions within the capital. Added to the mix: ruinous school funding shortfalls, a new Chicago superintendent, the uncompromising Chicago Teachers Union, and the final year of Gov. Rahm Emanuel's term. — David Cantor
(Be smarter: How states fail their teachers in retirement)
Support The 74's year-end campaign. Make a tax-exempt donation now.