States Skip Social-Emotional Learning for Accountability Under ESSA — but That Doesn't Mean It's Not in Their Plans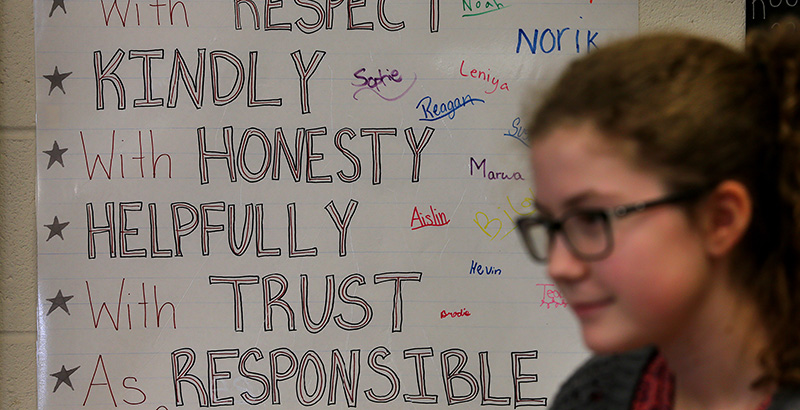 The Every Student Succeeds Act's notorious fifth indicator left the door wide open for states to measure student achievement in ways other than academic, but when it came time to choose, social-emotional learning skills were largely ignored.
That's according to an analysis by Education Week, which looked at all the ESSA plans handed in to (though not all approved by) the U.S. Department of Education. Although several states did include school climate surveys, most chose measurements like chronic absenteeism and college and career readiness to paint their more "holistic" vision of student success.
But just because states don't include social-emotional learning as an accountability measure doesn't mean they haven't incorporated it into their ESSA plans. The Collaborative for Academic, Social, and Emotional Learning — CASEL — reported, for example, that Massachusetts will include SEL training in its professional development for teachers, Connecticut will use federal funds to improve learning environments in schools, and South Carolina incorporates skills like "self-direction" and "perseverance" in its graduate framework.
Measuring soft skills like perseverance, empathy, or self-control is not only difficult; it could also prove risky under the harsh spotlight of federal accountability laws, researchers said.
"It's not an easy thing to put into the accountability system if you're not already doing it statewide," Linda Darling-Hammond, president and CEO of the Learning Policy Institute, told The 74 in April. "It makes sense to me that very few states would be incorporating school climate into their accountability systems."
Six states will include school climate surveys as part of their fifth-indicator measurements, Education Week reported. But some of these states will give schools full points for simply participating in the surveys, not on how well school climate improves, The 74 found.
Even though research shows that these surveys accurately capture what goes on in schools, researchers said they worry that linking surveys to accountability could lead schools to feel pressured to game the system, so they aren't punished for poor results.
"The safest thing is to grade schools based on their participation rates," Elaine Allensworth, director of UChicago Consortium on School Research, who has been studying Chicago Public Schools' climate surveys, told The 74. "That's going to be less likely to potentially corrupt the data."
Federal accountability may not be the best place to measure SEL, the Learning Policy Institute said in a report released earlier this year. Although school climate surveys could work as an accountability measure, things like parent surveys, teacher observations of students' SEL competencies, or students' analyses of their own SEL abilities are better left for accountability at the state or local level.
"States should not use measures of students' social and emotional competence for high-stakes accountability purposes, at least for now," the report's authors wrote.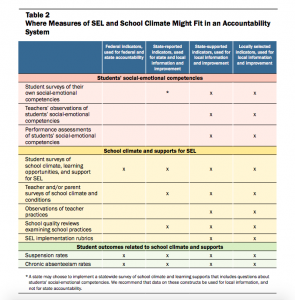 Social-emotional skills have been shown to help improve student academic performance and graduation rates, but they've also proved difficult for teachers to measure on a day-to-day basis, a recent CASEL report shows. "We're very early in the process of developing mature SEL assessments," Clark McKown, a professor at Rush University in Chicago and co-author of the report, told The 74.
The Collaborative for Academic, Social, and Emotional Learning recently sponsored a design challenge for SEL assessments. Of the entries, few proved adaptable for use across America's diverse districts, and many educators showed confusion over the exact definition of SEL.
Get stories like these delivered straight to your inbox. Sign up for The 74 Newsletter