Best Education Articles of 2020: Our 20 Most Popular Stories About Students, Remote Schooling & COVID Learning Loss This Year
By Steve Snyder | December 21, 2020
This is the latest roundup in our "Best Of" series, spotlighting top highlights from this year's coverage as well as the most popular articles we've published each month. See more of the standouts from across 2020 right here.
Any student will forever remember 2020 as the year that the classrooms and campuses closed down. As coronavirus cases surged in the spring — and then again in the autumn — educators, families and district leaders did their best to pivot to a socially-distanced Plan B, building a new system of remote instruction overnight in hopes of maintaining learning and community.
Any education journalist will remember 2020 as the year that all the planned student profiles, school spotlights and policy investigations got thrown out the window as we scrambled to capture and process the disorienting new normal of virtual classrooms. Here at The 74, our top stories from the past nine months were dominated by our reporting in this area, by features that framed the challenges and opportunities of distance learning, that surfaced solutions and innovations that were working for some districts, and that pointed to the bigger questions of how disrupted back-to-back school years may lead to long-term consequences for this generation of students.
As we approach the new year, we're continuing to report on America's evolving, patchwork education system via our coronavirus education reporting project at The74Million.org/PANDEMIC. With school campuses open in some states and not others, with some families preferring in-person classes or remote learning alternatives, and with some individual classrooms being forced to close in rolling 14-day increments with new coronavirus breakouts, it's clear that our education system will begin 2021 in a similar state of turmoil. (Get our latest reporting on schools and the pandemic delivered straight to your inbox by signing up for The 74 Newsletter)
But with the first vaccines being administered this month, we're seeing our first glimpse of a light at the end of this chaotic tunnel — hope that the virus will quickly dissipate, that schools will fully reopen, and that we'll then find a way to help all of America's 74 million children catch up. Here are our 20 most read and shared articles of the year: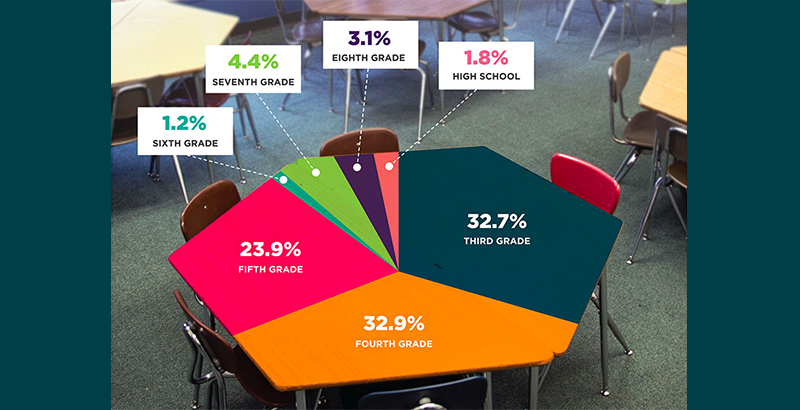 New Research Predicts Steep COVID Learning Losses Will Widen Already Dramatic Achievement Gaps Within Classrooms / By Beth Hawkins
Learning Loss: In the days immediately following the pandemic-related closure of schools throughout the country this past spring, researchers at the nonprofit assessment organization NWEA predicted that whatever school looks like in the fall, students will start the year with significant gaps. In June, they also began warning that the already wide array of student achievement present in individual classrooms in a normal year is likely to swell dramatically. In 2016, researchers at NWEA and four universities determined that on average, the range of academic abilities within a single classroom spans five to seven grades, with one-fourth on grade level in math and just 14 percent in reading. "All of this is in a typical year," one of the researchers, Texas A&M University Professor Karen Rambo-Hernandez, told Beth Hawkins. "Next year is not going to look like a typical year." Read the full story.
The issues of 'COVID Slide', learning loss and classroom inequity appeared regularly on the site through 2020. A few other notable examples from the year:
— Even Further Ahead: New data suggest pandemic may not just be leaving low-income students behind; it may be propelling wealthier ones even further ahead (Read the full story)
— Teaching Time: How much learning time are students getting? In 7 of America's largest school districts, less than normal — and in 3, they're getting more (Read the full story)
— Missing Students: Lost learning, lost students — COVID slide is not as steep as predicted, NWEA study finds, but 1 in 4 kids was missing from fall exams (Read the full story)
— Learning Loss Research: Students could have lost as much as 232 days of learning in math during first four months of largely virtual schooling (Read the full story)
— What History Tells Us: What lasting academic (and economic) effects could coronavirus shutdowns have on this generation of students? Some alarming data points from research on previous disasters (Read the full analysis)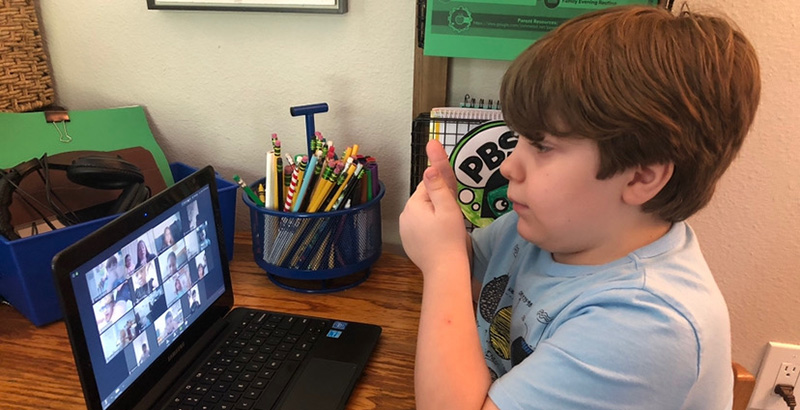 Parents (and Lawyers) Say Distance Learning Failed Too Many Special Education Students. As Fall Approaches, Families Wonder If Their Children Will Lose Another School Year / By Linda Jacobson
Special Education: A number of special education parents said their children didn't receive services during school closures in the spring. That's why, as Linda Jacobson reported over the summer, organizations such as the School Superintendents Association believed lawsuits and due process complaints were on the horizon, and that's why they asked Secretary of Education Betsy DeVos to waive federal special education laws as long as schools are trying to teach students remotely. But experts warned The 74 that there's no proof districts are facing more complaints than usual and that as long as districts communicate frequently with families they're more likely to avoid complaints — even if schools remain closed. Boston University's Nathan Jones, an expert on special education, also stressed that going into this fall, it was important to focus on strong academic interventions to help students regain what they've lost. Read the full story.
— From March: 'Absolutely, I'm worried' — For children with special needs, unprecedented coronavirus school closures bring confusion, uncertainty (Read the full story)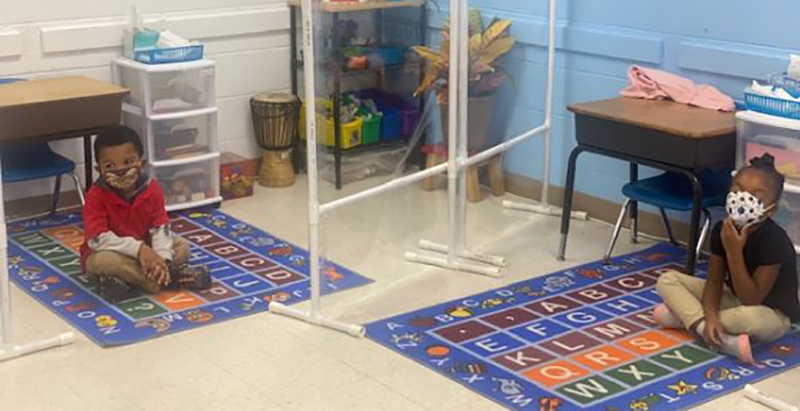 When the Point of the Pod Is Equity: How Small Grants Are Empowering Parents of Underserved Students to Form Pandemic Microschools / By Beth Hawkins
Remote Learning: A six-child school with a focus on Black girl magic. Bilingual materials for a living-room preschool in an English-only state. Lessons rich with art and self-expression for six foster kids. A curriculum built for kids affected by incarceration. The first round of microschool grants announced by the National Parents Union are nothing like the pandemic pods described in one news story after another last summer: Wealthy parents banding together to hire a teacher or take turns overseeing distance learning. The young organization's inaugural grants were intended to support families often failed by traditional schools, so perhaps it shouldn't be surprising that many of the winning proposals center on celebrating underserved students' heritage or meeting specific, frequently overlooked needs. Beth Hawkins talks to several grantees about their kids and their plans. Read the full story.
— Case Study — Pods to Augment Remote Learning: In parks, backyards and old storefronts across Los Angeles, small groups offer children some of what they've lost in months of online instruction (Read the full feature)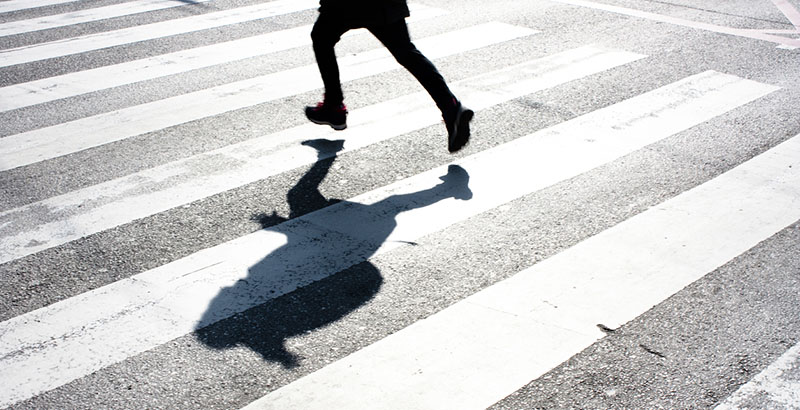 How Missing Zoom Classes Could Funnel Kids into the Juvenile Justice System — And Why Some Experts Say Now is the Time to Reform Truancy Rules / By Mark Keierleber
Discipline: In communities across the country, social workers are walking door to door in search of millions of students their schools have deemed "missing" — a stark reality as districts combat an absenteeism crisis amid the coronavirus pandemic. Despite longstanding "compulsory education" laws that require students to attend school or face punishment — including fines and incarceration in some states — many districts have avoided pushing students into the juvenile justice system for truancy during the pandemic. But as growing evidence suggest that such an approach is counterproductive, some experts worry about what could come next. "Pretty soon, I think that folks are going to start relying on the stick more than they have been," said Rey Saldaña, CEO of the nonprofit Communities in Schools. "That'll be the completely wrong conversation to have because these students don't need truancy court, they don't need fines." Rather than being willfully defiant, truant students are often suffering from homelessness or violence, he said. "They need interventions, they don't need to be seen by a judge." Read the full report.
— Related: Research shows changing schools can make or break a student, but the wave of post-COVID mobility may challenge the systems in ways we've never seen (Read the full report)
— School Finance: Phantom students, very real red ink — Why efforts to keep student disenrollment from busting school budgets can backfire (Read the full story)
— Disenrollment: As families face evictions & closed classrooms, data shows 'dramatic' spike in mid-year school moves (Read the full story)
— Catholic Schools: A glimmer of hope in pandemic for nation's ailing Catholic schools, but long-term worries persist (Read the full story)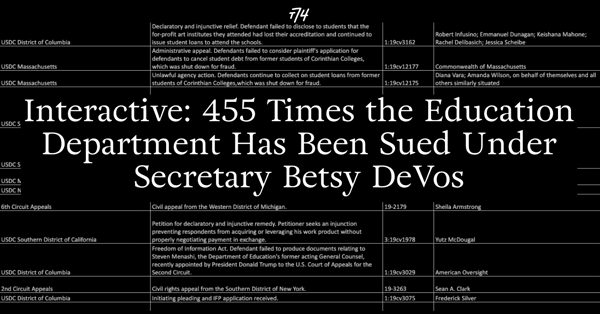 DeVos on the Docket: With 455 Lawsuits Against Her Department and Counting, Education Secretary is Left to Defend Much of Her Agenda in Court / By Linda Jacobson
Department of Education: No education secretary has ever been sued as much as Betsy DeVos. In four years, over 455 lawsuits have been filed against either DeVos or the U.S. Department of Education, according to The 74's analysis of court filings and opinions. Many of the cases, involving multiple states and advocacy organizations, were filed in response to Trump administration moves to reverse Obama-era rules in the areas of civil rights and protections for student loan borrowers. DeVos has always been outspoken about lightening Washington's footprint in education. But in her department's effort to grab what one education attorney called "quick political wins," judges — even Trump appointees — are finding flaws in its approach. One exception might be the revised Title IX policy, which has already sparked four lawsuits, but might be hard for a future administration to tear down. Linda Jacobson has the story.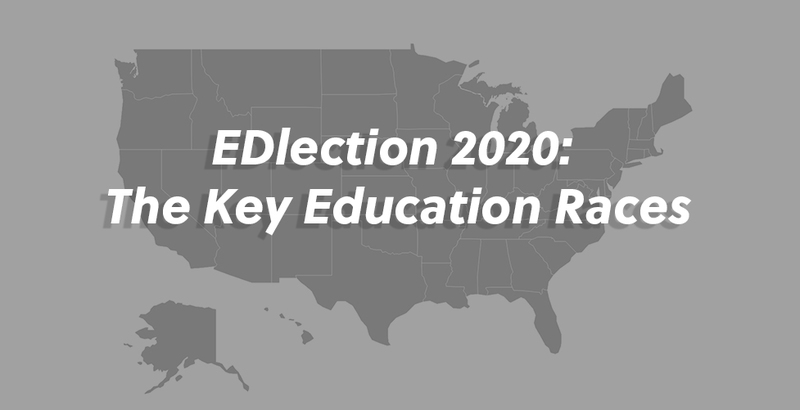 A 2020 EDlection Cheat Sheet: Recapping the 48 Key Races, Winners and Campaign Issues That Could Reshape America's Schools and Education Policy / By The 74 Staff
EDlection: A first-ever ballot proposition on sex education in Washington state that critics decried as "school porn" but voters approved. A school board election in New Orleans, in part a referendum on closing failing schools, that remained largely undecided the week after Election Day. A victory by former Colorado Gov. John Hickenlooper, whose education background runs deep and who is one of the few Democrats to unseat a GOP incumbent for U.S. Senate. While a historic presidential race — and a test of our democracy — fixated the nation, education was on the ballot this unprecedented election cycle. Elected officials, particularly at the state level, will play a pivotal role in steering schools through the public health and economic crises of the pandemic. That's why we've curated 48 federal, state and local races with key implications for students, teachers and families. Here's the full rundown of the 2020 votes that mattered most to education, plus a full archive of our Election Week livechat, which included rolling updates on candidates, votes and the national conversation. Read the full roundup.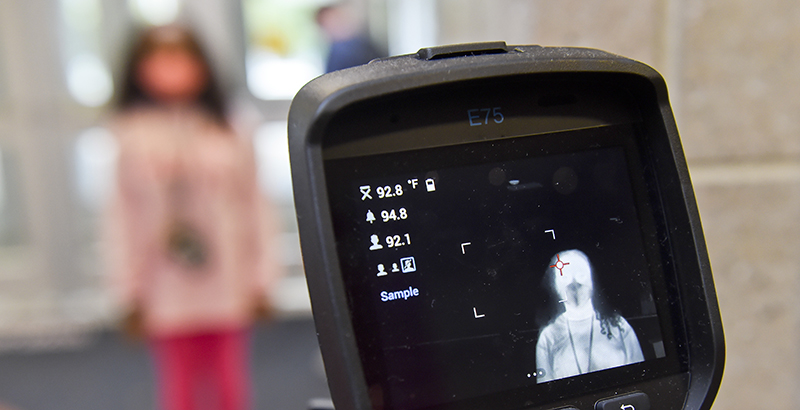 As COVID Creeps into Schools, Surveillance Tech Follows / By Mark Keierleber
Student Privacy: When an Ohio school district saw a "significant increase" in COVID-19 cases among students and staff, officials made the difficult call of reverting to remote learning. But when kids return to class, they'll be wearing badges that will track their every move — part of a pilot program in contact tracing that allows the Wickliffe district to follow students for up to a month and identify who comes into contact with infected classmates. The badges and other high-tech gizmos, including UV light air purifiers and thermal-imaging cameras that purport to detect fevers, have come under fire from student privacy advocates. But company executives and school leaders made clear they're not likely to go away anytime soon — even after the pandemic subsides. "After the initial pushback, people are going to adapt and deal with it," Superintendent Joseph Spiccia told The 74's Mark Keierleber. "Some people would be angry, and after that anger dissipates, I think people generally will end up complying and falling in line." Read the full story.
— Case Study: 'Don't get gaggled' — Minneapolis school district spends big on student surveillance tool, raising ire after terminating its police contract (Read the full story)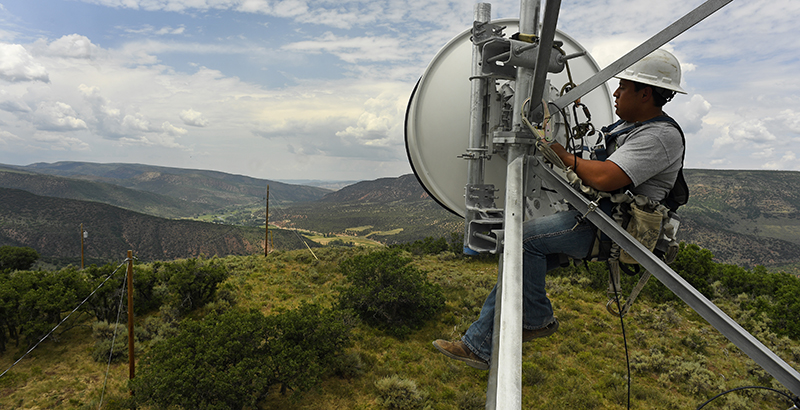 An Education System, Divided: How Internet Inequity Persisted Through 4 Presidents and Left Schools Unprepared for the Pandemic / By Kevin Mahnken
Student Access: When the COVID-19 pandemic spread into American communities, schools adapted by switching to online classes. But millions of families with no or limited home internet can't manage that transition, drastically diminishing educational opportunities for the students who need them most. Local leaders have embraced creative solutions, loaning out thousands of devices and dispatching Wi-Fi-equipped school buses into low-connectivity neighborhoods. But the question remains: Three decades after the internet's emergence as a boundary-breaking technology, how are vast swaths of the United States still walled off from the social, economic and educational blessings that the internet provides? The answer, told to The 74 by experts and policymakers who have worked around communications access since the birth of the internet, implicate both the public and private sectors in a prolonged failure to extend the benefits of modern technology to countless Americans. "I think the large-scale tolerance for inequity in this country gave rise to an inequitable telecommunications system," said one. Read Kevin Mahnken's report.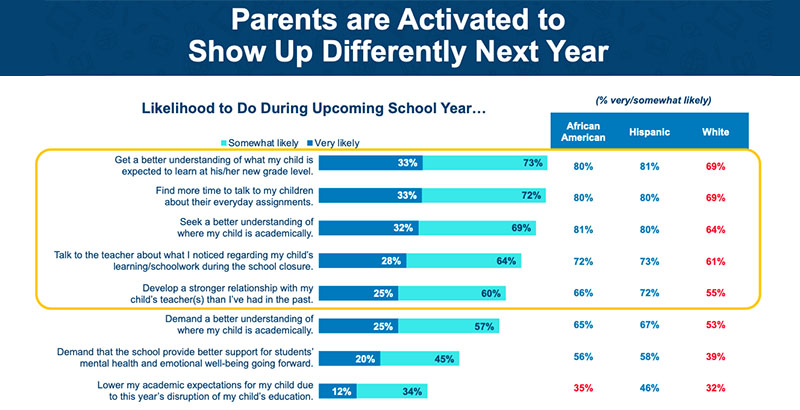 New Poll Reveals Parents Want One-on-One Distance Learning Support From Teachers — but Aren't Getting Much of It / By Beth Hawkins
Parent Priorities: Polling data released this past May from the national nonprofit Learning Heroes found parents were engaged in their kids' distance learning but wanted more contact with teachers, both for their kids and for themselves as at-home learning coaches. Nearly half of more than 3,600 parents surveyed said personal guidance would be extremely helpful, but just 15 percent have gotten it. Only 39 percent said they had a clear understanding of teachers' expectations, and few were getting the texts and phone calls they said are the most effective means of communication. The poll illustrated new implications of a longstanding, fundamental lack of information, which previous Learning Heroes surveys have found feeds parents' near-universal belief that their children are doing far better in school than they really are. As schools plan for eventual reopening, Learning Heroes President Bibb Hubbard told Beth Hawkins, they should carefully consider what parents say is working for them — because while families are giving schools and teachers the benefit of the doubt now, that may not last. "There's a lot of grace right now," Hubbard says. "But I think that's going to change next fall." Read the full report.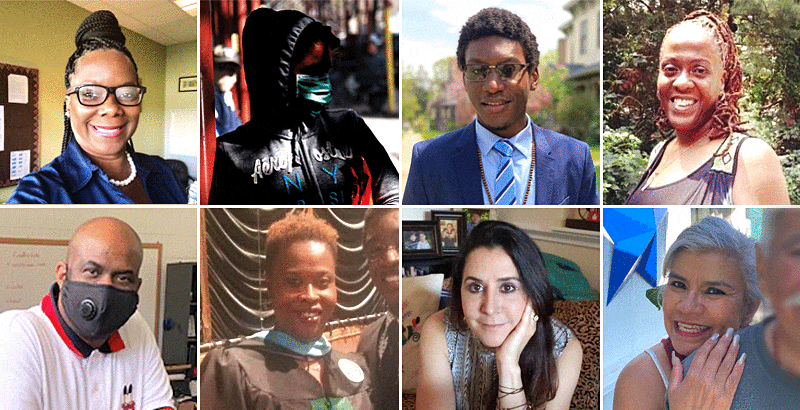 Displaced: The Faces of American Education in Crisis / By Laura Fay, Bekah McNeel, Patrick O'Donnell & Taylor Swaak
Displaced: No two experiences of this pandemic have been the same, particularly when it comes to school communities. When we launched this project in late May, it had been several months since COVID-19 shuttered districts across the country. In what would have been the final months of the 2019-20 academic year, tens of millions of students, educators and parents saw their lives upended overnight. Still half of America's school employees aren't teachers. When the coronavirus pandemic hit the United States, millions of other workers integral to the American education system were similarly uprooted. As the country (and its school communities) continued to navigate its way through a disaster for which it was grossly unprepared, a team from The 74 set out to track how life and work has changed for the diverse universe of characters who make our classrooms work. From parents to teachers, counselors and even district warehouse managers, the pandemic has been a time of unprecedented hardships and challenges. Here: Eight faces and unforgettable stories from across the country that begin to capture the real story of the pandemic's impact on the wider community. See all eight profiles.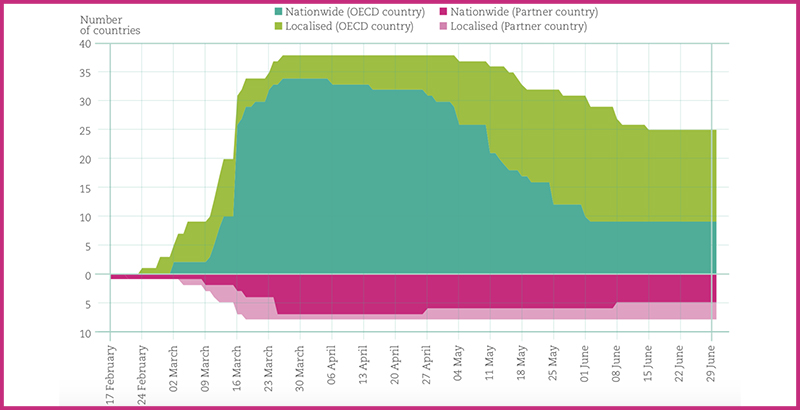 New Report Estimates School Closures' Long-Term Impact on the U.S. Economy at More Than $14 Trillion / By Linda Jacobson
Skills Gap: A paper from economists Eric Hanushek of Stanford University and Ludger Woessmann of the University of Munich presents a sobering prediction of how school closures could impact the U.S. economy for the next 80 years. The paper estimates that the shutdowns could ultimately lead to losses ranging from $14.2 trillion for a third of the school year to almost $28 trillion for two-thirds. That's because "learning loss will lead to skill loss, and the skills people have relate to their productivity," writes international education expert Andreas Schleicher, of the Organization for Economic Cooperation and Development. The U.S., Schleicher said, was actually better positioned than many other nations to make the transition to remote learning. But looking ahead, he said the country could do a better job of directing education spending toward quality instruction and the students who need resources the most. Read our full report.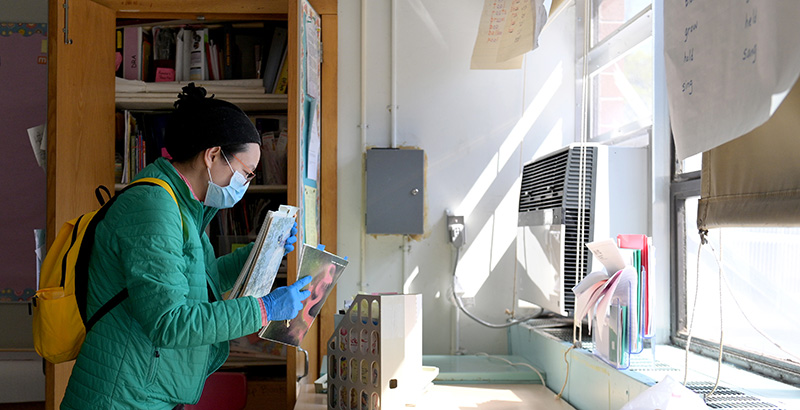 Exclusive: NYC Teachers Union Launches Its Own Investigation of School Building Air Quality Amid COVID Threat, UFT President Says / By Zoë Kirsch
School Safety: Looking to spur the New York City Department of Education to take preventative action on airborne COVID transmission in schools, the United Federation of Teachers announced this past summer that it was taking the longstanding issue of poor ventilation into its own hands. President Michael Mulgrew told The 74's Zoë Kirsch in an exclusive interview this past August that the union was sending its own health and safety workers into 30 "red flag" schools with the worst ventilation systems to do their own air quality testing. The move came as the UFT escalated its criticism of the city's school reopening plan, saying it failed to meet student and staff safety standards on several fronts. Less than half of New York City's roughly 1,400 school buildings are equipped with heating, ventilation and air conditioning systems, which maintain indoor air quality. "One of the biggest risk factors is time spent in underventilated spaces indoors. You want to control the emissions and removal,"said Joseph Allen, who runs the Healthy Buildings program at Harvard's Chan School of Public Health and estimates that 90 percent of U.S. schools are underventilated. A 2000 NYC report said, "The UFT receives more complaints from its members about poor indoor air quality in schools than about any other health and safety issue." Read the full report.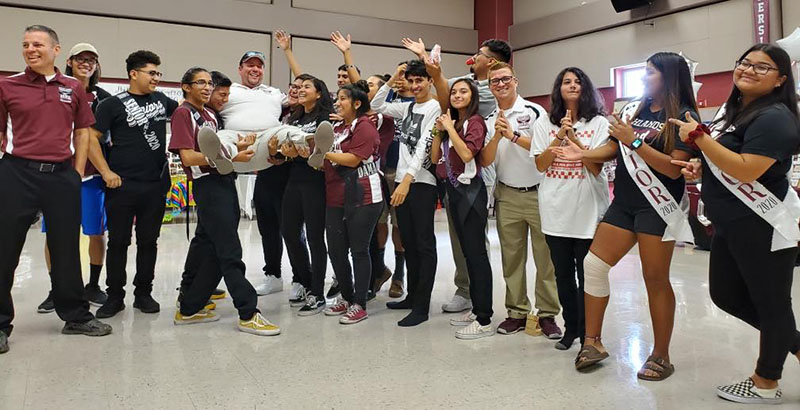 Texas's Missing Students: Weeks After Closures, Schools in San Antonio Still Couldn't Locate Thousands of Kids. How One Band Director Finally Tracked Down His Musicians / By Bekah McNeel
Absenteeism: In its race to locate every student before school adjourned for summer, San Antonio Independent School District relied on faculty members like high school band director Alejandro Jaime Salazar to track them down. It became a daily task for Salazar, as he used every tool at his disposal and relied on relationships forged before coronavirus shut the schools. That included asking student section leaders to make contact with other kids. Once located, Salazar said, "my main priority was to keep in contact with these kids every day." He and other educators told The 74's Bekah McNeel that the hunt for "missing" students revealed the increasing importance of student-teacher connection, engagement and relationships. Read the full profile.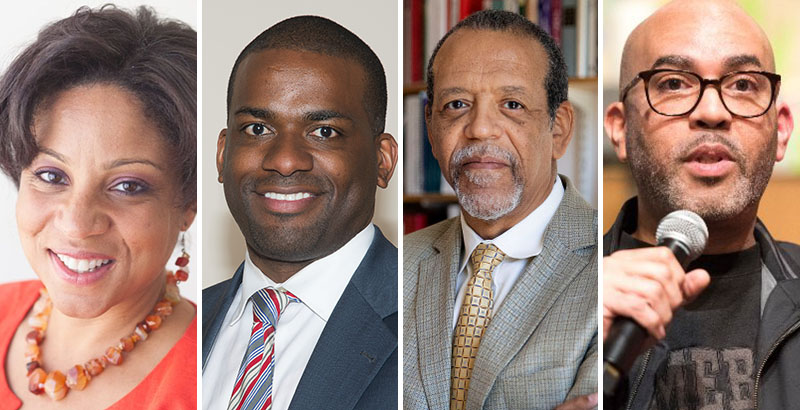 The Achievement Gap Has Driven Education Reform for Decades. Now Some Are Calling It a Racist Idea / By Kevin Mahnken
Equity: For decades, education policy has been shaped largely by an extended discussion of racial achievement gaps, and the lingua franca of that discourse is testing data. A reform coalition of educators, politicians and activists has labored to narrow the academic disparity between white students and students of color, placing the goal at the heart of media debates and state accountability plans alike. But in recent years, influential figures have begun to shift away from the achievement gap. Some say it's more responsible to focus on resource disparities between student groups, even if standardized testing is still a necessary component in school improvement efforts; others go even further, arguing that the notion of an achievement gap is a racist throwback to the age of eugenics. As reformers choose whether to preserve or abandon the idea, some in the Democratic Party — including former educator and soon-to-be-congressman Jamaal Bowman — have grown louder in their calls to abolish high-stakes testing. Read the full report.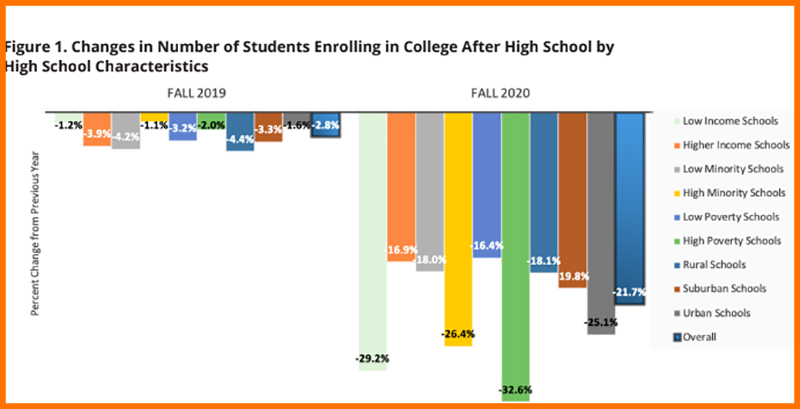 New Data: College Enrollment for Low-Income High School Grads Plunged by 29% During the Pandemic / By Richard Whitmire
Higher Education: Author and 74 contributor Richard Whitmire describes the cratering of college enrollment rates among 2020 high school graduates as a tragedy whose outline is just becoming visible. That picture grew clearer and more distressing in December with the release of new data from the National Student Clearinghouse Research Center showing college enrollment declined for low-income students at nearly double the rate of higher-income students — 29.2 percent versus 16.9 percent. The decrease for all 2020 high school grads, measured for the first time since COVID-19 wreaked havoc on the nation's schools, is also alarming: a nearly 22 percent drop this year versus a 2.8 percent drop for the class of 2019. The crucial difference, Whitmire writes, is that those from more affluent and middle-class backgrounds will likely make their way back to college once the pandemic subsides, while the trajectory for low-income students may have changed forever. Read the full report.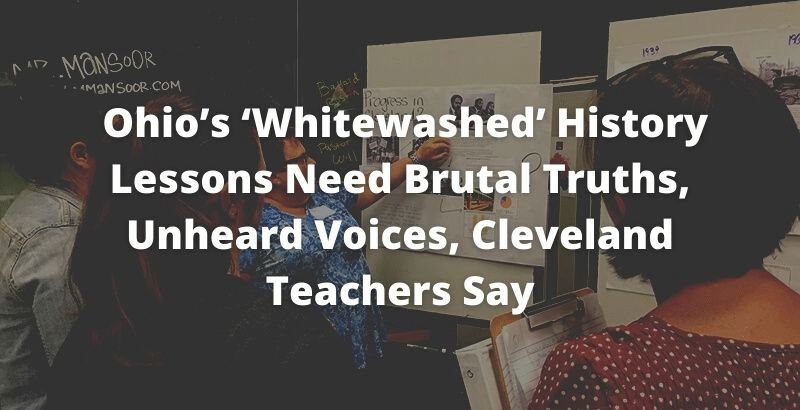 A Time of Reckoning for Race & Education in America: 5 Case Studies in How Students and School Leaders Are Pushing for Culturally Relevant Curriculum Amid the Pandemic / By Emmeline Zhao
Curriculum: The American education system was not designed to operate — much less thrive — without physical, in-person interaction. And when the novel coronavirus forced indefinite emergency school closures this spring, concern ballooned over how to educate America's 74 million school-age children from afar. That, coupled with this summer's protests demanding social justice, led The 74's Pandemic Reporting Initiative to dispatch correspondents across the country to take a hard look at how existing curricula may not be conducive to closing the achievement gap, particularly from afar; how some schools are addressing these issues to adapt to changing times and challenging learning circumstances; and how educators are tackling these tough but critical issues. Read our full series that dives into curriculum in light of the pandemic and social justice movement, with reports out of New York, New Orleans, San Antonio, Cleveland and Washington, D.C. See the full series here.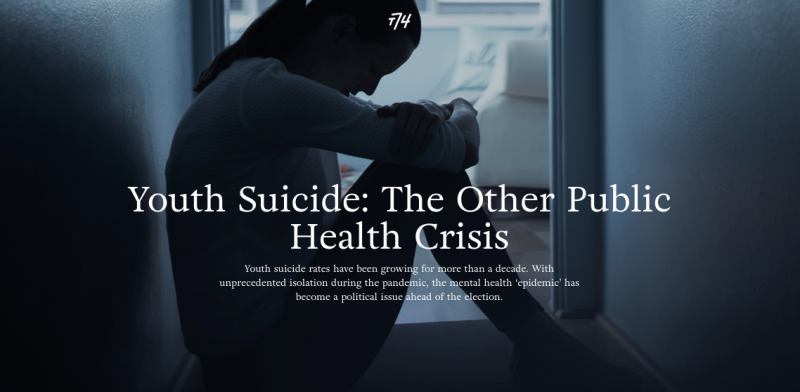 Youth Suicide: The Other Public Health Crisis / By Mark Keierleber
Mental Health: Brad Hunstable believes his son died of the coronavirus — just not in the way one might expect. As COVID-19 shuttered schools nationwide and put students' social lives on pause, Hayden committed suicide just days before his 13th birthday. His father blames that pandemic-induced social isolation — and a fit of rage — for his son's death. Though the national youth suicide rate has been on the rise for years, students say the unprecedented disruption of the last few months has taken a toll on their emotional well-being. Researchers worry that a surge in depression and anxiety could drive a spike in youth suicide. Sandy Hook Promise, which runs an anonymous reporting tool, has seen a 12 percent increase in suicide-related reports since March. The issue became a political football ahead of this year's election, with President Donald Trump and others citing rising rates of depression and suicide as reasons to relax COVID-19-related restrictions on in-person classes. Read the full report.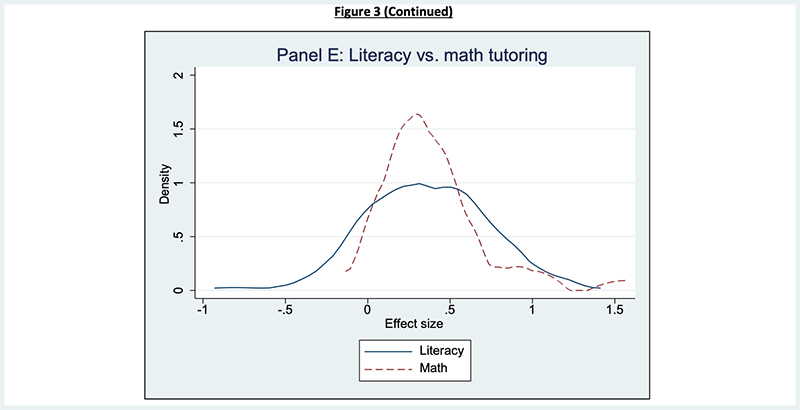 Using Tutors to Combat COVID Learning Loss: New Research Shows That Even Lightly Trained Volunteers Drive Academic Gains / By Kevin Mahnken
Personalized Learning: With a return to full-time, in-person schooling still weeks away in many areas, families are searching for any solution to deal with their children's COVID-related learning losses. Now, a working paper circulated by the National Bureau of Economic Research suggests that tutoring programs — whether led by certified teachers, paraprofessionals, even parents — could play a significant role in getting students back on track. It's a strategy that has already been embraced by parents blessed with the money and bandwidth to create small-scale learning pods, but experts suggest that supplementary instruction could be scaled up dramatically through the use of lightly trained volunteers and virtual learning platforms. Still, both the cost and the organizational challenges of expanding tutoring are great. "The logistics of setting this up on the kind of scale we need to to address the problem is more complicated than we initially realized," said co-author Philip Oreopoulos of the University of Toronto. Read the full report.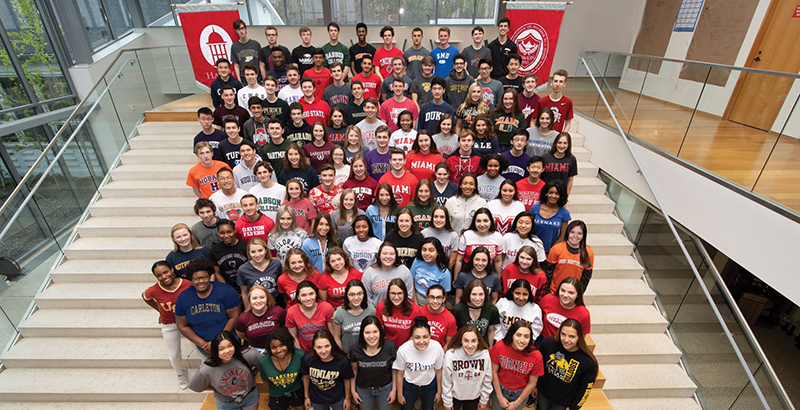 Cleveland Schools Considering Bold Plan to Confront Coronavirus Learning Loss: A 'Mastery' Learning Initiative That Would Scrap Grade Levels, Let Kids Learn at Own Pace / By Patrick O'Donnell
Mastery Education: At the beginning of the summer, educators were grappling with the fact that when students come back to school, they will be at vastly different academic levels. So how can schools fairly decide which grade kids should be in? They can't, said Cleveland school district CEO Eric Gordon — and maybe they shouldn't try. His draft plan for reopening the district's schools would instead put students in multi-age "grade bands," under a mastery approach that lets them work at their own speed. Students would then have time to relearn skills they have lost and catch up without feeling like failures or being held back a grade. "We've got opportunities here to really test, challenge and maybe abandon some of these time-bound structures of education that have never really conformed to what we know about good child development," Gordon said. Read the full report.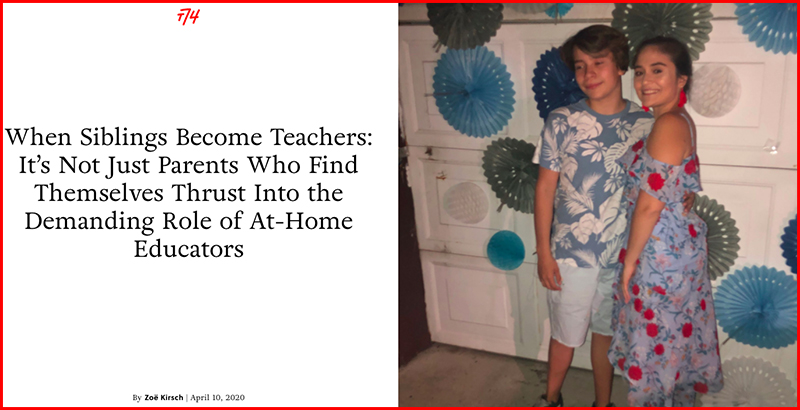 When Siblings Become Teachers: It's Not Just Parents Who Find Themselves Thrust Into the Demanding Role of At-Home Educators / By Zoë Kirsch
Homeschooling: When the pandemic shuttered New York City schools, 22-year-old Lillian Acosta of Queens found herself suddenly relating to the experiences of her co-workers with kids, as they talked about the challenges inherent in remote learning. Lillian isn't a parent, but for the last few weeks, she's been assuming the responsibilities of one, spending hours a day — and paying $90 a day to a tutor — to make sure her 14-year-old brother gets through school. She isn't alone: In Brooklyn, 17-year-old Melisa Cabascango coaches her little brother, and in the Bronx, Sarshevack "Sar" Mnahsheh sets up a makeshift classroom in his family's apartment every morning. "I try to wake up early enough to check up on the little things," says Sar, who works the night shift at a local grocery store. "I don't try to be overbearing because I'm not a parent, but I have to make sure they're up to par on the things they're doing." Lillian, Melisa and Sar are working overtime to fill the gap between what their siblings need and what the district is providing in this moment of crisis. They're three of thousands of young people who are shouldering that burden in cities and towns across the country — and those in low-income communities of color are getting hit the hardest. Read the full feature.
Support The 74's year-end campaign. Make a tax-exempt donation now.