Exclusive: NYC Teachers Union Launches Its Own Investigation of School Building Air Quality Amid COVID Threat, UFT President Says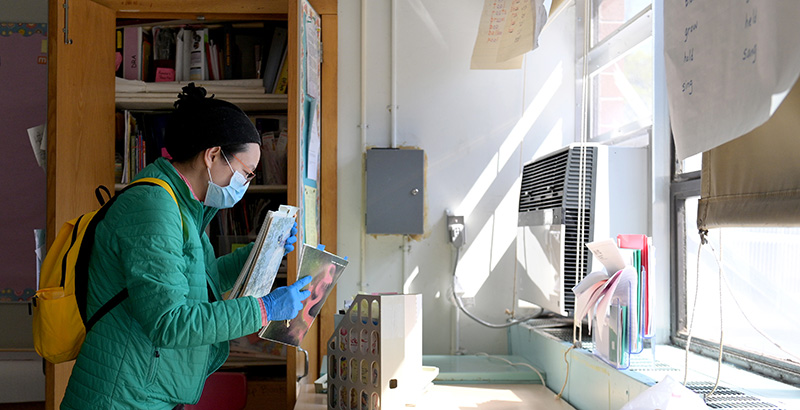 Updated Aug. 7
Looking to spur the New York City Department of Education to take preventative action on airborne COVID transmission in schools, the United Federation of Teachers is taking the long-standing issue of poor ventilation into its own hands, UFT President Michael Mulgrew told The 74 in an exclusive interview.
Starting Wednesday, the UFT began dispatching health and safety workers to school buildings, prioritizing 30 "red flag" offenders that have had dysfunctional ventilation systems for years, he said. The workers will check air intake systems on roofs as well as exhaust systems and air diffusers inside.
Mulgrew said since late May he has received emails from thousands of teachers concerned that substandard air quality, a widespread problem in city schools before the pandemic, could put them at risk for COVID-19: teachers stationed in classrooms without windows, classrooms in basements, schools that have been awaiting airflow-related repairs from the DOE for years.
"It's the first week of August," Mulgrew said. "I don't know how [the DOE] is gonna get these things done."
Gov. Andrew Cuomo announced Friday that schools in New York state could reopen for in-person learning this fall. While that could change if the virus worsens in New York over the next month, Cuomo's call adds to escalating tension over New York City's reopening plan. The UFT had released a statement saying the city's current plan does not meet safety standards for students and staff on several fronts. On the issue of COVID-related air quality, Mulgrew told The 74 he's been pushing City Hall and the DOE to take it seriously since April.
"We've been telling them and telling them and telling them," he said. "We couldn't get any movement on the air quality issue. Hopefully by doing these visits, we can get better results."
Less than half of New York City's roughly 1,500 school buildings are equipped with heating, ventilation and air conditioning systems, which heat and cool a building's interior while maintaining indoor air quality. The systems are relatively few and far between in schools in the Northeast, which, like the majority of those in New York City, are "naturally ventilated," meaning that air circulation happens through windows and a duct on the roof. Experts recommend that naturally ventilated schools be equipped with portable air filters this fall to protect students and staff from being sickened by COVID-19, but it appears that the city has not invested in any of those devices.
"If someone is coughing or breathing, they emit a range of aerosols," explained Joseph Allen, who runs the Healthy Buildings program at Harvard's T.H. Chan School of Public Health and recently co-authored a report on reopening schools. "They'll stay aloft for hours, until the air is diluted with fresh outdoor air or captured in a filter or breathed in and deposited in the lungs — which is, of course, what we're trying to prevent."
Mulgrew said the union endorses the use of the portable filters in schools without HVAC systems and sufficient ventilation.
John Shea, the chief executive officer of the Division of School Facilities, along with a DOE spokesman, declined to provide the number of city school buildings that aren't outfitted with HVAC systems. According to Robert Troeller, business manager and president of Local 891, the custodial supervisors union, only those schools constructed since the 1970s have them. Many city schools are over a century old.
Three weeks ago, Schools Chancellor Richard Carranza announced that HVAC systems were being upgraded to "ensure better ventilation in all of our schools." He was alluding to repairs being made to broken systems and to the substitution of old filters with higher-grade ones. But some teachers initially took the chancellor's statement to mean that schools lacking the mechanical systems would be getting them installed — an expensive, time-consuming process that would actually take years.
One Manhattan teacher, who asked that her name not be used for fear of reprisals at work, said that statement kept her from considering the air quality issue for a while.
"It took me a long time to understand that a lot of the buildings within the DOE aren't even eligible to have the HVAC systems revamped," she said. "My feeling is that people gave the impression that a lot more systems were going to be revamped than anyone had the intention of doing."
The lack of clarity from the department bothers Mulgrew: "You've gotta be transparent with everyone," he says. "You gotta say, 'This is the reality. We can't make everyone happy, but at least we're gonna give you the info to make the decision.'"
The same teacher addressed an email to Mulgrew last week, confiding that she was worried that her school, which lacks an HVAC system and sits in a nearly 100-year-old building in Harlem currently under construction, wouldn't provide sufficient air circulation in the fall. Jennifer Long, an industrial hygienist in the UFT's safety and health department, wrote back that opening the school's windows, which can't open more than six inches and are surrounded by scaffolding, would be sufficient. Her response did not reference the portable air filtration unit option.
Mulgrew told The 74 that the Harlem school would be among those prioritized in its visits.
Last week, Sarah Leaman, a teacher at P.S. 321 in Brooklyn, penned an op-ed disclosing similar concerns. "Our ventilation system does not supply adequate oxygen," she wrote. When she and other staff told their principal that they were worried, administrators recommended that they contact the UFT.
For its part, the teachers union has been concerned about air quality in New York City public schools for at least 20 years, when it published a report on the subject.
"The UFT receives more complaints from its members about poor indoor air quality in schools than about any other health and safety issue," it said.
"It's a huge problem," said Leonie Haimson, founder and executive director of the nonprofit Class Size Matters, of the air quality issue. "With the advent of COVID, these problems, which have been serious for generations, have now come into sharper relief."
Long before the pandemic broke, U.S. history teacher Christine Montera was worrying about the detrimental health effects her school was wreaking upon students and staff. Five years ago, she says, the air inside East Bronx Academy for the Future, a sixth-through-12th-grade school not far from the famed zoo, was giving occupants sinus infections.
The Department of Education eventually made repairs to the building, but as recently as March — the last month schools were open — the HVAC system was still breaking down: On some days, half of it worked, she said, while the other half didn't.
Montera, like many other city teachers, is waiting to find out whether she will be required to return to in-person teaching next month or be granted the medical exemption she has sought. Adding to that anxiety now is another worry: the city not taking teachers' health concerns seriously when it comes to indoor airborne transmission of the coronavirus.
DOE Deputy Press Secretary Nathaniel Styer said the department's "incredible facilities staff" was currently assessing all buildings and rooms for repairs or modifications to ventilation systems to be done as quickly as possible, including upgrading the air filters on HVAC systems across the city as cited by Carranza. The School Construction Authority is "making substantial repairs" to roughly 30 schools.
"This fall, students and staff will only use rooms that are deemed safe under public health guidelines," he said.
Allen, of Harvard's School of Public Health, said the main ways to prevent COVID transmission are mask-wearing and increasing ventilation and filtration. "One of the biggest risk factors is time spent in under-ventilated spaces indoors. You want to control the emissions and removal."
The issue is not restricted to large urban districts like New York City. According to Allen, 90 percent of American schools are under-ventilated. "We should be trying to increase ventilation, but also recognizing this is a real challenge for a lot of schools because we've underinvested in them," he said.
That's where portable air filters, outfitted with HEPA filters and set to process air several times an hour, come in. "We're not going to outfit every building with a new ventilation system," Allen explained. "These devices are plug and play."
The movable devices aren't cheap, costing hundreds of dollars apiece, he said. But that cost "is trivial in terms of protecting teachers and kids and restarting the economy."
The public health expert said he's seen a wide range of interest in air quality from superintendents around the country.
"I've spoken to a couple who made a checklist from [Harvard's report] and started implementing it in June," he said. "At the same time, I keep getting messages from people I know — or don't know — on social media, sending me their school's plan. Many don't mention ventilation or air cleaning. It's disappointing to see."
New York City's tentative plan, a 32-page report released Monday, doesn't mention air quality until the ninth page — and it doesn't explain how the DOE will mitigate potential airborne COVID spread at schools without HVAC systems.
Public health experts like Allen have pointed to a global and national lag time when it comes to addressing the role that indoor spaces play in transmitting the virus. It wasn't until July, after Allen and others sent a letter to the World Health Organization, that that body recognized COVID could idle inside, where it could potentially infect more people.
Kristofer Howard, the president of indoor air quality at Filtration Group, a company that's been selling portable air cleaning devices and MERV-13 filters to schools around the country, says he's noticed that public schools are buying significantly fewer of the portable units than private schools.
Troeller, the president of the custodial supervisors union, says a number of steps remain before schools are safe in September. His members recently conducted a survey of HVAC systems and window operability for the DOE, but they haven't yet received the upgraded MERV-13 filters they've been promised.
Troeller said the repairs that the School Construction Authority is performing on 29 schools is to address broken HVAC systems. 
As far as the portable air filters go, Troeller says he hasn't heard a word. "No one has talked to the union, or my members, about that at all," he said. "As far as I know, the plan is to leave the windows open."
Troeller also worries about his constituents' ability to perform the tasks they've been delegated — including changing filters regularly and opening and closing the windows every day— given a lack of funding.
"The DOE's Division of School Facilities is pushing my members to incorporate things into our plan but not providing us with resources," he said. "We want schools to open, and we want them to be safe. We just don't want to make promises that can't be kept."
"It cannot be schools as usual," said Allen, adding that ignoring the realities of air hygiene now will only bump the problem back into the winter, when schools won't be able leave windows open and the purchase of portable air filters will only become more necessary.
"Teachers have the most important job in the world," he added. "We just have to put in strategies to keep kids and adults safe. There has to be a national mobilization for schools that I don't see happening."
Support The 74's year-end campaign. Make a tax-exempt donation now.