15 Ways Taylor Swift's Lyrics Solve Education Policy's Most Pressing Issues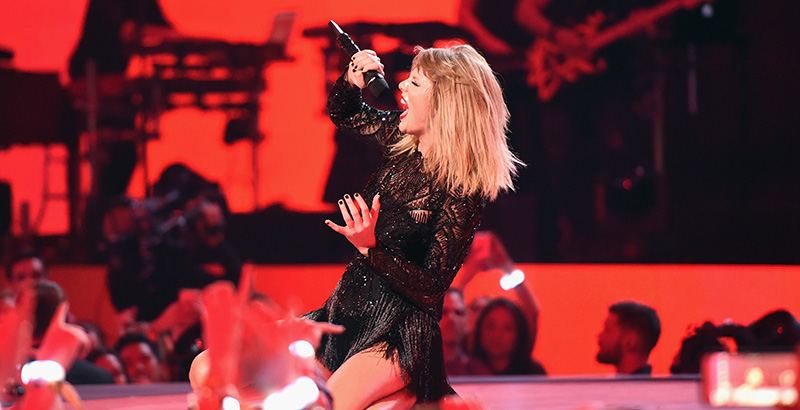 As Taylor Swift releases her sixth studio album, Reputation, on Friday, there's only one question pressing upon the public consciousness: What does Taylor Swift think of the Every Student Succeeds Act?
Of course, she'll never come out and directly say; it takes a sleuth digging through her heavily shrouded lyrics to find any sort of real meaning:
Perhaps Swift is so compelling to the education policy community because of her obsession with the theme of accountability, said Swift lyrics analyst David Cantor. "Throughout all her songs, she consistently holds the men accountable," Cantor said, adding, "Well, not, 'Look What You Made Me Do.' That's actually her biggest anti-accountability song."
Even if Swift will not publicly share her opinions on the Common Core and school vouchers, we've identified education policy areas where she has come out in some pretty Fearless ways … Are You Ready for It?
There's Lots of Social-Emotional Support for Students, but Not for Teachers. Here Are Some Programs Looking to Change That
"Were you just kidding 'cause it seems to me, this thing is breaking down, we almost never speak, I don't feel welcome anymore, hey school district what happened, please tell me 'cause one second it was perfect, now the students are halfway out the door." — Forever and Always
Opt Out Round II: States Walk a Line Between Boycotters' Demands and Feds' Funding Threats
"Don't be afraid, we'll run away from this mess, it's the Opt Out movement, baby just say yes (actually no, please say no to tests)." — Love Story
President Trump Donates $100,000 of His Salary to Education Department; Still Wants $9B Cut to ED Budget
"Now we've got problems, and I don't think we can solve 'em. You made a really deep cut, and baby, now we've got bad blood…and also no money." — Bad Blood
2 in 3 High School Students Know of Kids Who Cheat Using Digital Devices — but Few Admit Doing It Themselves
"You should've said no, you should've gone home, you should've thought twice before you let it all go, you should've know that word, 'bout what you did on that test, would get back to me." — Should've Said No
Portland Schools End Up in National Spotlight After Suing Parent Activist, Reporter Over Public Records
Reporter: I've got a list of names and yours is in red underlined. I check it once, then I check it twice.
School District: Oh, look what you made me do, look who you made me sue.
— Look What You Made Me Do
Science Is for Boy Scouts; Critical Thinking Is for Girl Scouts. Here's How They Differ in Their Gendered Messaging to Children
"When you're 15 and boys talk over you in class, you're gonna believe it. And when you're 15 feeling like the girls will never dismantle the patriarchy. Count to 10, take it in, this is life, before you go get your MBA. I didn't know it at 15." — Fifteen
New Teen Survey Reveals Cyberbullying Moving Beyond Social Media to Email, Messaging Apps, YouTube
"Someday, I'll be living in a big old city, and all you're ever gonna be is mean. Someday, I'll be big enough so your Snapchats don't hurt me and all you're ever gonna be is mean." — Mean
Empty Cabinet: Education Department Has Highest Top Staff Vacancy Rate, at 80%
"Got a long list of Ed Department vacancies, don't tell me it's insane, but I've got a blank space baby, and I'll write your name." — Blank Space
5 Lessons Other Districts Can Take Away From Latest Rand Personalized Learning Study of Small High Schools
"Can't you see that I'm the one who understands you, been here all along, so why can't you see this Personalized Learning Plan belongs with me?" — You Belong With Me
District Schools? Charters? In Indianapolis, Partnership Schools Offer a Third Way
"You've got that James Dean daydream look in your eyes and I've got that reinventing-public-schools thing that you like, and when we go crashing down we come back every time, 'cause we never go out of style, we never go out of style." — Style
A 'Start School Later' Success Story in Missouri: Higher Graduation Rates, Fewer Suspensions
"'Cause I don't know how it gets better than this, you let me sleep in and I come to school fearless. And I don't know why but with more sleep I am more likely to graduate." — Fearless
House Republicans' Tax Plan Has Implications at All Levels of Education
Opponents: I knew you were trouble when I walked in.
Supporters: Haters gonna hate hate hate hate hate.
—I Knew You Were Trouble and Shake It Off
New Research: As Tuition Rises, Vaunted Public Universities Cater to a Wealthier Clientele
"Big reputation, big reputation, ooh, you and me would be a big conversation, aah, and I heard about you, ooh, you like the fancy schools, too." —End Game
With Batman & Batmobile Costume, Washington School Resource Officer Is a Real Live Superhero Cop
"Tall, dark and Batman, he puts on his uniform and drives away, to save the world or go to work, it's the same thing to kids." —Superman
Fake Education News? With False Betsy DeVos Report, Progressive Sites Fall Victim to the Very Fake News Trend They Criticize
"This fake news is blowing up the left wing, high above the whole scene, DeVos leaving soon? Call it what you want, yeah, call it what you want to." —Call It What You Want
Get stories like these delivered straight to your inbox. Sign up for The 74 Newsletter