Empty Cabinet: Education Department Has Highest Top Staff Vacancy Rate, at 80%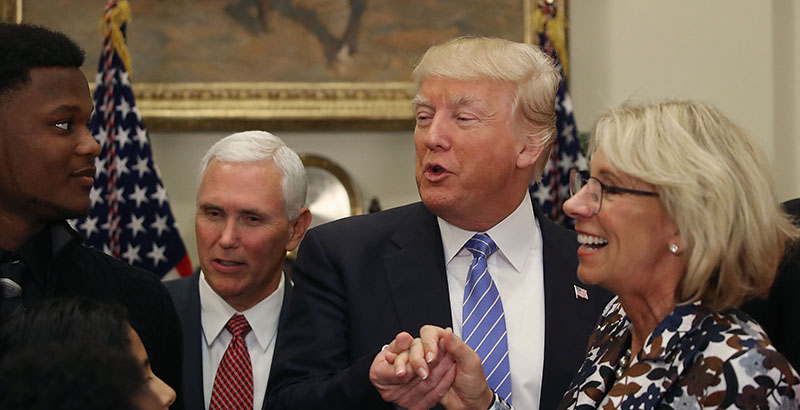 Update, Oct. 5: In the week since this story published, the Trump administration has nominated three more officials to Education Department posts. Jim Blew was nominated to be assistant secretary for planning, evaluation and policy development; Timothy Kelly was nominated to be assistant secretary for career, technical and adult education; and Mitchell Zais was announced as the nominee for deputy secretary.
Those announcements, which in less than a week doubled the number of proposed appointees to the department, puts the Education Department's vacancy rate at 60 percent. It has now dropped to second place among agencies with the highest vacancy rates, behind the Energy Department, where 68 percent of positions are open.
Of the 601 "key positions" the Partnership for Public Service tracks, 291 have no nominee, for an overall vacancy rate of 48 percent.
Correction: This story, citing Partnership for Public Service data, incorrectly stated that there are three vacancies on the Postal Regulatory Commission. The commission currently has four Senate-confirmed commissioners and one vacancy. 
The tumultuous Trump administration has for months been criticized for its slow pace in nominating top executive branch officials. But after a summer that saw a steady uptick in announcements, one department still lags far behind: Education.
The Education Department has the highest vacancy rate of any Cabinet-level agency, with 12 of 15 positions open for which the White House has not announced a nominee or the Senate confirmed an officer.
The Education Department's vacancy rate stands at 80 percent, compared with 50 percent across the executive branch as a whole. The 74 calculated the vacancy rates for the 20 agencies whose members are part of the president's Cabinet, based on data published by the Partnership for Public Service and The Washington Post as of Sept. 27.

The Senate Health, Education, Labor and Pensions Committee is slated to vote on the nomination of Carlos Muñiz to be the department's general counsel Thursday. The former Florida deputy attorney general is just the third appointee to the department, alongside Education Secretary Betsy DeVos, confirmed early this year, and Peter Oppenheim, assistant secretary for legislation and congressional affairs, who was nominated in June and confirmed in August. Muñiz was named by Trump in April; no other nominations have been announced.
Democrats and appointees in the Obama Education Department have said the naming of top deputies in the Education Department is particularly critical given DeVos's lack of government experience and her pledge to rely on staff in areas where she needs help. Department career staff are excellent, they said, but Senate-confirmed officials are needed to guide large policy decisions.
(The 74: With No Senate-Confirmed Appointees, Who's Helping DeVos Run the Education Department?)
"The Secretary has put together a strong team at the Department of Education that is working tirelessly on behalf of our nation's students, and she looks forward to adding members to that team who are committed to ensuring all students have access to a world-class education that meet their needs," Education Department Press Secretary Liz Hill said in an email when asked by The 74 this week about the high vacancy rate.
Sen. Lamar Alexander, chairman of the Health, Education, Labor and Pensions committee, in a speech on the Senate floor in May blamed both the Trump administration for its failure to nominate sub-Cabinet candidates in a timely fashion and Democrats for what he said was their obstruction of Cabinet nominees.
Democrats, who in 2013 changed Senate rules to allow confirmation with only 50 votes, don't have enough members to block Cabinet nominees, but they can run out the confirmation process by insisting on exhausting the debate clock or holding lengthy roll call votes that require every senator to come to the floor and cast a vote individually. DeVos was perhaps the most controversial Cabinet-level nominee to be confirmed, requiring Vice President Mike Pence to cast a historic tie-breaking vote to approve her after a searing confirmation process.  
The administration "would have every excuse to stop nominating and simply appoint acting officials," Alexander warned.  
That happened in the Education Department just this week when DeVos announced that Michael Wooten would serve as deputy assistant secretary, a job that doesn't require Senate confirmation, and acting assistant secretary for the Office of Career, Technical, and Adult Education. Wooten most recently worked as chief procurement officer for the District of Columbia and previously at Northern Virginia Community College and the Defense Acquisition University, a corporate university of the Defense Department that trains military and federal civilian staff and contractors.
She also named Leonard Haynes, who worked in college administration at Grambling State University and American University, as a senior adviser to the under secretary. The under secretary — who has not been named — oversees higher education.
"The president should want his team in place and should speed up recommending key nominees to the Senate. And senators, especially those in the minority, should want to have a say in the vetting and accountability that comes with the Senate confirmation process," Alexander said this spring.
Overall, the Partnership for Public Service and the Post track 601 "key positions" requiring Senate confirmation. As of Sept. 27, there was no nominee for 302 of those posts, a total vacancy rate of about 50 percent. Another 19 officials have been announced but not yet nominated, 157 have been formally nominated and are awaiting Senate approval, and 122 have been confirmed.
Previous administrations have gone at a much faster pace: by Sept. 21 in their first years in office, Barack Obama had 451 officials either nominated or confirmed, and George W. Bush had 458. There were just 236 Trump nominees in those categories as of Sept. 27 this year. It also has been taking about two weeks longer to confirm Trump's nominees than Obama's: 57 days versus 43 days. (Those figures include officials outside of the 601 "key positions" the Partnership follows.)
To be sure, other departments have higher numbers of top-level officials yet to be nominated. The much-larger State Department, for instance, is waiting on 80 of its 148 nominees to be ambassadors, under secretaries, and the like — but that's only a 54 percent vacancy.
And some smaller, non-Cabinet boards and the like are missing key personnel or have very high vacancy rates. The administration has yet nominate a director or deputy director for the Peace Corps, for instance, or put forward nominees for 10 of 11 openings at the United States Agency for International Development
The Department of Homeland Security, which has a below-average vacancy rate of 44 percent, is missing a secretary after Gen. John Kelly was appointed as Trump's chief of staff after Reince Priebus was let go by the president in late July just six months into the job.
The department with the next-highest vacancy rate after Education is Energy, which is missing 68 percent of its top officials. The CIA and the Department of Health and Human Services have the lowest vacancy rates, at 0 and 18 percent, respectively.
Get stories like these delivered straight to your inbox. Sign up for The 74 Newsletter