New Research: As Tuition Rises, Vaunted Public Universities Cater to a Wealthier Clientele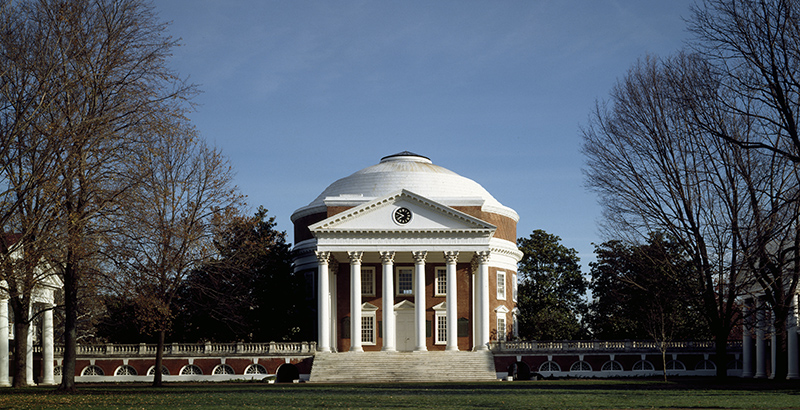 The price of college continues its persistent upward creep, with net tuition and fees averaging $14,530 and $4,140 per year at private and public four-year schools, respectively. But as costs rise for another year, many public schools direct tens of millions of dollars in financial aid toward students with no demonstrated need for it.
Those are the findings from a series of reports issued by the College Board and New America, which study college access and income mobility for the country's neediest students. The research shows that public flagship universities especially have bent over backwards to attract wealthier applicants from out of state — and sometimes out of the country — while low-income students have lost ground.
In a pair of studies on trends in higher education tuition and financial aid, the College Board found that average sticker price for tuition and fees has risen by 3.2 percent each year for in-state students at public four-year universities. Those figures, measured between 2007–08 and 2017–18, are equivalent to an inflation-adjusted annual increase of about $270, compared with a $160 annual bump between 1988 and 1998.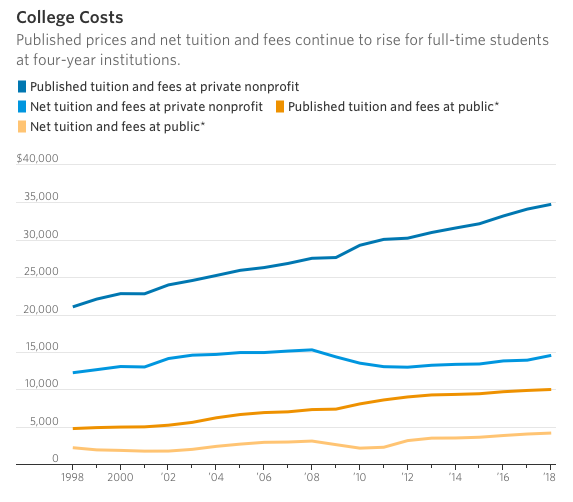 Net prices (the portion that families pay after accounting for grants, tax credits, and other forms of aid, not including room and board) at public four-year schools actually declined from 2008 to 2011 as institutions, states, and the federal government dramatically ramped up aid packages in the wake of the Great Recession. But a decade later, with middle- and lower-class earnings essentially stuck at the same level as before the financial crisis, federal grants have been scaled back from 44 percent of all grant aid to 32 percent.
"Earnings have been slow to recover from the recession," the authors write. "The average income of families in the top 20% was 7% higher (after adjusting for inflation) in 2016 than in 2006. The increases for those who are lower down in the income distribution were smaller, and the average income of those in the lowest 20% remains below that of their 2006 counterparts. Stagnant incomes and rising inequality exacerbate the barriers created by rising college prices."
Meanwhile, in a bid for heightened prestige and greater revenue, many prestigious public research universities have gone all-out to attract wealthier students from outside their home states, says New America author Stephen Burd. To sweeten the pot, many public universities have packaged tens of millions of dollars of financial aid in "merit-based" grants — i.e., to higher-achieving students from middle- and upper-middle-class backgrounds, who have no particular need for financial assistance.
Culling from national research conducted by economists Raj Chetty and John Friedman, Burd shows that about two-thirds of the 381 selective public institutions studied have cut their proportion of students hailing from the bottom 40 percent of America's income distribution since 1999. At the same time, students from wealthier sectors have risen to take their slots at an almost uncannily similar clip.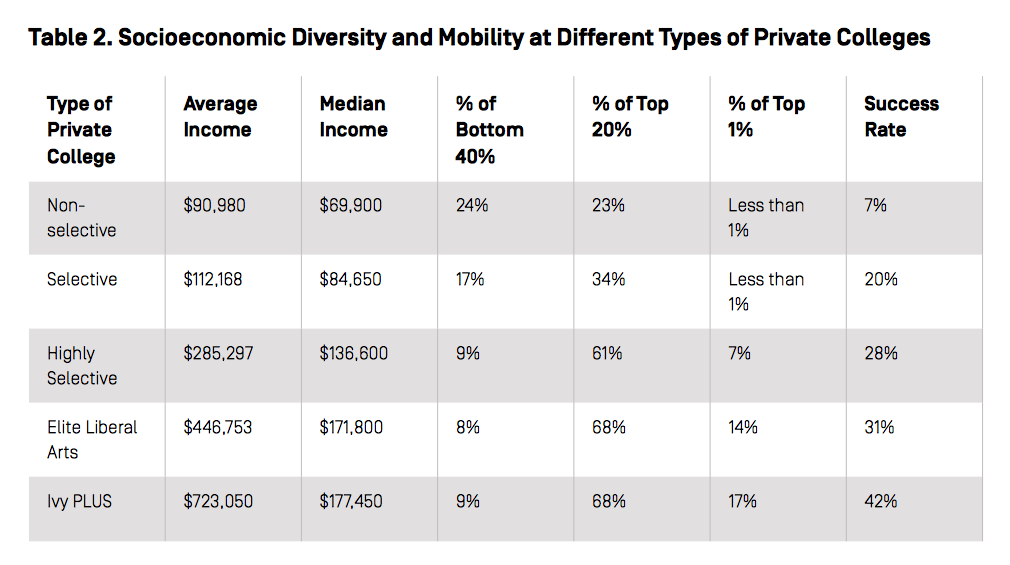 "Two-thirds of the 32 public flagship universities included in [Chetty and Friedman's] study enroll a more upscale student body than they did in the late 1990s," Purd writes. "These institutions increased the share of affluent students they serve at the same time that they reduced the proportion of low-income ones."
Purd does highlight three major public universities that have cut against the trend: The University of Texas, the University of Michigan, and the University of Nevada have all seen their numbers of low-income students grow and rich students shrink over the past two decades. The secret? Concentrating on need-based aid rather than merit aid, which is usually sucked up by high-achieving kids from more comfortable families.
The University of Texas, where merit-based grants account for a mere 4 percent of total institutional aid, has seen a 3.3 percent rise since the late 1990s in its share of students from the bottom two income quintiles. The University of Nevada (12 percent merit aid) has experienced a 1 percent increase in lower-income students over the same period. And the University of Michigan, where roughly one-third of aid dollars are funneled toward non-needy students, boasts 1.8 percent more lower-income students.
But at New York's SUNY Stony Brook — a highly selective institution that is nevertheless renowned for ushering needy students into the middle class — those figures are reversed. The school's population of full-tuition, out-of-state students, who pay $17,000 more than New York residents to attend, has doubled in recent years, and the number of international students has tripled. The result of the switch has been a 9 percent drop in admitted students from the bottom 40 percent of families by income. Median family income has risen $13,000 over the same span.
At a time when many observers on the left are clamoring for free tuition schemes at public institutions to curb the dizzying rise in higher education costs, the reports from both the College Board and New America indicate that any such move could actually be more regressive than its advocates realize. The students whose expenses would be subsidized at four-year public universities are already disproportionately privileged.
Get stories like these delivered straight to your inbox. Sign up for The 74 Newsletter