Fake Education News? With False Betsy DeVos Report, Progressive Sites Fall Victim to the Very Fake News Trend They Criticize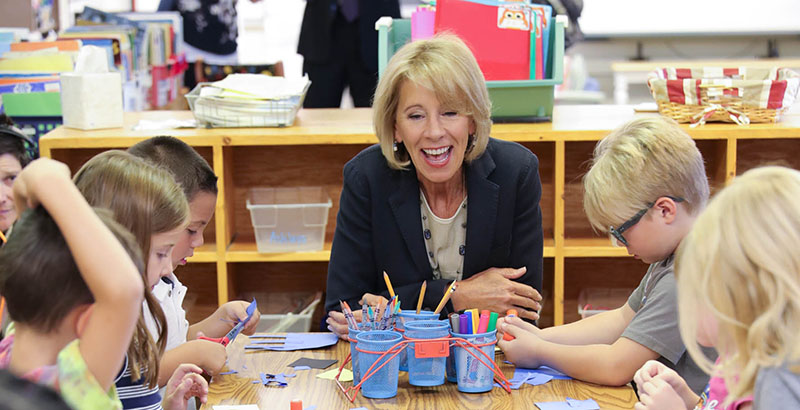 Correction appended August 21, 2018
Last month, the left-wing news site Alternet published an article about fake news spread by right-leaning organizations, noting, "We now live in an era where opinion and belief outweigh facts and evidence." Earlier in the month, in an article about the spread of fake news through Google and Facebook in the wake of the Las Vegas shooting, the site lamented that "false content can quickly move from social media to legitimate news sources."
But this week, Alternet proved that fake news is everywhere and respects no political boundaries.
Its editor acknowledged Wednesday that the headline on its Nov. 1 article, "Education Officials Expect Betsy DeVos to Resign from Trump Administration" — which was significantly amplified by the more mainstream site Salon.com and made viral fodder by American Federation of Teachers President Randi Weingarten and others — was incorrect.
In an email to The 74, Alternet's executive editor Don Hazen wrote "the headline does not match the information and the quote in the Politico article" it was taken from, a profile of DeVos, published the morning the Alternet piece was posted. Politico quoted Thomas Toch, director of the think tank FutureEd, saying, "…In Washington education circles, the conversation is already about the post-DeVos landscape, because the assumption is she won't stay long." Both Alternet and Salon updated their articles Wednesday to fix the mistakes.
Alternet posted its version of the story that night, on Nov. 1. A similar story appeared that morning on Rawstory.com. But the issue gained significant traction when Alternet's version appeared Monday on Salon.com under a similar headline.
Liberal critics of DeVos shared the link widely on social media and celebrated the supposed news. The Salon article was retweeted more than 2,500 times, and many others shared it in original Twitter and Facebook posts.
Alternet led off an earlier article on a study of media bias by stating, "Americans across the political spectrum, led by Republicans, admit they have been duped by 'fake news,' or partisan propaganda and outright fabrications." Yet, as the DeVos controversy demonstrates, the kind of partisan tribalism and wishful thinking that gives rise to fake news is not just the province of the right.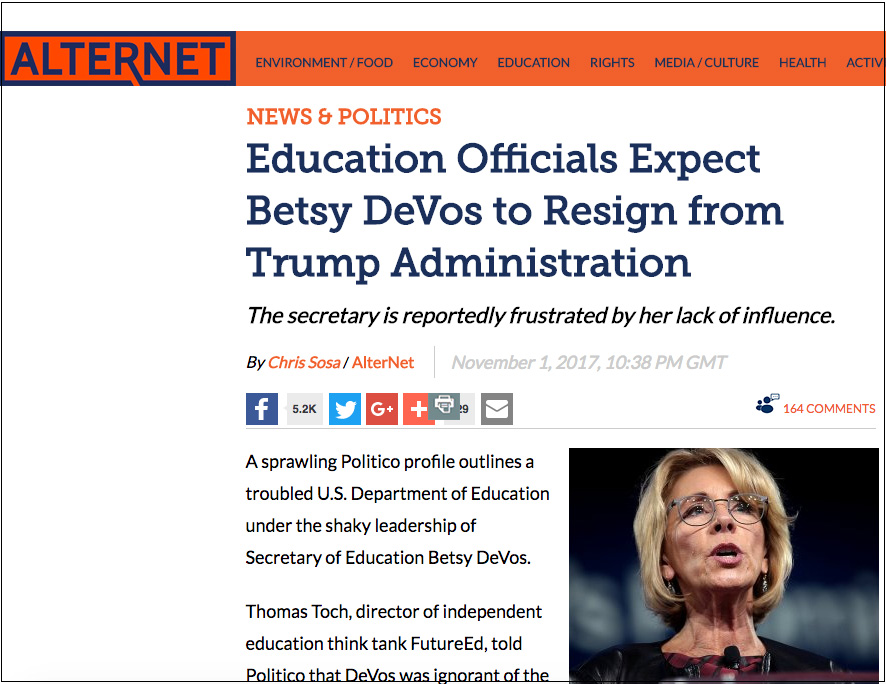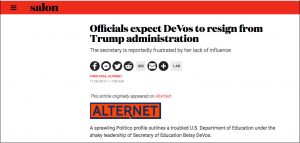 Though the Alternet article sourced its story to "education officials" and Salon to "officials," Toch is the only source in the Politico article that was the basis for the leap suggesting DeVos might resign, and he is not an education department official.
Toch has since tweeted a clarification:
In an interview with The 74, Toch said, "I don't think one needs to be a Ph.D. in English to recognize that I was suggesting that … Betsy DeVos's troubled tenure as secretary to date increases the chances that she'll leave before the end of President Trump's first administration. And that people in education circles in D.C. recognize that."
The AFT's Weingarten, who criticized DeVos in the Politico story, shared Salon's article twice on Twitter, once with the caption "Breaking News: Officials expect DeVos to resign from Trump administration." Weingarten has 76,435 Twitter followers.
On Wednesday morning Politico denounced the stories in its Morning Education email newsletter and on its website with the headline "Fake News Alert."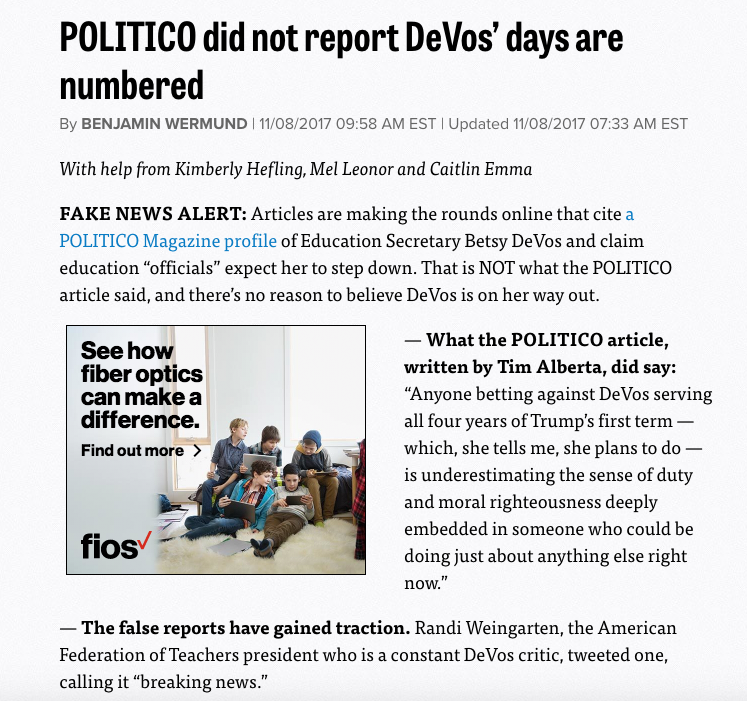 Around 1 p.m. Wednesday — a week after the story was posted — Alternet changed the headline and text of its original piece, with a note saying, "The original article stated that officials were planning for DeVos to exit the Trump administration. It has been updated to state that an insider assumes DeVos 'won't stay long' at her post as education secretary. The original headline has also been clarified." Salon updated its headline shortly after.
Salon did not respond to The 74's request for comment.
Several education reporters tweeted on Tuesday that the story was misleading.
DeVos has been criticized for rescinding Obama-era guidance about sexual assault on college campuses, not filling Cabinet positions, and not supporting public schools. In the Politico piece, DeVos said the bureaucracy of federal politics has stalled progress on her agenda and proved more difficult to navigate than she expected.
Correction: This article has been updated to remove references to a misleading statement provided by a former Alternet employee about responsibility for the site's editorial decisions.
Support The 74's year-end campaign. Make a tax-exempt donation now.