The 15 Best Education Articles From March: Closed Due to Coronavirus, How America's Schools Are Rethinking Distance Learning, Student Supports, Equity & More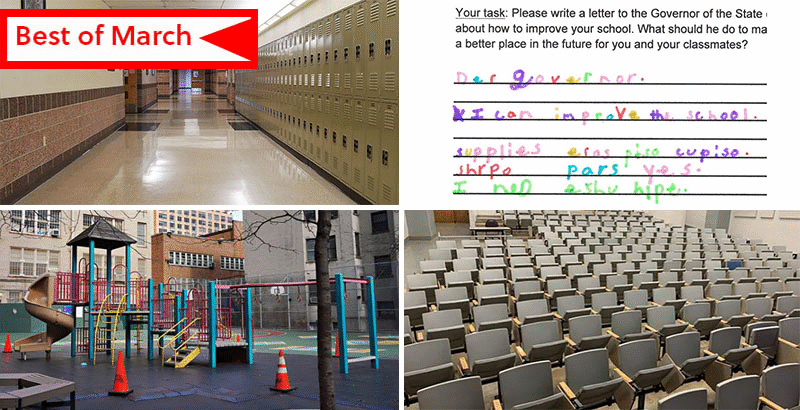 Every month, we round up our most popular and buzzed-about articles from the past four weeks. (Go deeper: See our top highlights from February and January — as well as our most-shared articles from 2019 — right here)
March 2020 — a month America will never forget, when the pandemic shuttered the nation and we all joined forces to stay inside and flatten the curve.
For educators, advocates and school communities, this was also the month that saw America's school system grind to a halt in unprecedented fashion. As you might imagine, the bulk of our coverage this past month was about those closures, the overnight distance learning experiments that sprang up in many states, and the consequences of this long-term social isolation that's been forced upon classes and campuses.
More details on the month's most popular stories below — and remember, you can always get our latest news, analysis and coronavirus insights delivered straight to your inbox by signing up for The 74 Newsletter.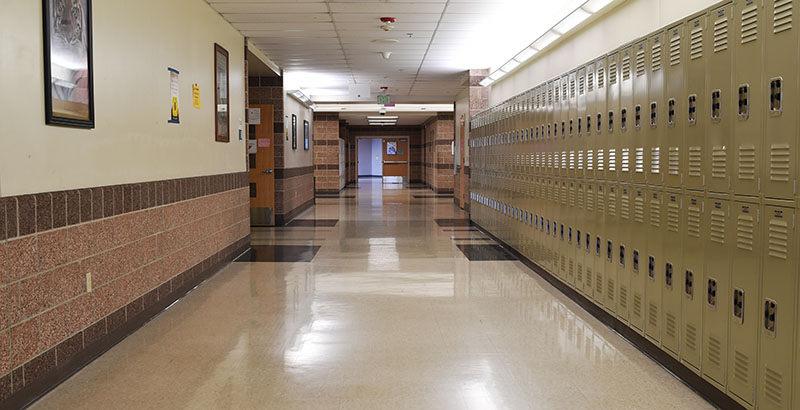 'Absolutely, I'm Worried': For Children With Special Needs, Unprecedented Coronavirus School Closures Bring Confusion, Uncertainty
Special Education: As schools across the country close to prevent the spread of coronavirus, millions of students are out of classrooms and education officials are scrambling to develop plans on how to proceed. Districts that switch to instruction via remote learning are still required to provide special education services for children with disabilities, according to new guidance from the U.S. Department of Education. Those that close outright and don't provide services to anybody, however, are not on the hook for special education services. For those in the special ed community, both options have raised significant questions — and fears. While some warn that online learning may not be possible for some children with significant special needs, others worry that children may regress educationally if they're away from classes for too long. Though the closures will make education difficult for everybody, federal law is clear about districts' obligations, said Wendy Tucker, senior director of policy at the National Center for Special Education in Charter Schools. "It's a civil rights statute that says, 'I'm sorry it's hard, but you have to figure it out,'" she said. (Read the full article)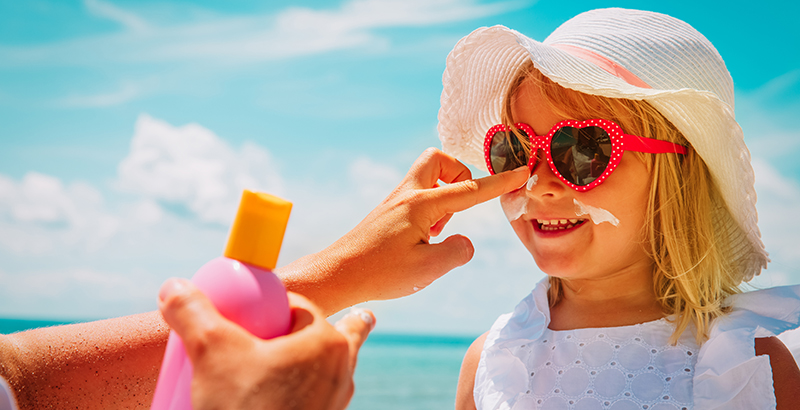 Why America's Schools Should Stay Open This Summer
Coronavirus: Contributor Andrew Rotherham loves summer — the warm weather, the sounds at night, the lazy long days and seemingly endless evenings. Even decades later, he can distinctly remember the feeling of freedom as he headed out the door on the warm last day of school. Which is why it pains him to have to say it, but education leaders need to have a conversation about keeping students in school — remotely, most likely — for part of this coming summer. The unavoidable fact, he writes, is that school leaders have two choices. One is to essentially throw up their hands and say the novel coronavirus is just an act of God — what can you do? Let's just muddle through. The other is to say that, yes, this is an unprecedented and remarkable situation in modern American education, but despite that, schools are going to live up to the warranties they make to students. And that, he says, is the right way to go, for educational, economic and political reasons. "If there ever was a year to hit pause on a full-throated summer, this is it. And it might be what we have to do to live up to the promise we made to students what seems like an eternity ago now, last fall, when this school year started." (Read the full essay)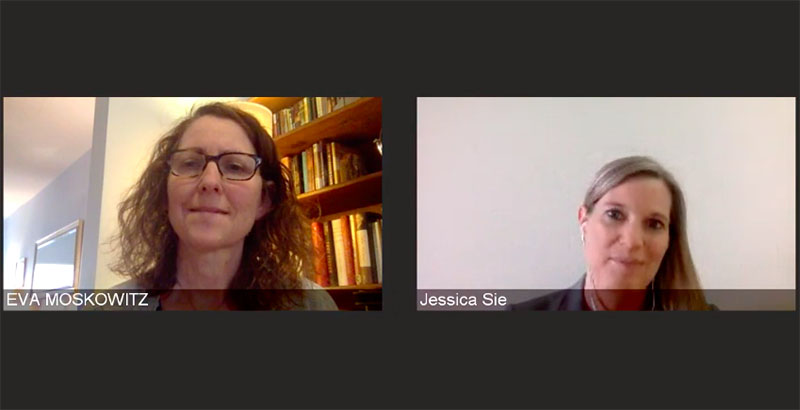 Success Academy Goes Virtual: New York City's Largest Charter Network Shares How It's Restructuring to Provide Online Learning
Distance Learning: As New York City's public school system prepared for the herculean task of transitioning its 1.1 million students to remote learning on March 23, Success Academy Charter Schools had a few days' head start. The city's largest charter network, serving 18,000 students across 45 schools, began its remote learning the prior Thursday. Before doing so, though, it shared its plans and strategies in a public webinar that it hopes other schools can find useful. To the 1,611 educators and parents (most of them not from Success Academy) who tuned in, the network's leaders urged simplicity. "It is very easy to be overwhelmed and anxious" and overcomplicate planning in the wake of massive school closures, Success Academy Charter Schools founder and CEO Eva Moskowitz acknowledged. "While there are good reasons for that, I think it's really important that we stay calm and we do what we know how to do best, which is to love our kids and to continue as best we can to teach them." That message of minimalism and flexibility marked a departure from the fast-paced and heavily scripted teaching method that Success Academy is known for across its high-achieving schools. Like any other school, "we're not used to planning for a pandemic," Moskowitz said. We break down what the new Success Academy school day will look like. (Read the full article)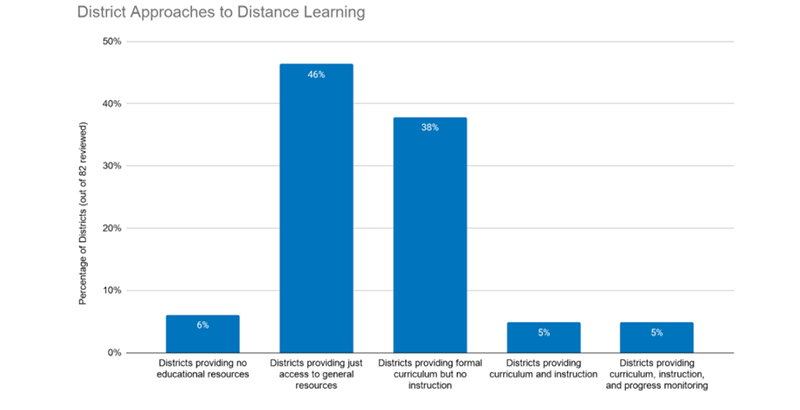 Analysis: National Database Shows States & Schools Are Stepping Up Online Learning — but Still Have a Long Way to Go. 10 Notable Trends Across 82 Districts
District Innovation: In mid-March, the Center on Reinventing Public Education released an initial database of district responses to COVID-19, which tracked how districts were serving students' and families' basic needs in the face of school closures. Since then, states have sharpened their guidance to districts as they have confronted the prospect of long-term remote learning. At least seven announced that they would be closed for the remainder of the school year, while others extended the period of time physical schools would be closed, honed expectations for schools and teachers to ensure that learning continued, and clarified that schools would be in session, albeit remotely, in the coming weeks. Contributor Robin Lake now offers an updated database that represents 82 districts, which serve approximately 9 million students, and incorporates new data on teaching and learning. Her bottom line is that districts are trying but have a long way to go — and she calls out 10 trends across the country to watch. "Hopefully, there will be a quick end to this crisis and kids can be back in school soon. But epidemics may last a while or come in waves. And our schools need to be prepared for the next emergency, whether it's a disease outbreak, an earthquake, a wildfire, a hurricane or a snowstorm. The systems schools develop now can help ensure student learning is more resilient in the future." (Read the full article)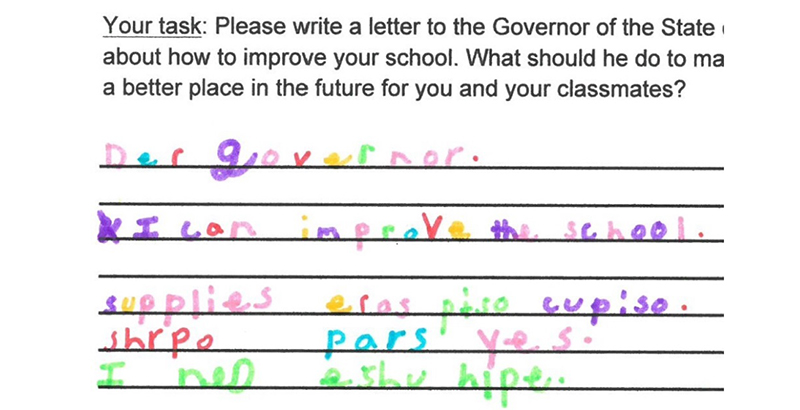 A Legal Right to Literacy: 10 Kids Sued California for Failing to Teach Them to Read. Could Their Settlement Set a Precedent for Other Struggling Schools?
Literacy: State after state recognizes a direct relationship between an educated electorate and a healthy democracy. Yet none has ever formally recognized that knowing how to read is vital to participation in civic life. Comes now Southern California school child Ella T., the named plaintiff in a lawsuit that pressed the case that students have a fundamental right to literacy. As a second-grader, she wrote to the California governor asking for help for her school. "Der Governor," she wrote, using a rainbow array of markers to compose a letter that illustrated the desperate need, "I can improve the school. supplies eras piso cupiso. shrpo pars yes. I ned eshu hlpe." Two years later, Ella T. v. State of California has resulted in a novel settlement that will send $53 million in state grants to up to 75 of California's lowest-performing schools — provided that the schools use the money to pay for strategies that are backed both by their communities and by rigorous evidence of effectiveness. The case, Beth Hawkins explains, stops short of affirming a right to literacy but potentially provides a road map to holding states accountable for the quality of the programming inside their schools on the road to forming a more literate union. (Read the full article)
Reaching 'Our Most Invisible Population' During a Pandemic: How Schools Are Scrambling to Protect Homeless Students as Coronavirus Disrupts Lives
Homelessness: A few weeks ago, a 17-year-old student from rural Michigan moved in with a friend as her parents struggled with substance abuse. But as the coronavirus pandemic began to sweep across the U.S., her temporary shelter disappeared. After sleeping for a night along a secluded dirt road, the student reached out to school officials for help. With schools across the U.S. shuttered by the coronavirus outbreak, such stories are becoming more common. School officials have found themselves on the front lines in helping America's ever-growing population of homeless students, scrambling to provide food, shelter and a sense of safety. As the economy tumbles, advocates for homeless youth predict a surge in students without stable housing. To prevent further harm, they say, federal and local officials must do more — and quickly — to help one of America's most vulnerable student populations. Read more from The 74's Mark Keierleber. (Read the full article)
Social Distancing Without a Social Safety Net: How Shutdowns Came to My Child's Fragile School Community
First-Person: In addition to being an education writer with The 74, Beth Hawkins is a charter school board chair. Which means that besides tending to her own family — vulnerable parents, a co-parent with a COVID-19 scare and a young adult packing up and fleeing his dorm room — she's had a front-row seat as her younger child's school has created a dizzying array of contingency plans for caring for its most fragile students. "A couple dozen are homeless — the number fluctuates within a population like ours," she writes. "Some are fending for themselves, their parents having been deported. A staggering number have disabilities. So, yeah, we have families where mom and dad can't stay home to oversee distance learning — or ensure that in their boredom, teenagers don't go out and gather anyway. But we also have students who can't afford to stay home from their own jobs. Some send remittances to relatives in other countries. Some of our babies have babies themselves." (Read the full essay)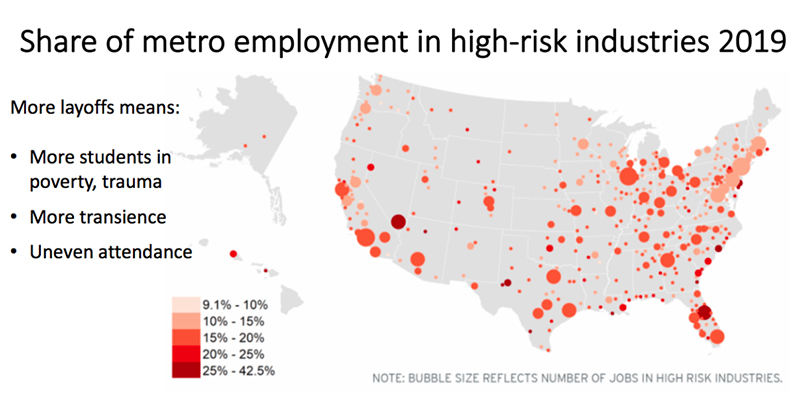 School Finance Expert Warns District Leaders to Prepare for 'Major Financial Upheaval' From Pandemic
School Funding: Educators are still scrambling to respond to the nationwide COVID-19 outbreak, and the array of new responsibilities facing them — from delivering meals to needy families to repurposing classrooms into virtual learning hubs — is enormous. But according to school finance expert Marguerite Roza, logistical challenges will soon be joined by economic ones, as the looming recession threatens to impose funding cuts. In a Tuesday webinar aimed at school leaders and budget chiefs, Roza warned that state tax revenues could soon "plummet" at the same time that salary and pension costs will be pushed skyward by a drop in teacher turnover that will keep more veteran educators in the classroom. And even a massive stimulus package from the federal government won't remedy the financial problems ahead. Kevin Mahnken reports. (Read the full report)
Amid Pandemic, DeVos Announces One-Year Testing and Accountability Waiver. Here's a Look at What to Expect
Standards: In mid-March, when many states had yet to shutter their schools in the face of the escalating coronavirus pandemic, districts in several hot zones were still just beginning to come to grips with the new status quo imposed by it. Governors and superintendents in those regions had to decide what to do about their most hated spring ritual: standardized testing. At least 19 states rushed to announce that they would cancel 2020 exams, extending petitions to the federal government for waivers to do so. On March 20, Education Secretary Betsy DeVos announced that the U.S. Department of Education would grant a one-year standardized testing waiver to any state that submitted "a proper request" for one. So what happens next? Many experts are concerned about losing a year of precious data that school leaders and policymakers need to guide their decisions. Researchers, too, who rely on troves of information from states, could see a year of groundbreaking work thwarted. And it might not just be a problem for 2020. (Read the full analysis)
As Coronavirus Consumes Public Attention, NYC Advocates Remind Residents of a Vital School Revenue Stream: The 2020 Census
Census: The coronavirus has been an unprecedented disruption to everyday life, consuming the public's attention, crippling the U.S. and world economies and upending the nation's education system. New York City's 1.1 million-student system, for example, is piloting what is likely the country's largest transition to remote learning. But despite these distractions, NYC advocates and city leaders are laser-focused on continuing to draw attention to the 2020 Census, a once-a-decade count of the country's population. The census has huge implications for how billions of federal dollars are spent on public education, supporting Title I grants, special education, early childhood programming and free and reduced-price lunches, among other things. But outreach has had to shift to accommodate social distancing orders, moving from door-knocking and hair salon chats to texts, TV ads, social media and even an old staple — print. The 74's Taylor Swaak highlights what's at stake and how local organizations are changing their strategy. (Read the full article)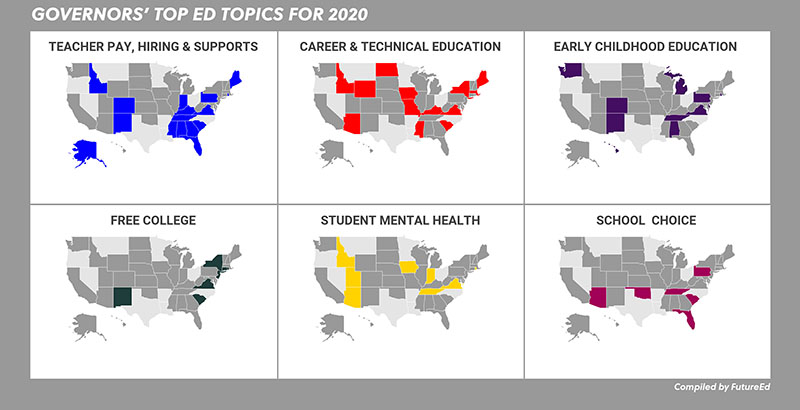 Interactive: See Every Education Issue Prioritized by Governors in 41 State of the State Speeches — From Free College to Mental Health, Early Ed & Beyond
Local Priorities: Governors' annual State of the State addresses are windows into what's likely to be at the top of state education agendas in the coming year — and what's not. It's clear from this year's speeches that school reform, a state priority for years, has fallen out of favor. Contributors Phyllis W. Jordan and Brooke LePage of FutureEd, a think tank at Georgetown University's McCourt School of Public Policy, give the rundown of an analysis of the 41 gubernatorial speeches delivered so far this year and find that while every state leader highlighted the importance of education, there was more talk about expanding educational opportunities than improving the performance of the nation's schools and colleges. From increased teacher pay and free college to career and technical education, early childhood ed and mental health resources in schools, find out what the nation's governors are focused on — and what that says about the nation's education priorities. (Read the full story — and explore our interactive)
What the Great Recession Tells Us About the Pandemic Downturn to Come: Expect Declining Student Performance, Widening Achievement Gaps
Achievement Gaps: Teachers, school leaders and families are only beginning to come to grips with the chaos unleashed by the coronavirus outbreak: shuttered schools, a first-of-its-kind experiment with virtual learning and parents abruptly forced to become ad hoc teachers. But the pandemic's most dangerous effects may be yet to come. With businesses closed and millions thrown out of work as the economy tumbles into recession, budget experts warn that an impending collapse in state tax receipts could slash district budgets heading into next year. Congress is on the verge of green-lighting a $2 trillion stimulus package that includes stabilization funds for schools. But even if the federal government rides to the rescue, the potential for a sharp downturn poses a huge threat to student learning, especially in schools that serve predominantly needy students. Amid a nationwide contagion, one researcher told The 74's Kevin Mahnken, "When I'm up in the middle of the night these days, I'm worried about losing ground in educational inequality." (Read the full analysis)
Studying Current Events Boosts Literacy and Civic Engagement. And It Probably Fits Into Your Learning-From-Home Routine
Civics Education: If you're north of 40, you probably remember "current events" as a classroom warhorse, with students reading, summarizing and reporting to the class the day's news: one international story, one national, one local, plus sports and weather. Not the most sophisticated pedagogical approach, perhaps, but it normalized the idea of paying attention to what's going on in the world, even for kids. With stressed and anxious parents now dragooned into service as ad hoc teachers, writes contributor Robert Pondiscio, the juiciest bit of low-hanging educational fruit might be cultivating children's interest in news and reviving current events. It's a missing piece of curriculum particularly well-suited to at-home learning in the time of coronavirus, and it's a habit, once formed, that can continue as a significant value-add once life and school resume their normal shape, contributing to literacy and language proficiency, as well as cultivating a disposition of civic-mindedness. At a time when most of us are likely paying a little more attention to the news, it also fits in seamlessly with how we are already spending our time. Include your kids in it — as we continue to socially isolate and shelter in place, it might be the easiest and longest-lasting educational benefit we can offer our children. (Read the full essay)
Analysis: 5 Suggestions From Idaho Charter School Leaders as Their Rural Students Switch to Online Learning — and 2 Thoughts for the Future
Rural Education: Stay connected — that's perhaps the No. 1 lesson from more than 30 charter school leaders who are working to serve their Idaho families, children and communities during the COVID-19 shutdown. These leaders represent a wide range of public charter schools, including some small remote or rural schools — like Island Park, with a student population of just 15. Recently, they came together in a forum to share what they are doing to keep learning going while their buildings are closed. Contributors Kristen McCarver and Josh McCarty have five key takeaways for the present moment, and two for the future. (Read the full analysis)
Scenes From a Lost School Year: Photos From the Month Coronavirus Derailed Classrooms & Campuses
Photo Essay: Scenes from a lost school year — The number of classrooms, school districts and states affected by the escalating coronavirus crisis seems to be multiplying by the day. By mid-March, 30 million students had been told to stay away from campus. The mass exodus from one of our nation's most ubiquitous gathering places has resulted in images that are both startling and surreal. The 74's Meghan Gallagher spent several days scanning the wires and social platforms, taking note of some of the most remarkable scenes from an interrupted school year. The result is this unshakable gallery, full of unforgettable images. (See the full photo gallery)
Get stories like these delivered straight to your inbox. Sign up for The 74 Newsletter