Reaching 'Our Most Invisible Population' During a Pandemic: How Schools Are Scrambling to Protect Homeless Students as Coronavirus Disrupts Lives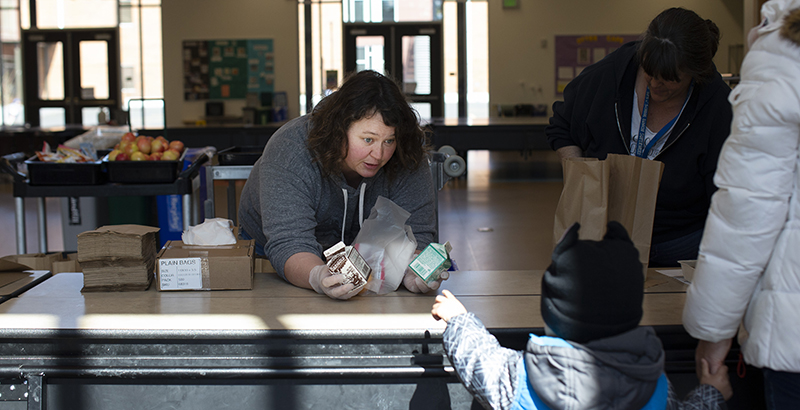 Just weeks ago, a 17-year-old student from rural Michigan was living at home with a father and stepmother struggling with addiction. But when staying with family became untenable, she moved in with a friend — an arrangement that fizzled out just as the coronavirus pandemic began to sweep across the U.S.
With nowhere else to turn, she drove down a secluded dirt road north of Grand Rapids, pulled over, and fell asleep beneath the stars.
As schools across the U.S. shutter due to the coronavirus outbreak, such stories are becoming more commonplace. School officials have found themselves on the front lines of helping America's ever-growing population of homeless students, scrambling to provide food, shelter and a sense of safety. For many school officials who spoke with The 74, homeless students living without parental supervision are the top concern.
All homeless Americans are at heightened risk of contracting the virus and often have weakened immune systems, with many unable to follow social distancing protocols or to self-quarantine. But homeless youth without parental supervision are unable to consent to receive medical care in many states, have limited access to shelters and are less likely to seek help, advocates said.
"Our unaccompanied homeless youth really try and avoid sharing" information about their situations, said Casey Gordon, who manages homeless student outreach efforts at the Kent Intermediate School District in Grand Rapids. "They are probably our most invisible population."
For the Michigan student, the crisis left her on the streets.
"The friend's family said, 'You can't stay here because people are getting sick,' and so they asked her to leave," Gordon said. She declined to provide the student's name due to privacy concerns. "This wasn't the first time she had spent the night in the car."
Luckily, the student reached out to her school's homeless outreach liaison and asked for help after the first night on her own. Even with schools closed, the liaison was able to help connect the student with a classmate with whom she could live temporarily.
The problem is likely to get worse. As the U.S. economy tumbles and an economic recession becomes all but inevitable, advocates for homeless youth predict a surge in students without stable housing.
To prevent further harm, advocates say federal and local officials must do more — and quickly — to help one of America's most vulnerable student populations. As lawmakers debate a $2 trillion emergency stimulus package, they haven't adequately addressed the needs of homeless students, said Barbara Duffield, executive director of SchoolHouse Connection, a nonprofit focused on overcoming homelessness through education.
Homeless youth "talk about school as home, they talk about school as an escape, they talk about school as family — and that's now gone," Duffield said. Though policies focused on health care, housing and child care are important, she's urging lawmakers to invest more in the McKinney-Vento Homeless Assistance Act, which helps homeless youth attend and succeed in school. In the absence of bold action, Duffield's prediction is dire:
"We're going to lose them," she said. "We're going to lose them academically. We may lose them in terms of the violence and the safety issues. There's literally no other federal program that has a focus like a laser on the experiences of these children and youth, education and beyond."
'How do we keep youth safe?'
Even before the coronavirus prompted widespread disruption, the number of K-12 students experiencing homelessness recently reached its highest point in over a decade.
More than 1.5 million students were homeless at some point during the 2017-18 school year, according to the most recent federal education data. That tally includes children who lived in shelters, cars or campgrounds and lacked a fixed nighttime residence. It also includes children who were "doubled up" in homes with other families. Among those students, roughly 12 percent lived in shelters when they were first identified as homeless, while more than 80 percent resided in motels or were temporarily living in others' homes.
Homeless students who live in others' homes have always been "one argument away from being kicked out on the streets," said Michael Carr, the homeless-student liaison at the Washington County School District in St. George, Utah. The district currently serves nearly 900 homeless students, most of them doubled up in homes with other families, he said. With schools closed, interpersonal dynamics could falter as people spend more time indoors and stress levels skyrocket, he said.
The main drivers of youth homelessness vary regionally, Duffield said. In some places, low-income families have struggled to find affordable housing in cities experiencing rapid growth. Some communities have been ravaged by opioid and methamphetamine addiction, while others were hit with natural disasters.
Though homeless students have long lagged behind their peers academically, school liaisons say their educational needs have taken a back seat to basic necessities like food.
In the Grand Rapids area, where youth homelessness has spiked in recent years, feeding children became a top priority as schools — an important source of nutritious meals for low-income students — closed their doors due to the virus. Some schools are offering pickup meals, Gordon said, while others are delivering food along school bus routes. With many homeless shelters restricting movement in and out, a local nonprofit agreed to deliver meals to children in shelters and motels far from food pickup sites.
Creating a plan to feed at-risk youth was an important first step, Gordon said, but other pressing issues remain. For example, she said, her community needs additional shelter or emergency housing options — and fast.
"We have people who don't have safe places to go, and if we don't find a solution, then you're going to end up with tent groups and encampments that could increase the spread" of the virus, she said. "So we need to figure out: How do we keep people safe? How do we keep youth safe?"
Beyond providing students with basic necessities like food and, in some cases, health care, school campuses typically provide a safe space for homeless children during the day. The loss of that safety net is one of the most concerning aspects of the widespread closures, said Kelly Schultz, student services coordinator for Mead School District 354 in suburban Spokane, Washington.
"Sometimes where they're staying, there can be an unsafe situation, and school is where they come during the day, where there's less stress for them, there are good role models for them," she said.
At the Mead district, more than 300 students are currently considered homeless, Schultz said. Of those, roughly three-quarters are living doubled up with friends or family members. Although lawmakers in some regions have passed rules prohibiting evictions during the emergency, those protections aren't helpful for many families in doubled-up housing who lack formal leases.
'Domino effect'
The crisis has also been taking a toll on school liaisons. For Talley Westerberg, a social worker and homeless-student liaison in Hampton, New Hampshire, the loss of contact with a student was recently a cause for alarm.
With schools closed and a remote learning plan in place, Westerberg emailed a 15-year-old student last week, hoping he'd see her message on his school-issued laptop. With the student's parents grappling with substance abuse, she said, he's bounced around between living arrangements.
"My email literally was, 'Hey, I'm checking in, is there anything you need? How's your Wi-Fi? Do you have enough food? I'm just letting you know I'm here to be supportive during this time,'" she said. "I didn't hear back and I didn't hear back."
Several of the student's teachers emailed Westerberg and said they hadn't heard anything from him either. Westerberg said she was ultimately relieved a day later to hear from the student's mother, who confirmed the teen's well-being.
"He's a kid who can figure things out, but still I worry about the academic losses in addition to everything else in the middle of all of this," she said.
While school leaders scramble to provide children with basic necessities, it's important that their education doesn't get lost in the shuffle, said Raysa Rodriguez, associate executive director for policy and advocacy at the nonprofit Citizens' Committee for Children of New York. In New York City, where roughly 1 in 10 public school students were homeless during the 2018-19 school year, the city education department opened a network of "regional enrichment centers" for the children of critical employees such as health care workers and for children "in need of the most intensive support."
As school districts across the country transition to remote learning, homeless-student liaisons said they are concerned about their students' access to computers and reliable internet.
"Ensuring the positive trajectory [from] an educational standpoint is important for the livelihood of these kids in the long term," Rodriguez said. "What's at risk is an ability to break the cycle of poverty."
But as the coronavirus causes widespread disruptions, Duffield worries about its "cascading effects" and the possibility that student homelessness could escalate.
That's also a top concern for Carr, the homeless-student liaison in Utah. His school district is situated near Zion National Park, where many families rely on service industry jobs at restaurants, hotels and other parts of the tourism industry. With hours already slashed for some workers, Carr said, several parents have already told him they're struggling to cover utility bills and rent. For those who are able to work, child care has become a sticking point.
"There seems to be this domino effect," he said. "When people can't work, of course, they don't get the income. They're not going to get paid, so they can't pay their rent, and then are they going to get kicked out? Are we going to have this mass movement of more and more homelessness?"
Support The 74's year-end campaign. Make a tax-exempt donation now.