How Many Students Are Chronically Absent in the United States Each Year?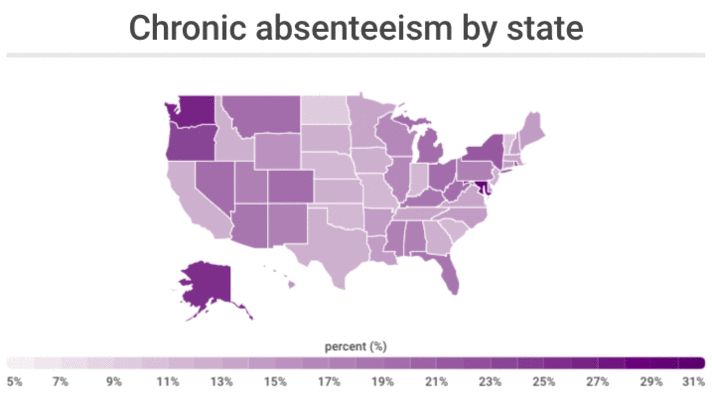 This is the latest article in The 74's ongoing 'Big Picture' series, bringing American education into sharper focus through new numbers, research, and reporting. Go Deeper: See our full series.
The issue of "chronic absenteeism" among students has festered into what the U.S. Department of Education has branded a national crisis.
Nearly 8 million K-12 students missed 15 or more days of school in 2015-16 — a marked increase from the 6.8 million estimated in 2013-14, when the federal Office for Civil Rights began tracking the data. It's not a short-term problem, either: Various research links chronic absences with poor academic performance, delayed graduation, and higher dropout rates.
Here's the percentage of chronically absent students in your state, using the most recent data available from the 2015-16 school year:
One sign of the emerging importance of the issue is that 36 states and the District of Columbia chose to embed chronic absenteeism into their federal accountability plans under the Every Student Succeeds Act (ESSA), the main national law guiding K-12 education.
Passed in 2015, ESSA requires states to submit plans to the U.S. Department of Education for identifying and assisting their lowest-performing schools. Here are which states chose to spotlight the issue of chronic absenteeism in their ESSA accountability plans:
The effects of chronic absence on student learning are potentially calamitous. A California study, for example, found that only 17 percent of kids who were chronically absent in kindergarten and first grade read proficiently by the time they reached third grade, compared with 64 percent of students with "good attendance."
And a study from Baltimore found that by sixth grade, chronic absenteeism was a leading predictor of not graduating high school. The crisis is especially prevalent in larger cities and for lower-income students, according to a 2014 study by the Center for New York City Affairs.
Tracking chronic absences can also shed light on external or social factors that keep kids out of school, such as bullying, undiagnosed disabilities, poor transportation, and an unwelcoming school climate, said Phyllis Jordan, editorial director at FutureEd.
For more information on the implications of chronic absenteeism, how states have molded their new ESSA plans to combat the issue, and experts' concerns that some states have fallen short in adequately defining or tracking the problem, read my recent analysis:
Other recent coverage from our archive about the growing focus on chronically absent students:
For more data and research about the state of America's schools, see The 74's 'Big Picture' number series. Other recent findings of note:
College Ready?: In 46 states, high school graduation requirements aren't enough to qualify for nearby public universities
Education Funding: The states that spend the most and least on education — and how their students perform compared to their neighbors
Charter Schools: Traditional public schools see higher test scores when a charter school opens nearby
Teacher Diversity: Why the race to find bilingual teachers? Because in some states, 1 in 5 students are English Language Learners
Self-Esteem: National survey shows one-third of girls with 4.0 GPAs don't believe they're smart
New Orleans: After Katrina-inspired school reforms, report shows New Orleans students now more likely to attend — and graduate from — college
Go Deeper: See our complete 'Big Picture' archive
Get stories like these delivered straight to your inbox. Sign up for The 74 Newsletter