One-Third of Girls With 4.0 GPAs Don't Think They're Smart — and Other Findings From National School Survey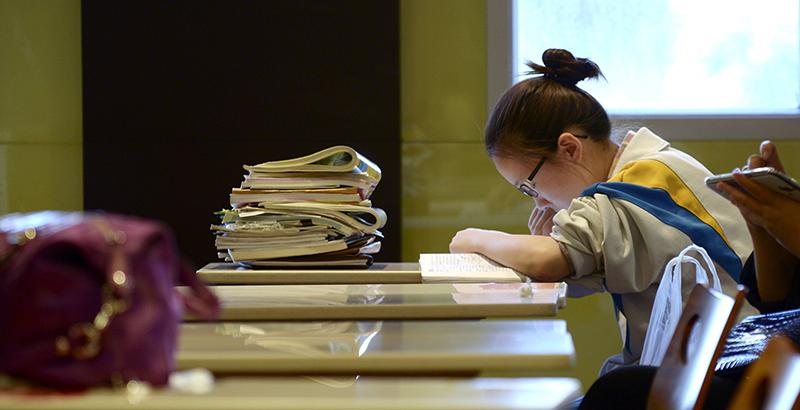 Who run the world?
If you ask Beyoncé, girls. But if you ask actual girls, the answer might be very different. A new national survey of nearly 11,000 girls between the ages of 10 and 18 shows that many lose confidence as they grow older, don't view themselves as smart despite high GPAs, don't believe they are good enough for their dream job, get depressed from social media, and feel pressured to sext.
Despite this lack of confidence, most girls in the survey said they like to be in charge — but many fear taking leadership positions because they might be thought of as bossy.
"When I think that half of girls aren't sharing their opinions and what they think because they fear people won't like them and how much we're missing out on of their brilliance and creativity and minds and additions to the world, that disturbs me," said Lisa Hinkelman, author of the Girls Index survey.
Hinkelman has been studying girls for 15 years as the founder and executive director of Ruling Our Experiences (ROX), the nonprofit behind the survey. Created from a research project that began at Ohio State University in 2006, ROX became an independent organization in 2011 that trains educators to support the well-being and confidence of girls in school.
Good girl, good grades
Even girls with 4.0 grade point averages lack confidence in their abilities: One-third said they don't think they are smart enough for their dream job, and 62 percent of girls with the highest GPAs say they don't share their opinion or disagree with others because they want to be liked — more so than girls with lower GPAs.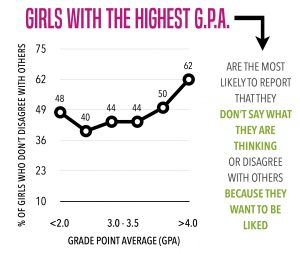 This complements other research that shows high school valedictorians are unlikely to be successful and wealthy, suggesting that high academic achievers are better at conforming rather than leading and innovating. Girls learn how to be good at school, Hinkelman said, and their high performance can lead educators to assume that they don't need as much support as their peers, masking social emotional needs.
As girls get older, they report liking school less: 55 percent of 11th-graders said they like going to school, compared with 87 percent of fifth-graders. But many girls do feel supported by their teachers, as 77 percent said their teachers treat them like they are smart.
Sex and social media
Girls who spend the most time on social media are least likely to trust other girls, more likely to feel depressed and sad, and least likely to get along well with their female peers.
And it's almost impossible to escape sexting. The survey found that 66 percent of high school seniors have been asked to send a sexually explicit photo, while 75 percent of girls believe students their age send these kinds of texts or pictures.
Social media is an area where schools could do better at supporting girls, Hinkelman said. School interventions are often fear-based, she said, telling students about the risks of the online world rather than how to navigate it. Instead, girls should be taught skills that transfer between social and real life: identifying coercion, setting boundaries, and learning how to say no.
"She needs to be able to say, 'Hey, dude, I don't want you to touch me.' It's the same skills as, 'I don't want to send you a picture,' " Hinkelman said. "Your voice is as important as anyone else in this situation."
Leadership and confidence
Girls become less confident as they get older. In fifth grade, 87 percent of girls say they are confident, while 60 percent of high schoolers say the same. Older girls are also less happy, are more inclined to want to change their appearance, and are less likely to believe they are good at things.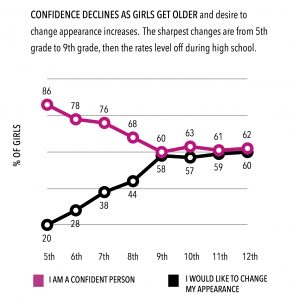 But there's a desire among young women for leadership. Most girls, 64 percent, say they like being in charge, and only 8 percent think that men are better leaders than women. But 1 in 3 fear that being in leadership positions will make them come across as bossy.
"I think that girls make great leaders, but I don't think that people always take girls seriously," an eighth-grade survey participant said. "It's like you can't be a girl and be strong at the same time. I think people underestimate us sometimes."
There's room for mentoring, however, as only 49 percent of girls said that someone at their high school is helping them explore post-graduation plans.
Supportive adults and friends can do a lot for improving girls' well-being. Girls with more of these relationships spend less time on social media (though the research doesn't say whether one causes the other). But since girls who spend less time on social media are less likely to report feeling depressed, building these relationships could prove important for girls' health.
Survey methodology
ROX partnered with schools to administer the survey to a nationally representative sample of girls in grades 5 to 12. The anonymous and voluntary surveys were taken by 10,678 girls in 2016 and 2017 using computer or paper.
ROX developed the questions and focus areas of the survey with the help of a group of education policymakers, counselors, attorneys, parents, researchers, and students. The survey was initially piloted with more than 600 girls, and the questions were refined from there.
Get stories like these delivered straight to your inbox. Sign up for The 74 Newsletter