This Week in Education Politics: Navigating the Shutdown, New School Cases Possibly Headed to SCOTUS, Superintendents of the Year & More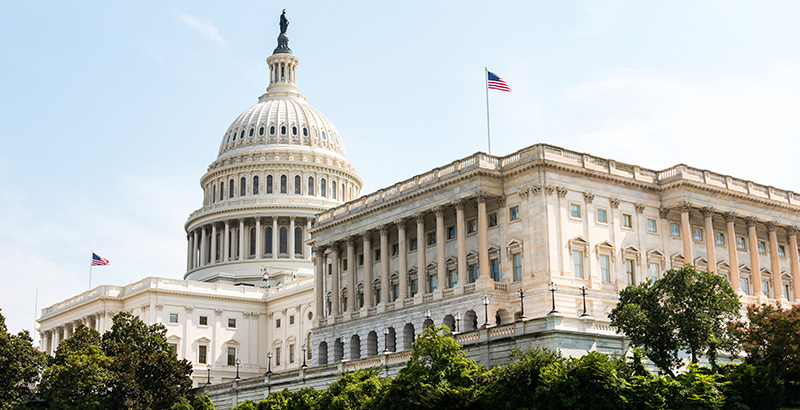 THIS WEEK IN EDUCATION POLITICS publishes most Saturdays. (See previous editions here.) You can get the preview delivered straight to your inbox by signing up for The 74 Newsletter; for rolling updates on federal education policy, follow Carolyn Phenicie on Twitter @cphenicie.
SHUTDOWN, PART OH WHO KNOWS ANYMORE: Welcome to a new year and a new Congress.
House Speaker Nancy Pelosi in a speech opening the 116th Congress Thursday said her priorities include expanded gun control, protections for Dreamers, and passage of the Equality Act, a bill that would include sexual orientation and gender identity among protected characteristics in federal civil rights laws, including in public education.
The last issue has been a major topic in K-12 education during the Trump administration, from the revocation of Obama-era guidance guaranteeing transgender students' rights to access facilities matching their gender identity, to Education Secretary Betsy DeVos's repeated clashes with congressional Democrats over protections for LGBT students in her hypothetical federal voucher program.
Any of those bills, of course, would run into opposition in the Republican-controlled Senate and from President Donald Trump.
The new Congress also welcomes back an old foe: the government shutdown. The House passed a bill Thursday to fund most of the currently shuttered agencies through the end of the fiscal year in September, and the Homeland Security Department through early February.
As of mid-day Friday, the Republican-controlled Senate had not taken up the bill. Trump has said he won't sign a bill that doesn't have money for a border wall.
The Department of Education received full-year funding last summer, so it remains fully open and running as usual, as is the Department of Health and Human Services, which in years past has had to shutter Head Start preschool programs during shutdowns.
Some smaller impacts to K-12 students, however, are percolating:
—The Bureau of Indian Education will remain open despite being under the umbrella of the shuttered Interior Department, because it received funding for the current school year in a 2018 funding bill. Other programs in Indian Country, however, from stocking food pantries to clearing snow-covered roads, have stopped or been scaled back on some reservations without federal funding.
—The school breakfast and lunch programs, run by the now-closed Agriculture Department, will use carry-over funds to continue "into February," according to a press release from the department.
SCOTUS WATCH: We're keeping an eye on a few cases pending before the high court.
Justices could announce as soon as Monday whether they'll hear two cases concerning participation by churches in New Jersey's publicly funded historic building preservation program. They're a follow-on to the court's 2017 Trinity Lutheran decision, in which the court ruled that an organization couldn't be excluded from a secular program simply because of its religious affiliation. The decision could have implications for public funding of religious schools, like in voucher and tax-credit scholarship programs.
Also pending before justices is a case concerning teachers' First Amendment rights to exercise their religion while on the job and in the presence of students. The case concerns a football coach in Bremerton, Washington, who was fired after violating a district policy banning school personnel from praying at school-sanctioned events when they could be observed by students.
ICYMI: DISCIPLINE GUIDANCE — The Education and Justice departments just before Christmas pulled an Obama-era guidance concerning school discipline. The move had been anticipated after being recommended by the federal School Safety Commission.
Proponents of the guidance, which urged schools to reduce suspensions and warned that racial disparities in punishments could violate federal civil rights laws, said the guidance was needed to help break clear patterns of harsher discipline for students of color, particularly black boys, and those with disabilities. Opponents have said it was an inappropriate federal intervention in what should be local policy and could hamper classroom safety. The impact may not be large: Relatively few districts changed policies in response to the Obama-era guidance, according to a survey of superintendents, and some state and district leaders have already vowed to stick with changes to discipline policies.
WEDNESDAY: POST-SCHOOL SUCCESS — Mona Charen and Ramesh Ponnuru are the latest speakers in the Thomas B. Fordham Institute's "Education 20/20" series. Charen will speak on the importance of the "success sequence": finishing education, getting a job, getting married, and then having children. Ponnuru will discuss what he says is America's preoccupation with college attendance, to the detriment of students who would be better served by other postsecondary options.
THURSDAY: SUPERINTENDENTS OF THE YEAR — Four finalists for superintendent of the year will participate in a panel discussion on current trends in education. The finalists are Jeff Butts of the Metropolitan School District of Wayne Township (Indiana); Curtis Jones Jr., Bibb County School District (Georgia); Mary Ann Rannels, West Ada Joint School District #2 (Idaho); and Brian Woods, Northside Independent School District (Texas). The winner of the prize will be announced at AASA The School Superintendents Association's conference in February.
THURSDAY: STATE OF AMERICAN BUSINESS — Chamber of Commerce President Thomas Donohue delivers a "State of American Business" address, "highlighting pro-growth policies that enable workers, families, and businesses." Donohue this fall said expanded early learning opportunities and K-12 education reforms are key to ensuring a prepared workforce.
Get stories like these delivered straight to your inbox. Sign up for The 74 Newsletter