DeVos Clashes With Democrats Over Federal Protections in School Choice Budget Proposals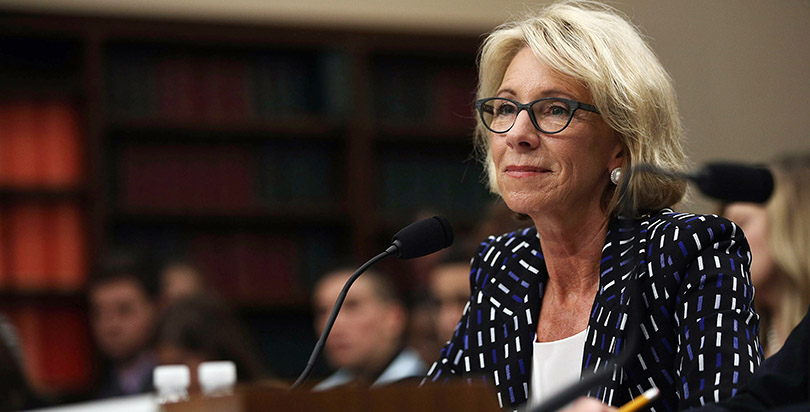 Washington, D.C.
Education Secretary Betsy DeVos on Wednesday stumbled on questions of civil rights protections in publicly funded private school choice programs while being grilled by Democrats over President Trump's proposed education budget.
DeVos, testifying before the House Appropriations subcommittee with jurisdiction over the Education Department, was charged with defending the administration's 2018 budget proposal. It calls for $9 billion in cuts to the agency, even as it requests another $1 billion to go to districts that allow dollars to follow students as they transfer among public schools. It also calls for a $250 million pilot program to provide grants to organizations that then give scholarships for students to attend private schools.
(The 74: Trump Ed Budget Fleshes Out Choice Proposal, Justifies Deep Cuts)
All five of the subcommittee Democrats criticized the choice proposals, with several zeroing in on whether the programs would be held to federal accountability rules and whether they would provide civil rights protections for students with disabilities, LGBT students, and others.
The questions, and many of DeVos's answers, echoed her politically damaging January confirmation hearing before the Senate Health, Education, Labor and Pensions Committee. She again Wednesday showed herself to be a staunch believer in choice as a remedy for almost every educational ill and in the necessity of giving state and local leaders a greater voice in virtually all decisions.
The most notable exchange was with Rep. Katherine Clark, Democrat of Massachusetts.
.@RepKClark to Sec. DeVos: "I am shocked that you cannot come up with one example of discrimination that you would stand up for students." pic.twitter.com/9yns8Np6hz

— CSPAN (@cspan) May 24, 2017
---
Clark asked specifically about Lighthouse Christian Academy, a school that participates in Indiana's voucher program but does not admit students from LGBT families.
(The 74: Some Private Schools That May Benefit From Trump's Voucher Plan Are Weak on Discrimination Rules)
"Is there a line for you on state flexibility? You are the backstop for students and their right to access a quality education. Would you, in this case, say we are going to overrule and you cannot discriminate?" Clark asked.
DeVos responded that states that have school choice programs "set up the rules around that."
Clark asked whether DeVos sees "any circumstance" in which the Education Department under her leadership would say a school is "not qualified."
"What if they said, 'We are not accepting African-American students,' but that was OK with the state? … Do you see any situation where you would step in?" Clark continued.
DeVos said "the Office [for] Civil Rights and our Title IX protections are broadly applicable across the board."
The Office for Civil Rights is charged with investigating allegations of illegal discrimination at the K-12 and higher education levels, but those investigations do not always result in "consent decrees," agreements between the federal government and the offending districts to stop behavior.
Title IX bans discrimination based on sex in education; the Trump administration previously revoked guidance expanding it to include protections for transgender students.
Clark continued hammering the issue.
"So if I understand your testimony, and I want to make sure I get this right, there's no situation of discrimination or exclusion that, if a state approved it for its voucher program, that you would step in and say that's not how we're going to use our federal dollars?" she asked.
DeVos responded that parents are best equipped to make choices for their children's schooling.
"Too many children today are trapped in schools that don't work for them. We have to do something different … That is the focus, and states and local communities are best equipped to make these decisions and framework," she added.
Later, in answering another member, DeVos said she is "not suggesting that students should not be protected … I have continued to talk about that need for all students to have a safe and secure learning environment."
The Office for Civil Rights will continue to investigate allegations of illegal discrimination, she said.
"As we talk about states assuming more authority and flexibility in how they implement their programs for their students, nothing about that changes their desire to ensure students have a safe and secure learning environment," she said.
The administration's budget proposal asks for $107 million for the Office for Civil Rights, equal to what Congress appropriated in the first half of the year but a reduction from the final $109 million authorized earlier this month. (Department officials said both Tuesday and Wednesday that they built the budget off the levels authorized for the first six months of the fiscal year. Allocations that match the early 2017 numbers might look like cuts but are requests for level funding, they said.)
She also had a testy exchange with Wisconsin Democratic Rep. Mark Pocan over whether the voucher program in Milwaukee, the first in the U.S., had been a success. Pocan said many of the vouchers had gone to wealthy families and had drained resources from rural schools; DeVos said the program is a success for the 28,000 students participating. They also sparred over whether schools participating in a voucher program would be held to the same standards as public schools.
Subcommittee chairman Tom Cole gently admonished Democrats several times for going over their allotted five minutes for questions, and for ending their time on a question that DeVos then didn't have time to answer. Cole called out Pocan in particular for running through questions rapidly without giving DeVos time to respond.
(The 74: Wisconsin Lawmaker Tells Betsy DeVos That Vouchers Don't Help Rural Kids. Research Shows He's Right)
DeVos did not give a definitive answer to questions from Rep. Nita M. Lowey of New York, the ranking Democrat of the full Appropriations Committee, on whether students with disabilities who use a voucher must give up rights afforded under the Individuals with Disabilities Education Act, again saying that each state sets its own standard.
Several Republicans on the committee, while questioning some of the budget's proposed cuts, praised the administration's proposal and school choice.
Rep. Andy Harris of Maryland referenced the D.C. Opportunity Scholarship, the only federally funded voucher program, and recent results that saw a drop in test scores for participating students as compared to their public school peers.
Test scores for students in D.C. public schools are rising, Harris said, which could be attributable to improvements spurred by competition from private options.
DeVos agreed. "I think it's directly relatable to the fact there are robust choices now," she said.
DeVos discussed choice throughout the hearing, even tying it to both special education and chronic absenteeism.
Cole asked about the recent Endrew Supreme Court case, which guarantees students with disabilities access to a meaningful education. That's likely to come at a greater cost to schools, but the federal government has never paid the 40 percent share of those expenses as was guaranteed under IDEA.
DeVos said she's aware of the decision, and the implications remain to be seen. The administration requested flat funding for IDEA, but she told another legislator later that she'd be open to further conversations on fully funding the program, which she said would cost $30 billion. Current funding is around $12.8 billion.
She also tied special education and the case, which hinged on whether the school district had to pay private school tuition for a boy with autism whose parents felt he was not making adequate progress in the public school, back to choice.
"I think that this is an area that is very ripe for broader discussion around empowering parents more," she said.
On chronic absenteeism, Washington Republican Rep. Jaime Herrera-Beutler asked how the department plans to empower states to better address the larger issues that may cause students to miss school, such as home environments or poverty.
Chronic absenteeism is among the strongest predictors to identify future high school dropouts, and many states are including it in their Every Student Succeeds Act accountability plans. During the 2013–14 school year, more than 6 million kids — about 1 in 7 students — missed 15 or more days of school, according to the latest U.S. Department of Education data.
(The 74: Clean Sweep: How Washers in Schools Boost Attendance and Improve Day-to-Day Life for the Neediest Students)
DeVos said it, like many other issues, is one that must be addressed at a local level, and may be improved by choice.
"So often it's a matter of the student and the school not being a good fit for one another, but yet the student doesn't have a choice or another alternative," DeVos said.
Ultimately, the president's budget proposal is just that: a proposal that starts a months-long negotiation with Congress, which makes the final decisions on funding, Rep. Rodney Frelinghuysen, New Jersey Republican and chair of the full Appropriations Committee, said at the start of the hearing.
"We'll go through each and every budget line, question every witness, and demand credible spending justifications," he said. "Only then will we make our own determinations."
Disclosure: The Dick and Betsy DeVos Family Foundation previously provided financial support to The 74.
---
---
Get stories like these delivered straight to your inbox. Sign up for The 74 Newsletter