6 Education Predictions for the New Split Congress: From School Infrastructure to Student Discipline to 'Groundhog Day' on Higher Ed?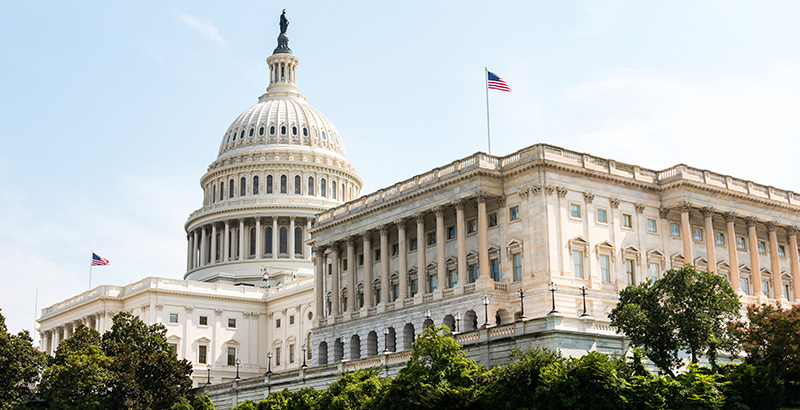 A new Congress will be sworn in Thursday, with dozens of new, more diverse members helping to propel Democrats to control of the House, while in the Senate, Republicans slightly expanded their majority.
This split Congress has much on its plate: House Democrats have pledged an uptick in Trump investigations. There's an impending fiscal cliff that could require a massive reduction in discretionary spending — on everything from medical research to the FBI — for the fiscal year that begins in October. And part of the government has been closed since before Christmas, amid an ongoing fight between Trump and congressional Democrats over funding for a border wall.
Underneath the larger political fights and battles over pending policy, there's much to be done on federal education policy even if it doesn't attract the same spotlight.
Here are six issues that could come before Congress this year:
1 'Groundhog Day' on higher ed:
This is something of a repeat education issue for Congress the past several years, since a reauthorization was due in 2014 and lawmakers more or less cleared their plates of major K-12 issues by passing the Every Student Succeeds Act in 2015.
The debate this year, though, takes on a different tone.
In the Senate Health, Education, Labor and Pensions Committee, Chairman Lamar Alexander has a ticking clock to accomplish his long-held goal of remaking federal higher ed policy. He announced in mid-December that he'll retire at the end of his term in 2020.
Alexander, a former governor, U.S. education secretary, and university president, has prioritized rolling back regulations. Though he and his Democratic counterpart, Sen. Patty Murray, hatched a long-sought compromise on K-12 policy with ESSA, they couldn't make bipartisan magic again for higher ed in 2018.
Complicating matters for Senate dealmakers in 2019, besides the vastly different priorities of the new Democratic majority, is the number of Democratic members running for president in 2020. At least two of the likely candidates, Sens. Elizabeth Warren of Massachusetts and Bernie Sanders of Vermont, are on the HELP Committee, and their campaign priorities on higher ed are sure to conflict with the Republicans'.
The Education Department's new Title IX rules governing how schools handle allegations of sexual assault on campus could also become an issue in negotiations; Murray has in the past called for the issue to be addressed in the reauthorization.
In the House, Democrats will take the lead in drafting a rewrite, with Rep. Bobby Scott, the new chairman of the education committee, in charge. He told The Washington Post he'll try to work with Republicans to find a bipartisan consensus.
Though the bill concerns higher education, K-12 advocates will be watching issues like teacher training grants and loan forgiveness and the TRIO and Gear Up programs that help first-generation college students.
2 Infrastructure week, for real?
The joke in Washington for at least a year is that it's perpetually "infrastructure week," a time for the Trump administration to focus on rebuilding America's roads and bridges and distract from the conflicts and legal woes that have often pulled focus.
But some experts predict 2019 will actually be the time to get it done.
Many of America's schools are sorely in need of an upgrade. Advocates will be looking for "an explicit role" for public schools in any infrastructure package, said Noelle Ellerson Ng, associate executive director of policy and advocacy at AASA, The School Superintendents Association.
But Congress has historically been unwilling to include schools in large-scale rebuilding legislation: the Trump administration didn't include schools in its 2018 infrastructure proposal, and funding for school repairs was not included in the 2009 stimulus.
Charter school advocates, too, are looking at the infrastructure proposal to provide new funding options for facilities; the schools, which usually don't get state funding for buildings the way district-run public schools do, often have to rely on more unconventional funding methods.
3 Focus on discipline and students with disabilities:
Scott and several Senate Democrats introduced new legislation to ban the seclusion and limit the physical restraint of students to incidents when it is necessary to protect safety. Children with disabilities are disproportionately more likely to face separation, or physical or mechanical restraint, than their non-disabled peers.
This could lead to some "soft conversations around what would be the precursors" to reauthorization of the Individuals with Disabilities Education Act, Ellerson Ng said. She predicted that funding (the federal government has never met its promised 40 percent share of additional costs for students with disabilities) and complaint resolution could be among possible discussion topics.
A reauthorization of IDEA, last completed in 2004, is a long way off, though, Ellerson Ng emphasized. This year could see "very, very, very soft conversations, but not necessarily a legislative proposal," she said.
4 Long-lingering reauthorizations:
Congress is notorious for failing to follow the deadlines it sets for itself (see: a handful of government shutdowns, scores of stopgap funding bills, the seven-years-overdue reauthorization of the Elementary and Secondary Education Act that became ESSA, etc., etc.).
In the education space, experts who spoke to The 74 mentioned several long-on-the-books K-12 laws that could be in line for a reboot. They include the Family Education and Privacy Act, which governs access to student records and data and hasn't been updated since it was passed in 1974; the Education Sciences Research Act, last updated in 2002; and the federal law authorizing Head Start, last updated in 2007.
5 ESSA changes:
The Education Department has set a March 1, 2019, deadline for states to change their ESSA plans for how they'll rate schools in the 2019-20 school year. State education chiefs must consult with their governors and give communities a chance to comment.
Several new governors who focused on K-12 will take office in 2019, notably Michelle Lujan Grisham in New Mexico, who campaigned on large-scale changes to the state's A-F accountability system.
6 Optimism for charter school grants, headwinds for private school choice:
Though some Democrats at the state level campaigned on cracking down on school choice, experts don't expect that skepticism to affect federal politics. The federal charter school program, in particular, has been one of the biggest K-12 funding winners in recent years, and advocates predict increased funding for it.
"We're confident that we'll continue receiving funding, and we are hopeful that we'll be able to continue to keep the bipartisan support for the cause alive and well," Nina Rees, president and CEO of the National Alliance for Public Charter Schools, told The 74.
John Schilling, president and CEO of the American Federation for Children, agreed that charters will likely continue to receive funding increases.
"We'd like to see that charter school funding continue to increase. Having said that, candidly, that's low-hanging fruit," he said.
AFC, which also advocates for private school choice, would like Congress "to look at some bolder things," like education savings accounts for military families and a federal tax credit scholarship, but Schilling acknowledged it will be tough with Democrats in control of the House.
"This is not Democrats' favorite issue," he said.
Get stories like these delivered straight to your inbox. Sign up for The 74 Newsletter