This Week in Education Politics: A Road Map to Rewrite the Higher Ed Act, New Ed Department Nominees, Predicting the House's 'Ed Labor' Priorities & More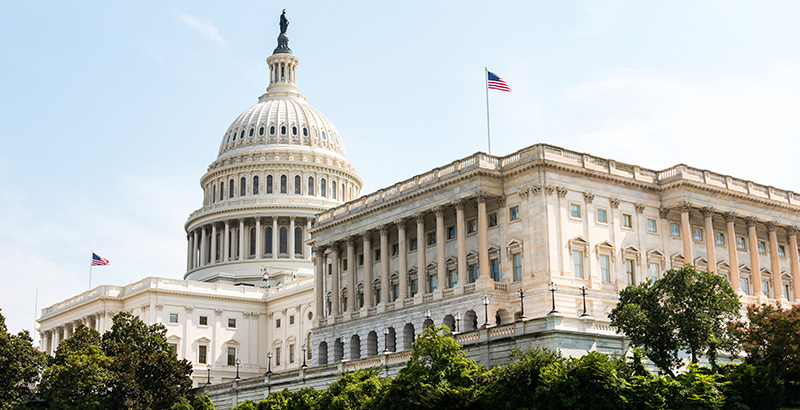 THIS WEEK IN EDUCATION POLITICS publishes most Saturdays. (See previous editions here.) You can get the preview delivered straight to your inbox by signing up for The 74 Newsletter; for rolling updates on federal education policy, follow Carolyn Phenicie on Twitter @cphenicie.
INBOX: STATE OF THE UNION — The annual address became the D.C. equivalent of a feuding tween's birthday party, with invitations given and rescinded as a prize in a larger fight. But it's really happening Tuesday, and President Trump said the theme will be — wait for it — "unity."
Alongside topics such as immigration, trade, health care, and foreign policy, Trump will ask Congress to "produce an infrastructure package that delivers substantial investments in vital national infrastructure projects," a senior administration official said on a call with reporters Friday.
The White House official didn't elaborate on the infrastructure package, including how much Trump would seek to spend. Though Trump hasn't included upgrading America's school buildings in past infrastructure plans, look for Democrats, at least those on the Education and Labor Committee, to push hard to include them in any big package.
Rep. Bobby Scott, the committee's chairman, and other Democratic lawmakers last week released a bill to fund $100 billion in school infrastructure improvements and said schools could "easily be a part" of any bigger infrastructure deal.
Trump's 2017 address (not officially a State of the Union because it was his first year in office) focused heavily on school choice. Last year, K-12 talk was almost nonexistent besides discussion of DACA and Dreamers, the young people brought to the country illegally as children who were temporarily given some legal protections.
ICYMI: WELCOME ED LABOR — The House Education and Labor Committee (renamed from Education and the Workforce, as it had been known under GOP control) formally organized last week.
On the committee's oversight agenda for the next two years: ESSA implementation; the federal school safety commission's report and "interest in arming teachers"; rebuilding schools in Puerto Rico, the U.S. Virgin Islands, and elsewhere affected by natural disasters; the Education Department's "disproportionality" rule for special education; child nutrition programs; and general implementation of civil rights laws.
2020 WATCH — Sen. Cory Booker of New Jersey announced Friday he's running for president. The former mayor of Newark has a long history in education policy, including a continued embrace of charter schools, even as they've become more contentious in the Democratic Party.
He joins several other familiar faces who have already joined the race:
● Julián Castro, former secretary of Housing and Urban Development and former mayor of San Antonio, who started a pre-K program in his city.
● Sen. Kirsten Gillibrand of New York, best known in the education world for her work on Title IX and sexual assaults on college campuses.
● Sen. Kamala Harris of California, who kicked off her campaign calling for universal pre-K and debt-free college.
● Sen. Elizabeth Warren of Massachusetts, who has been one of the most vocal voices on ESSA implementation and civil rights protections in the Senate.
MONDAY: HIGHER ED — Sen. Lamar Alexander, chairman of the Health, Education, Labor and Pensions Committee, discusses his committee's agenda for rewriting the Higher Education Act at the American Enterprise Institute. A panel discussion will follow. Alexander, a former college president and U.S. education secretary, has for several years focused on rewriting the law, with an emphasis on deregulation. He's on something of a ticking clock: he announced last year he will leave the Senate at the end of his current term in 2020.
TUESDAY: SKILLS — The National Skills Coalition kicks off a three-day conference. Reps. Glenn Thompson and Raja Krishnamoorthi, the co-sponsors of a 2018 update to federal career and technical education law, on Wednesday discuss "how bipartisanship can change the course of skills policy."
WEDNESDAY: ED NOMINEES — The Senate Health, Education, Labor and Pensions Committee holds a vote on several nominations, including Robert L. King to be assistant secretary for postsecondary education. King, currently the president of the Kentucky Council on Postsecondary Education, will play a key role as Congress again considers a reauthorization of the Higher Education Act.
WEDNESDAY: EARLY CHILDHOOD — Representatives of Public Prep, a charter network in New York City, discuss their innovative partnership program that provides a home visiting program, focused on school readiness, to the young siblings of their students. A panel at AEI will also discuss the potential for partnerships between K-12 and early childhood, and implications for including young children in federal education law.
THURSDAY: COLLEGE LEADERS — Harvard President Larry Bacow comes to AEI to discuss universities' need to adapt to evolution in technology, state budgets, and student needs. He then joins a panel of experts to discuss the future of higher education in America.
Support The 74's year-end campaign. Make a tax-exempt donation now.