Sen. Cory Booker Headlines NOLA Charter Rally As He Eyes 2020 Presidential Run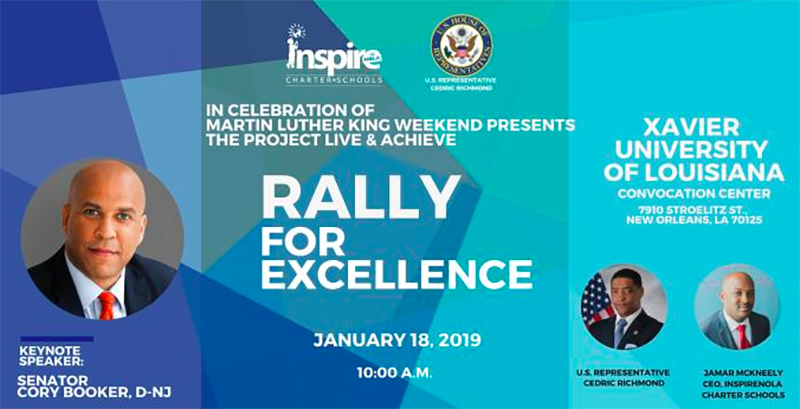 New Orleans
Sen. Cory Booker's first stop in a weekend swing through Southern states — seen by many as a preamble to a 2020 presidential run — was at a rally Friday for some 5,000 New Orleans public school students who greeted him with chants of "Run, Cory, Run."
"Cory, you always say, 'Listen to the kids,'" joked Louisiana Congressman Cedric Richmond, who prompted the students packed into Xavier University's Convocation Center to put Booker's possible White House aspirations front and center.
"By you standing up and challenging and inspiring others, that's how our nation changes," Booker told the young people. "If we work together, this nation will rise."
The event was a "Rally for Excellence" hosted by InspireNOLA Charter Schools and Democrats for Education Reform. Booker acting as the headliner while also contemplating a run for the Democratic nomination stands out at a time when other 2020 Democratic contenders have distanced themselves from charter schools or school choice while embracing teachers unions, who see charter schools as a threat.
While the merits of school choice have created a divisive internal fight among Democrats, Booker has walked a line. He's voiced support for teachers unions, including United Teachers Los Angeles, which just settled a six-day strike in which they pushed for a cap on charter schools, while recently reasserting education reforms he accomplished while he was mayor of Newark, including bolstering charter schools, saying they dramatically improved academic outcomes for low-income African-American students. "My loyalty is to a free public school, high-quality public school education," Booker told The 74 in September. "I don't care if you're a charter school. I don't care if you're a magnet school."
The 49-year-old Democratic standout, who could be facing newer rising stars in his party, including the already-declared U.S. Sen. Kamala Harris, spoke to the students about the importance of civic engagement and the need to fight societal injustice.
"The opposite of justice is not injustice," he said. "It's apathy and indifference."
Booker went on to tell the story of how his father rose above his impoverished upbringing in rural North Carolina to become one of IBM's top salesmen, all the while battling racial and economic barriers that still exist today.
When his parents first moved to New Jersey, Booker recounted, they tried to buy a home in a traditionally white neighborhood, but real estate agents refused to sell to a black couple. His father eventually fought back by participating in an undercover sting operation with a local fair-housing group that exposed those discriminatory practices and allowed his parents to buy the home he grew up in.
"We still live in a country where the power of the people is greater than the people in power," he said.
Booker's address capped a series of speeches and student performances held in honor of the Martin Luther King Jr. holiday that was organized as part of "Project Live & Achieve," an initiative of InspireNOLA and New Orleans community groups to promote nonviolence, academic success, and community service among the city's youth.
Booker, who has not said whether he will run, was surrounded afterward by throngs of students eager for high fives and selfies.
"It's important that New Orleans students have an opportunity to hear from a leader who looks like them and has lived similar experiences to them," Eva Kemp, Louisiana state director of Democrats for Education Reform, noted after the event. "Sen. Booker's efforts to improve educational outcomes for low-income students and his work on criminal justice reform exemplifies what it means to be a public servant."
"Hopefully students come away inspired to make a difference in their own communities," she added.
Support The 74's year-end campaign. Make a tax-exempt donation now.