Trump Delves Into DACA Deal During State of the Union Address; All But Forgets to Mention K-12 Education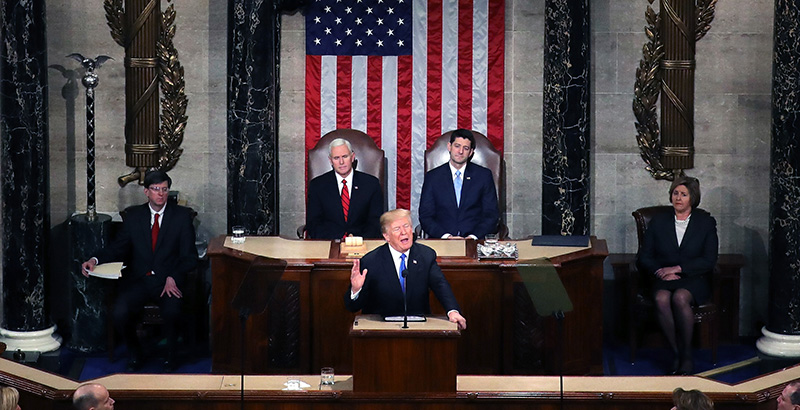 Other than briefly addressing the high-profile fate of Dreamers, Trump largely ignored K-12 education concerns in his first State of the Union Tuesday evening — a contrast to remarks last year when he called for a new school choice proposal.
Trump last year in a February address asked Congress to "pass an education bill that funds school choice," allowing families to choose public, private, charter, magnet, religious, or home school.
Trump's only explicit reference to education this year came in a call to "open great vocational schools so our future workers can learn a craft and realize their full potential" as the Republican tax reform plan creates new job. His call for a $1.5 trillion infrastructure plan did not mention renovating or rebuilding the nation's aging schools as among the list of possible projects.
In the audience last year as Trump's invited guest was Denisha Merriweather, perhaps the highest-profile recipient of Florida's tax-credit scholarship program. She now works for Education Secretary Betsy DeVos, whose signature issue has been expanding school choice.
Trump — and congressional Democrats — this year also used young guests to highlight new policy proposals.
Dozens of DACA recipients came to the speech as Democrats' guests, even as one congressional Republican posited on Twitter that they should be arrested and deported.
The administration this fall ended the DACA program, which provides work permits and protection from deportation to young people brought to the country illegally as children. Continuing protections for those estimated 800,000 young people, including nearly 9,000 teachers, has been a top cause for congressional Democrats. The federal government shut down earlier this month over the issue, with Democrats extracting a promise from Republican leaders to work on the issue ahead of a February 8 deadline.
Trump reiterated Tuesday that a pathway to citizenship for 1.8 million people brought to the country illegally as children is one of four "pillars" of an immigration plan, alongside an uptick in immigration enforcement and funding for a border wall, an end to the visa lottery system, and changes to family-based immigration.
"My duty, and the sacred duty of every elected official in this chamber, is to defend Americans — to protect their safety, their families, their communities, and their right to the American dream. Because Americans are dreamers too," Trump said.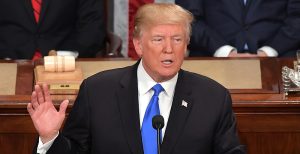 Trump, meanwhile, invited the parents of Nisa Mickens and Kayla Cuevas, two teenagers who were killed by the MS-13 gang in New York in 2016.
"Many of these gang members took advantage of glaring loopholes in our laws to enter the country as unaccompanied alien minors — and wound up in Kayla and Nisa's high school," Trump said.
Evelyn Rodriguez, Kayla's mother, filed a lawsuit against her daughter's school, part of the Brentwood Union Free School District on Long Island, charging that it didn't do enough to protect her.
The girls' parents stood Tuesday night, receiving a sustained standing ovation, with Elizabeth Alvarado, Nisa Mickens's mother, wiping tears from her eyes.
"Everyone in America is grieving for you. And 320 million hearts are breaking for you," Trump said. "We cannot imagine the depth of your sorrow, but we can make sure that other families never have to endure this pain."
School officials on Long Island are caught between competing priorities of safeguarding students from gang violence while also ensuring civil rights protections are maintained and innocent students aren't caught up in increasing law enforcement action.
Rep. Joseph Kennedy III, giving the Democratic response, spoke from Diman Regional Vocational Technical High School in working-class Fall River, Massachusetts. Kennedy touched briefly on Democrats' priorities, including "a good education that you can afford" and affordable child care. He also pledged that Democrats would fight for Dreamers.
Get stories like these delivered straight to your inbox. Sign up for The 74 Newsletter