Senate HELP Democrats Continue to Sound Alarm on Weak ESSA Implementation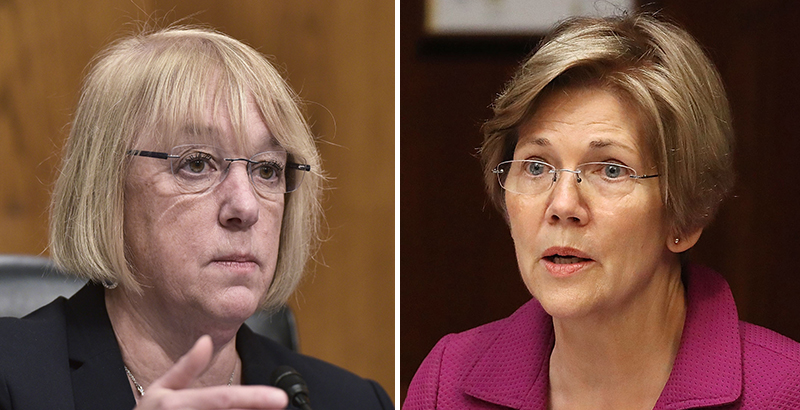 Washington, D.C.
Tuesday's hearing in the Senate Health, Education, Labor and Pensions Committee was supposed to focus on state innovation unleashed through the Every Student Succeeds Act. That's not what happened.
Democrats instead homed in during the two-hour session on what they say are failures by the Trump administration and state leaders to write strong implementation plans to protect all students.
It started with ranking Democrat Patty Murray, who said the state flexibility given under the law is only possible when backed by strong federal guardrails that ensure states and schools are providing good educations for poor children, students with disabilities, children of color, and others historically not well served in the American education system.
"I fear that the totally inaccurate notion that ESSA is all flexibility and has no role for the federal government has taken over," she said.
Congressional Republicans' decision to roll back Obama-era accountability rules left states with the impression that plans would be approved without scrutiny, Murray said.
Sen. Elizabeth Warren, one of the final senators to speak, said the move took a "very bipartisan achievement" and "made implementation of this law extremely partisan for no reason that I understand."
She also pointed to a report by the conservative Thomas B. Fordham Institute that found 20 provisions in the scrapped rules that would have provided more innovation to states.
"Even without the accountability rules to explain some of the details about how to enforce it, [ESSA] is not a blank check," she warned. "The key accountability provisions in the law that many of us fought hard for are still in the law."
Committee chairman Lamar Alexander said, as he has in the past, that it was necessary to block rules where the Obama administration had overstepped prohibitions in the underlying law.
He also said that despite a change in administrations and accountability rules, "this has been a smooth process for states," and Education Secretary Betsy DeVos should be praised for keeping to her 120-day deadline for reviewing state plans and providing feedback that makes state plans stronger.
Only two Republican senators besides Alexander attended; Sen. Todd Young of Indiana focused his questions on the importance of career and technical education, while Sen. Bill Cassidy of Louisiana focused on dyslexia.
Three state education chiefs who also testified at the hearing — Candice McQueen of Tennessee, John White of Louisiana, and Christopher Ruszkowski of New Mexico — got few questions about their specific state plans. All three plans have been approved by the Education Department and largely received high marks from independent reviewers.
David Steiner, a member of the Maryland Board of Education and previously the state education commissioner in New York, was left largely to criticize inadequacies in other states' plans, though he did not name any specifically.
In response to a question from Murray, Steiner, currently executive director of the Johns Hopkins Institute for Education Policy, pointed, among other issues, to "deeply vague" definitions of underperforming subgroups, and the muddling of definitions of how states will intervene in schools with low-performing subgroups.
(The 74: Student Advocates Sound the Alarm: States' ESSA Plans Will Fail the Underserved Kids the Law Was Built to Protect)
"When we don't identify them … all it means is some students are being left out," Murray said.
Sen. Chris Murphy of Connecticut also focused on the important balancing act between guardrails and state flexibility, saying that "those guardrails are just as important as the innovation."
Murphy focused on the Education Department's decision to drop references in state plan templates that interventions in failing schools be evidence-based, saying it's "curious" to do so, given how intentional Congress was in including it in the law.
Steiner said there are plenty of resources available to states, and there are real differences in, for example, curriculum options.
"This can sound wonkish … We're talking about real lives here, and we're talking about the difference between a curriculum or an intervention that has major research behind it … versus a piece of intervention that, frankly, is liked by some group of adults in some place and thereby gets federal funding," he said.
Sen. Maggie Hassan of New Hampshire raised concerns about states failing to include students with disabilities in mainstream classrooms and over-identifying students with "severe cognitive disabilities" eligible for alternative assessments.
She also asked Steiner about states' use of GEDs and other alternative diplomas in graduation rates.
Beyond the substance of the Education Department's feedback, Murray also criticized its process, particularly the switch from providing feedback on state plans via public letter to doing so in phone calls, where there is no written documentation.
Of the 16 states that submitted their plans by the early April deadline,14 have been approved. The remaining 35 plans that met the September deadline are under review by the Education Department, though two of them — South Carolina and Alabama — were granted extensions after the recent hurricanes.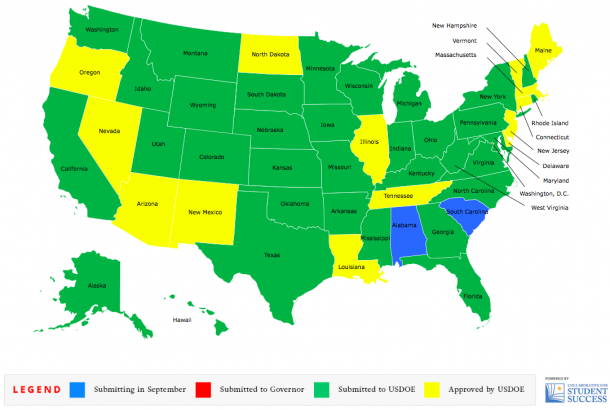 "The department does need to improve its state plan submission feedback process so we know states are complying and we know what the process is and the law is being implemented as we wrote it," Murray reiterated at the conclusion of the hearing.
Get stories like these delivered straight to your inbox. Sign up for The 74 Newsletter