The Week in COVID & Education Policy: Americans Pick 'Health & Safety' Over In-Person School, How COVID Is Affecting Children's Brains and More Key Updates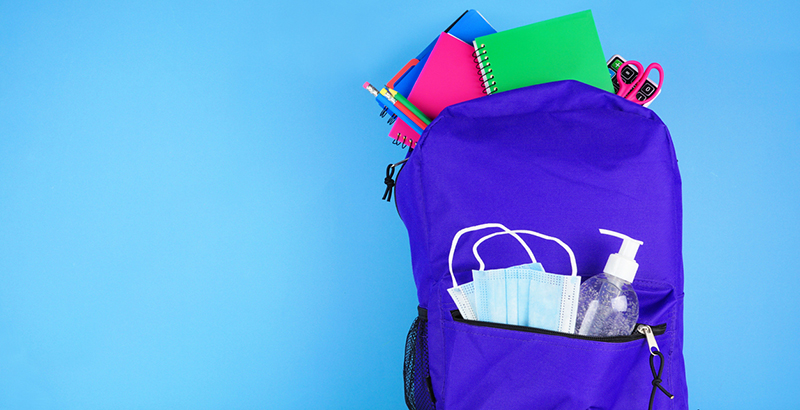 This is our weekly briefing on how the pandemic is shaping schools and education policy, vetted, as always, by AEI Visiting Fellow John Bailey. Click here to see the full archive. Get this weekly roundup, as well as rolling daily updates, delivered straight to your inbox — sign up for The 74 Newsletter.
Americans value "health and safety" over in-person learning: New survey
"44% [of American adults] said it's more important to have schools open for in-person learning to avoid further interrupting students' education" in a new Harris Poll
"More than six in 10 Gen Z, millennial and Gen X respondents chose health and safety over in-person learning, as did 62% of parents with children younger than 18. Only 48% of boomers — or respondents 57 and older — said the same."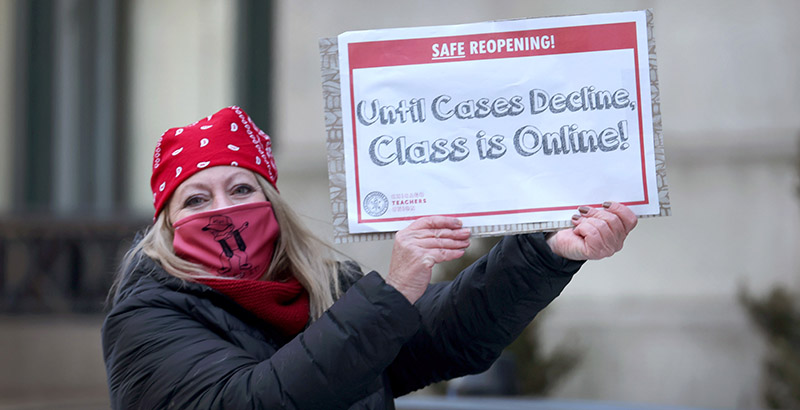 ---
The Big Three — Jan. 14, 2022
Guidance for in-person education in K-12 educational settings from Children's Hospital of Philadelphia:
"Continue indoor masking requirements within buildings and at school activities, regardless of vaccination status."
"Emphasize to family and staff that individuals with respiratory illness stay home while symptomatic."
"Students and teachers with mild symptoms consistent with COVID-19 may consider testing, if available."
"Discontinue required weekly testing of asymptomatic students, teachers and school staff."
"Allow COVID-exposed, but asymptomatic, staff and students to continue attending school in person under a seven-day 'modified quarantine' during periods of high community transmission (otherwise known as 'mask to stay')."
"Encourage all staff and students to update vaccinations."
PhillyVoice has more details.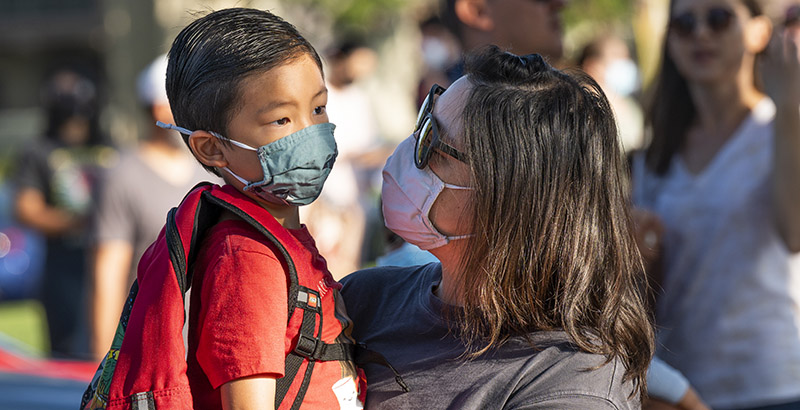 The COVID Generation: How is the pandemic affecting kids' brains?: Via Nature:
"Although children have generally fared well when infected with SARS-CoV-2, preliminary research suggests that pandemic-related stress during pregnancy could be negatively affecting fetal brain development in some children. Moreover, frazzled parents and carers might be interacting differently or less with their young children in ways that could affect a child's physical and mental abilities."
Edward Tronick, a psychologist at the University of Massachusetts Boston, with "his colleague, psychologist Nancy Snidman … conducted an experiment (which has not yet been peer reviewed) in which parents used smartphones to record interactions with their babies before, during and after they put on face masks. Although babies noticed when their parents put on masks … they would then continue interacting with their parents as they had before."
"Face masks don't seem to interfere all that much with emotional or language perception, either. A study published in May reported that 2-year-olds were still able to understand words spoken by adults in opaque face masks."
White House plans to send COVID tests to schools: The Biden administration announced that it would provide schools with 10 million COVID-19 tests every month. White House Fact Sheet and highlights:
The White House will send 5 million rapid tests and 5 million PCR tests to schools at no cost.
Federal agencies "are working with state, territorial and tribal partners to address testing needs in communities and stand up federal testing sites."
Centers for Disease Control and Prevention "will release additional materials for schools on how to implement test to stay programs, including a school checklist and frequently asked questions and answers."
---
Omicron
First U.S. Report of Omicron Outcomes: Study of 53,000 cases from Southern California. There were about 50% fewer hospital admission, about 75% fewer intensive care admission and 70% reduction in hospital length of stay with Omicron cases as compared with Delta.
Health Advisers to Biden's Transition Team Call for a New COVID Strategy: Via The New York Times:
Six former Biden advisers "have gone public with an extraordinary, albeit polite, critique — and a plea to be heard. In three opinion articles published [last week] in the Journal of the American Medical Association, they are calling for Mr. Biden to adopt an entirely new domestic pandemic strategy — one that is geared to the 'new normal' of living with the virus indefinitely, not to wiping it out."
"The authors also said that vaccine mandates should be imposed more broadly, including for schoolchildren, and that N95 masks should be made free and readily available to all Americans, as should oral treatments for COVID."
Papers:
America's Omicron Wave Already Looks More Severe Than Europe's: Via Intelligencer.
"NYU epidemiologist Celine Gounder [said] that between Dec. 27 and Jan. 3, ICU admissions in the city as a whole grew 55 percent. 'That is not a small jump,' she said."
"Why might our Omicron surge be different from the European one? Looking at the country as a whole, one big answer is obvious: Our vaccination rates are markedly lower than most European countries' …. or a possibility is that the relatively high levels of severe disease we are seeing in New York and throughout the U.S. are the residue of that lingering Delta wave."
Omicron Is Not a Reason to Keep Schools Closed: Dr. Leana Wen in the Washington Post
"Instead of arguing over whether schools are 'safe,' let's agree that schools are essential and then work to reduce risk to get students back to in-person learning."
"Schools must be open now, not in two weeks, as some have suggested. While some kids may stay isolated at home, many others will be in alternative child-care situations or gather with friends — settings that likely have greater transmission risk than school. There's also no guarantee that Omicron will pass in two weeks or that problems such as testing availability will be resolved by then. This uncertainty is a logistical nightmare for parents and creates further disruption for kids."
---
Federal Updates
Education Department:
National Telecommunications and Information Administration:
SCOTUS Blocks Workplace Vaccine Mandate: Via The 74 and NYT
---
City & State News
California:
Minnesota: Minneapolis and St. Paul teachers unions propose plans to respond to COVID in schools. A few of the requests:
"Maintain the 10-day isolation period for individuals who test positive for COVID-19 or require two negative antigen tests to return to school or work sooner."
"Provide antigen or PCR tests for all students to test weekly."
"Reducing class sizes, which has academic benefits and would allow for actual physical distancing in classrooms and other instructional spaces, to lower the risk of outbreaks that would force more students and educators to miss in-person instruction."
"Designating some teachers at each school to work remotely with students who cannot attend school in person because the students have tested positive for the virus or are isolating at home after an exposure."
New York:
North Carolina: High schools suspend bus service after too many drivers test positive for COVID-19.
Pennsylvania:
Rhode Island: Parents, teachers call for distance-learning option amid COVID surge.
---
COVID-19 Research
Moderna Timing for Vaccines for Young Children: Moderna says it expects to report data in children 2 to 5 years of age in March.
Effectiveness of Pfizer Vaccine Against Critical COVID-19 in Adolescents: New study found, "Among hospitalized adolescent patients, two doses of the BNT162b2 vaccine were highly effective against COVID-19–related hospitalization and ICU admission or the receipt of life support."
Why Coronavirus Testing Is Falling Short in Many Schools: Via NYT
"'A lot of schools are just testing parts of their population once a week, or not using the tests strategically, or confusing surveillance with testing to suppress outbreaks,' said Dr. Michael J. Mina, a former Harvard University epidemiologist and a leading expert on rapid testing who is now the chief science officer for eMed, which authenticates at-home test results."
"The lack of clear federal guidance on rapid tests has also been an issue, forcing 'every school system to re-create the wheel,' Dr. Mina said."
"Even in some large urban districts in heavily Democratic parts of the country, where leaders have vowed to keep schools open, effective testing has been hobbled. New York's schools announced last week that they were doubling participation in their regular surveillance testing. But union officials noted that even at the expanded level, the optional screenings covered 20 percent of the district's students at most."
Ask the Doctor: Navigating the 'New Math' of Omicron in Schools: Helpful piece by The 74
Fact Checking Claims About a Statement by Dr. Rochelle Walensky: A viral video of the CDC director discussing COVID deaths and co-morbidities is missing context.
Outcomes of SARS-CoV-2–Positive Youths Tested in Emergency Departments: Study and more from UPI.
"Just under 23% of people age 18 years or younger who tested positive for the virus in 41 hospital emergency rooms in 10 countries ultimately were admitted to the hospital. Of these, about 3% developed serious health complications."
"However, those ages 10 to 18 years were nearly 2.5 times as likely to develop severe symptoms compared with younger children."
"Similarly, young people with chronic health conditions had a more than twofold higher risk for developing serious illness than otherwise healthy children."
Children and COVID-19: State-Level Data Report
For the week ending Jan. 6, more than 580,000 child COVID-19 cases were reported. This number is a 78% increase over the 325,000 added cases reported the week ending Dec. 30 and an almost tripling of case counts from the two weeks prior.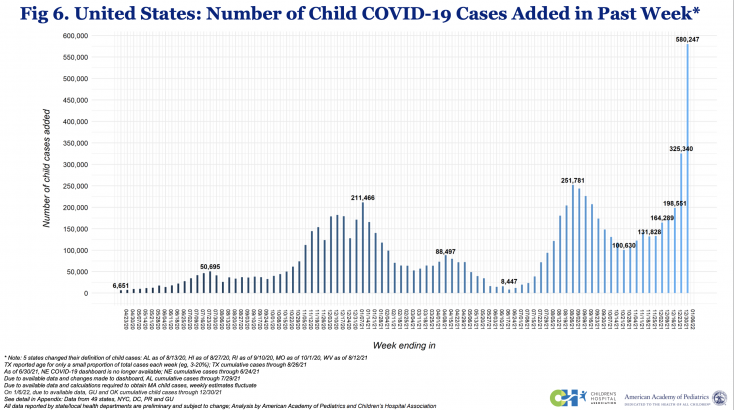 Home Tests to Be Covered by Insurance: "Starting Saturday, private health insurers will be required to cover up to eight home COVID-19 tests per month for people on their plans," the AP reports.
---
Viewpoints & Resources
One-Way Masking Works: Olga Khazan in The Atlantic.
Schools See Big Drop in Attendance as Students Stay Away, Citing COVID-19: Via Wall Street Journal
"New York City … saw its overall attendance rate fall below 70% when classes resumed after the winter holidays."
"In Boston Public Schools, student attendance has hovered around 70% since winter break ended Jan. 4."
"In Chicago, about two-thirds of public school students were present Jan. 3, the first day after winter break, rising to 72% the next day."
"In Rochester, New York, public school attendance last week ranged from 61% to 66%, according to school district data."
District Student Well-Being Services Reflection Tool: New resource from Chiefs for Change
A New COVID-19 Data Source for Answering Emerging Pandemic Questions: CRPE on the COVID-19 School Data Hub
---
… And on a lighter note
Flat on His Face: This could also be a video of me trying to get back into work mode last week.
I've watched this 19 times this morning. pic.twitter.com/zsdt4vN7DU

— Tashy McTashface (@TashP351) January 7, 2022
---
ICYMI @The74
Weekend Reads: In case you missed them, our top stories of the week:
For even more COVID policy and education news, subscribe to John Bailey's daily briefing via Substack.
Disclosure: John Bailey is an adviser to the Walton Family Foundation, which provides financial support to The 74.
Support The 74's year-end campaign. Make a tax-exempt donation now.