NYC Mayor, Teachers Union Head, Schools Chancellor Appear at Odds Over Remote Learning Option Amid Omicron Chaos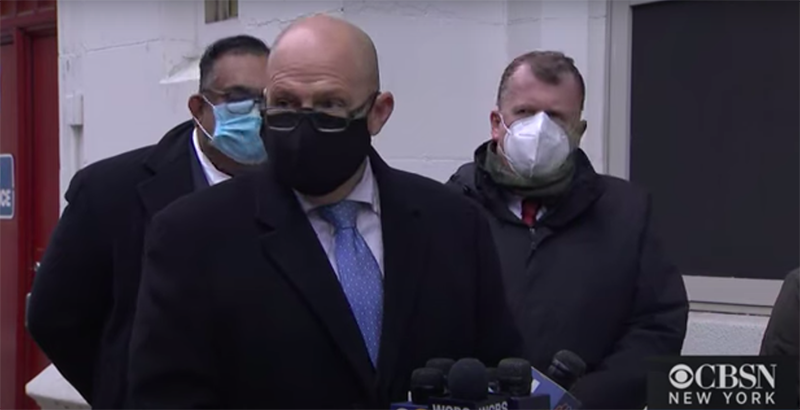 Get stories like these delivered straight to your inbox. Sign up for The 74 Newsletter
Updated, Jan. 13
In remarks where he took a swipe at Chicago's recent labor dispute that shut down its public schools, New York City Mayor Eric Adams said Thursday he was "willing to sit down and entertain" with the teachers union a temporary remote learning option.
While the mayor referred to United Federation of Teachers President Michael Mulgrew as his "good friend," he did not indicate that the city and the union had reached an agreement on what a "quality" remote option would look like. A sticking point may be whether the union would allow classroom teachers to livestream their in-person lessons to remote students.
More than once, Adams described any possible remote learning option as temporary and strongly reiterated his position that students needed to be in school. "We've lost two years of education. Two years" he said. "The fallout is unbelievable. Math and English. English is is not as bad as math, but the numbers with math, they are frightening."
One day after Mayor Eric Adams said it would take six months to develop a solid remote learning program, the head of the New York City teachers union pressed for quicker action and the schools chancellor said he was working on a plan.
But it might be at odds with how teachers want to deliver virtual learning, leaving students, parents and educators unclear about a path forward as the highly transmissible Omicron variant sweeps through the state and nation.
"We've called for a remote learning program since September, and we believe we need to do this," United Federation of Teachers President Michael Mulgrew said. "I think Mayor Adams is really thinking it through, because it is just the fact there's over 200,000 children who haven't been in school for over two weeks."
Mulgrew's remarks came during a town hall meeting Wednesday evening with roughly 15,000 UFT members and again Thursday morning on Good Day New York.
"We need to set something up, because we hope this is the last wave," he said, "but we do not know if it is. So, I think it's time for the city really to think about it and contemplate it."
Adams's ​​estimate that it will take roughly six months for city schools to include virtual options would effectively push remote learning off until the end of the school year. He made the comments Wednesday during a conference call with officials, including more than two dozen city and state legislators who sent him a letter in the first week of January calling for a pivot to remote learning through Jan. 18 to slow the spread of the virus.
Meanwhile, Chalkbeat reported, schools Chancellor David Banks told a parent advisory council Thursday morning that the city was in talks with the union to create a remote option for this year, but needs to iron out the details.
"My goal is to create an option that will take us at the very least to the end of the school year," Banks said at a virtual meeting. "If I could figure out a way to do a remote option starting tomorrow I would … It's not quite as simple as that because you have to negotiate this stuff with the unions."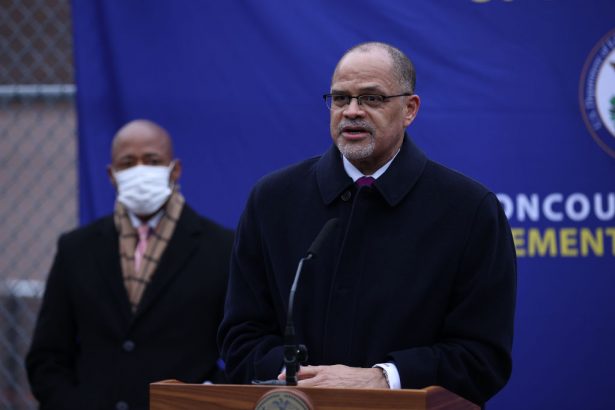 According to Chalkbeat, Banks suggested that one way to have remote learning immediately would be to do away with an agreement with the union that prohibits schools from requiring teachers to livestream their lessons and urged parents to take their demands for a remote option directly to their local UFT chapter leaders.
The back-and-forth was prompted by one of the most chaotic weeks in NYC schools since the pandemic first shut down classes in March 2020. Fear of the Omicron variant sparked widespread school walkouts by NYC students, who say they feel unsafe on campus and at risk of contracting the virus and bringing it home to their families. Worried parents have also been keeping their children home in unprecedented numbers: The New York City Department of Education reported Wednesday's daily attendance at 76.34 percent.
The figure is a marked improvement from last week when more than 300,000 students skipped class.
While some reports show the city might have already hit its peak, the infection rate remains troubling with roughly 40,000 new cases each day. The fast-spreading Omicron variant now has scores of teachers in the nation's largest school district calling in sick.
Studies have generally shown remote learning has led to academic, social and emotional harm compared to in-person instruction. In its earlier incarnation in NYC schools, it also posed staffing challenges with one set of teachers instructing children remotely while another set worked with them in the classroom.
Mulgrew, whose union represents nearly 200,000 public schools educators and school-related professionals, among others, said the city needs a reliable means to connect with those students who are unable or unwilling to come to campus.
"We have to make sure we are getting to all of the children because the learning loss we've seen already … is quite large," he said. "But on the remote option, we don't want to go back to 65 percent of the children staying home. So, for parents, I'm going to ask again, please if we have this option use it judiciously. And again, think about giving us consent for testing your child and really contemplate about getting your child vaccinated. Because these are two of the things the school system needs right now for keeping your child and all of the children safe."
Get stories like these delivered straight to your inbox. Sign up for The 74 Newsletter