Majority of Americans Back Remote Learning to Protect Children, Teachers from COVID Spread, New Poll Finds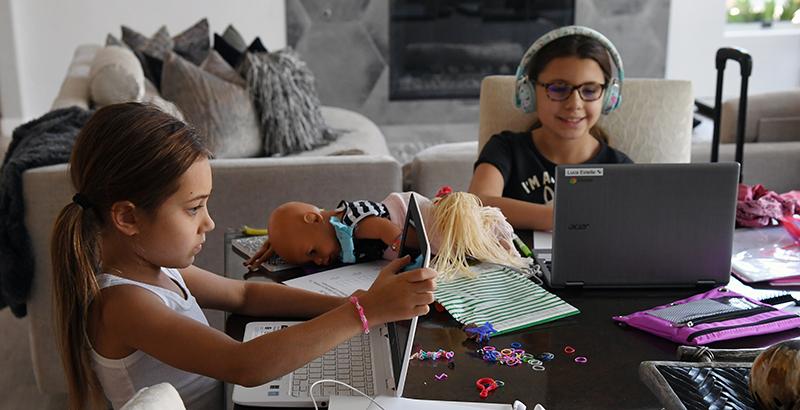 Get stories like these delivered straight to your inbox. Sign up for The 74 Newsletter
More than half of Americans favor remote learning to protect students and teachers' "health and safety" as COVID surges, according to a new Harris Poll conducted for Axios.
The findings, consistent among all racial and ethnic groups Axios said, came as students, teachers and parents in New York City and Chicago protested in-person learning.
Of the 2,093 Americans surveyed over the weekend of Jan. 7-9, 56 percent said avoiding COVID exposure was more important than keeping schools open.
Here are the poll's key findings:
Parents are even more likely to support distance learning amid the surge
Of those polled, 62 percent of parents with school-aged children favored remote learning. Preliminary findings from The 74's parent survey found similar results: 60 percent favored a remote option.
Republicans more hesitant to close schools
Differences in how Americans responded to the poll fell squarely along party lines: Only 37 percent of Republican respondents backed remote learning, compared to 70 percent of Democrats. 
Findings also exposed generational and income divides
Younger, lower-income respondents more frequently chose to protect "health and safety" over in-person learning — with more than 60 percent of Gen Z, millennial and Gen X respondents believing schools should move remote. Of boomers, aged 57 or older, 48 percent responded the same.
The poll showed differences along income as well, with 63 percent of Americans earning under $50,000 annually favoring distance learning. Those earning more than $100,000 were nearly divided, with 49 percent favoring remote and 51 percent backing in-person learning.
Axios noted a key limitation to the findings is that "risk tolerance exists along a spectrum," but respondents were only offered a choice between prioritizing "health and safety" or in-person learning.
Parents who opt to send children to in-person classes presumably may feel that "health and safety" is prioritized inside schools, while others believe daily exposure to hundreds of people is not a risk their family is willing or able to take.
Get stories like these delivered straight to your inbox. Sign up for The 74 Newsletter