'People are Coming to School Positive': Thousands of New York City Students Stage Walkout, Demand Remote Learning Options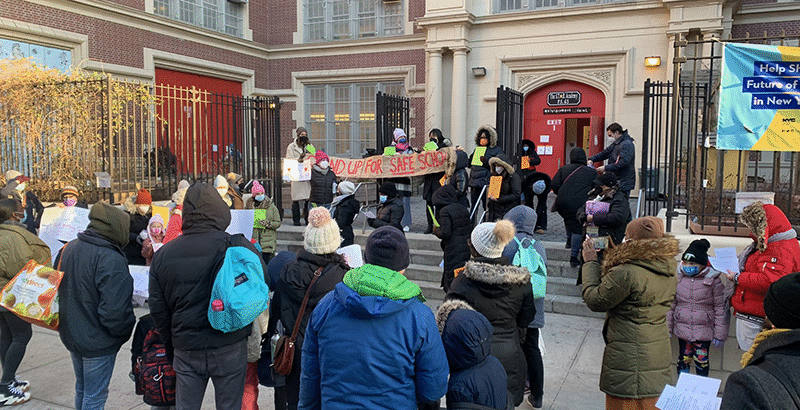 Get stories like these delivered straight to your inbox. Sign up for The 74 Newsletter
"People are coming to school positive."
"I think the school experience is gone. People aren't even showing up."
"I avoid the cafeteria now."
NYC students explain why they walked out of class.
Thousands of students from more than 29 New York City public schools abandoned their classes Tuesday walking out into frigid weather, demanding a remote learning option as Omicron surges and they feel unsafe at school.
As COVID cases rise and attendance remains unpredictable, New York City parents, students and teachers uncomfortable with in-person learning took to social media.
From coast to coast, Oakland and Boston students will soon stage their own walkouts.
One student's reddit post last week described being in school as "beyond control," detailing a day of absent teachers and "functionally no learning." Study halls became "superspreader events." Bathrooms were full of students taking COVID tests.
Teachers abandoned their classes when notified they had tested positive. Skipping class became "ridiculously easy," the student wrote.
An anonymous student shared that their parents are forcing her to go to school despite testing positive for COVID.
Despite last week's low attendance and 2022 first major snowstorm, Mayor Eric Adams has consistently opposed closing schools or offering a remote learning option.
"We don't have any more days to waste and the long-term impact of leaving our children home is going to impact us for years to come," Adams said, stressing schools are "sanctuaries."
Students left the conditions they called unsafe in hopes of garnering attention from "policy-makers that can help close down schools temporarily," organizers said in an instagram post.
Cruz Warshaw, a Stuyvesant High School Junior behind the walkout, charged it was "ignorant and inconsiderate to put people's lives at risk for without reason."
Three more juniors and seniors from Brooklyn Technical and Stuyvesant High Schools created social media accounts to share walkout plans and information on what they're asking for — and why:
Before long, students from more than two dozen of the city's schools said they would join in. The plan: Leave school at 11:52 a.m. — right before sixth period, around lunchtime for many — and head straight home.
Right on time and one after the other, Brooklyn Technical High School students did just that.
By lunchtime, the cafeteria in New York's largest school — by enrollment — looked like this:
Their exit was met with backlash, accusations they simply wanted the day off — and that they were probably all going to hang out.
This Brooklyn student insisted that wasn't the case:
However, some participants faced more than online anger. A redacted email from a Brooklyn school official threatened students with mandatory detentions upon their return.
"There are so many people sick and our mayor is not doing enough to protect us … We want the choice to keep our bodies safe," Felicia, a junior at Bronx High School of Science told The Riverdale Press reporter Sarah Belle Lin during Tuesday's walkout.
Some of the city's youngest learners, alongside parents, also joined the #Strike4SafeSchools.
Many students and parents disagree with offering a remote option and point to its shortcomings, including that tens of thousands still need reliable tech at home.
While attendance is still below 80 percent, it is up 9 percent from last week.
A few hours after the walkout, New York Schools Chancellor David Banks responded to the protests, asking student leaders to meet with him to work together for safe and open schools.
Get stories like these delivered straight to your inbox. Sign up for The 74 Newsletter