Ask the Doctor: Navigating the 'New Math' of Omicron in Schools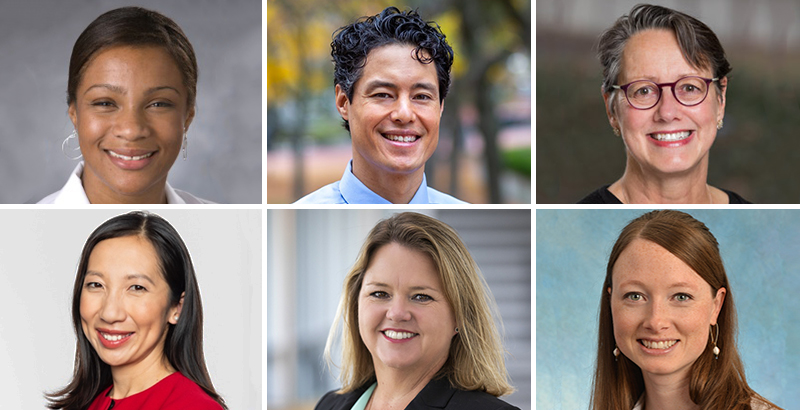 Support The 74's year-end campaign. Make a tax-exempt donation now.
It's a tricky moment in the pandemic for parents.
Mere weeks ago — though it may feel like a lifetime — K-12 operations seemed to be moving toward something of a pandemic equilibrium. Studies had confirmed that COVID spread less in classrooms than the surrounding community, children as young as 5 had gained access to vaccinations and, according to the White House, 99 percent of schools were open for in-person learning.
Then came the Omicron variant, sweeping over the country like a tsunami and plunging nearly all aspects of everyday life back into deep uncertainty.
In the weeks since, daily reported COVID cases in the U.S. have exploded, breaking pandemic records. More children are being hospitalized with the virus than ever before. And positivity rates among school communities have reached levels that were previously unheard of: 18 percent in Chicago, 25 percent in Yonkers, 36 percent in Detroit.
While most districts reopened as planned after the holidays, nearly 4,800 schools closed their buildings for all or part of the first week of January, according to the data service Burbio.
Even where classrooms did reopen, many parents chose not to return their children. In New York City, for example, nearly a third of students did not show up on the first day back from break and on Friday when parents were also dealing with a morning snowfall, attendance plummeted to 44.5 percent.
The unprecedented case numbers usher in a "new math," in the words of Harvard University infectious disease specialist Jacob Lemieux, for understanding and navigating life as the variant circulates.
"It's likely that Omicron COVID is going to be so ubiquitous that every child will be exposed repeatedly at school and elsewhere," Rebecca Wurtz, professor of health policy at the University of Minnesota, told The 74.
For many parents, that may be an unnerving reality.
The questions swirl: Do vaccines work against Omicron? How much protection does my child get from a cloth mask? What about an N95? What should I do if my kid tests positive?
The risk calculus can quickly become overwhelming.
Amid the widespread anxiety, and as pandemic fatigue continues to creep, The 74 spoke directly to health experts for clarity on how to understand the virus during this latest stage — with many of their takeaways offering reassurance.
Experts also weighed in on hot topics like what masks to wear in school, how to handle positive cases and the recent, controversial move from the Centers for Disease Control and Prevention to cut its recommended quarantine time for infected individuals from 10 to five days.
Here's what they had to say:
1 Are schools safe for children right now?
Yes, under the right circumstances, doctors agreed.
"I think for school districts that have a high vaccination rate, I think for school districts that have mandated indoor masking and I think for school districts that have appropriate ventilation and distancing … they're going to be OK," Philip Chan, medical director for the Rhode Island Department of Health, told The 74.
Numerous academic studies underscore that when schools employ multiple mitigation strategies together — like masks, distancing and ventilation — transmission of the virus happens less frequently in classrooms than in the surrounding community.
"Teachers and students are far more likely to be infected at social gatherings, restaurants, etc. than at school," George Washington University Professor of Public Health Leana Wen wrote on Twitter.
Even as thousands of schools across the country announced closures in the early days of the new year, President Biden implored K-12 leaders to continue in-person learning.
"The president couldn't be clearer: Schools in this country should remain open," said White House advisor Jeff Zients during a Jan. 5 press briefing.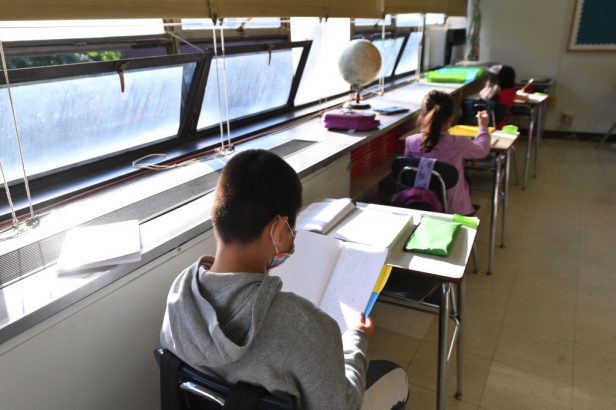 But school leaders are running into a roadblock: not enough staff due to high shares of K-12 workers testing positive for the virus. Where COVID spread is especially rampant, it may be the right call to take a brief pause on in-person learning, said Kristina Deeter, a physician at Renown Children's Hospital in Reno, Nevada. Teachers, she added, should not be coming into school if they're sick.
In Chan's Rhode Island, the majority of schools are open, though a handful had to close due to positive cases. The father of a 10-year old and a 14-year old, Chan said he felt confident sending his children back to their public school classrooms after the winter break. Both are fully vaccinated and wear surgical masks inside the building.
"I'm reassured that they're protected, even against the Omicron variant," he said.
2 Do vaccines work against Omicron?
The unanimous response from health professionals came in the form of a three-letter word: Y-E-S!
(Doctors, often technical and somewhat restrained in their email responses, answered this question using more exclamation than any other.)
Omicron has caused more breakthrough infections than other strains, they acknowledged, but emphasized that the immunizations have overwhelmingly succeeded at their key functions.
"The vaccines are still doing what they are intended to do: preventing severe infection and death," said Peyton Thompson, assistant professor of pediatrics at the University of North Carolina-Chapel Hill.
"Deaths are declining despite the rapid rise in cases, thanks to vaccination," she added.
And while it remains possible to catch the virus if you have received two, or even three shots, each dose of the vaccine provides an added layer of protection. Such cases tend to be mild, explained Wurtz.
"Breakthrough infections are almost always asymptomatic or trivial. Occasionally flu-like. So, yes, we can count on our vaccinations to keep us from getting really sick," the Minnesota professor wrote in an email to The 74.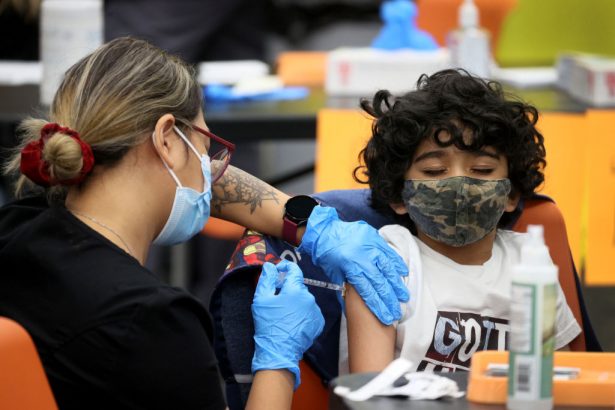 Children under the age of 5 are not yet eligible for shots, and are not expected to gain access until this spring at the earliest, Pfizer announced on Wednesday.
In the meantime, "the best way to protect kids under 5 is to vaccinate all of the people around them – their older siblings, other family members, day care providers [and] teachers," said Wurtz.
3 Boosters for kids — yay or nay?
The Food and Drug Administration on Monday authorized third doses for 12- to 15-year olds and, on Tuesday, the CDC recommended an extra shot for immunocompromised children as young as 5, five months after the initial two-dose series.
Deeter recommends that those who are now eligible receive their third doses.
"Many of our vaccines are actually three-shot series," she told The 74, citing the Hepatitis B immunizations, for example.
"My message to teenagers is this: you got your first shot, you got your second shot, you've got to finish the series."
4 Why are so many children being hospitalized with COVID?
The answer, doctors say, boils down to two factors: vaccination rates and community spread.
Nationwide, pediatric COVID cases and hospitalizations are at a pandemic high, the latter surging 66 percent in the last full week of December to an average of 378 daily admissions.
But at the same time, vaccination rates among young people remain much lower than adults. Less than a quarter of children ages 5 to 11 have received a single dose of the COVID vaccine, and just over half of adolescents ages 12 to 17 have been fully immunized, according to data published by the American Academy of Pediatrics. By comparison, nearly three-quarters of U.S. adults have received both shots.
The overwhelming majority of hospitalized pediatric COVID patients are unvaccinated, physicians report. "This is tragic, as the vaccine could have kept these children out of the hospital," said UNC-Chapel Hill's Thompson.
And regardless of vaccination status, the ballooning pediatric hospitalization levels do not mean that the Omicron strain is more severe to kids than previous variants.
"​​In large part, this is a numbers game," said Kanecia Zimmerman, a study lead on Duke University's ABC Science Collaborative, which guides school leaders on how to navigate COVID policy.
Even though surging caseloads nationwide have meant that more children have tested positive for the virus in recent weeks, "the proportion of hospitalized children remains small among the number of infected children," the pediatrician explained.
5 What kind of masks are "good enough?"
The extreme transmissibility of the Omicron variant has spurred numerous districts, some in red states, to reinstate mandatory masking rules — and has also reignited debates over which face coverings are most effective at protecting against infection.
There's no doubt that the N95 and KN95 models do a better job of filtering out viral particles from the air, doctors agreed. They have a layer of polypropylene, a type of plastic, that can trap the virus. Compared to a cloth mask, they can extend the time it takes to transmit an infectious dose of COVID by over seven times. If both the infected and exposed individuals are wearing N95s or KN95s, compared to both wearing cloth masks, transmission can take up to 50 times longer.
That said, Chan admits that the N95 and KN95 masks can be uncomfortable, and some may find it harder to breathe while wearing them.
"With my kids, I send them to school with surgical masks," he said, noting that he himself will slip on an N95 before walking into crammed indoor spaces like the grocery store.

But whether you opt for a simple surgical mask, or something beefier, here's his bottom line: "The cloth masks just aren't quite as good as other types of masks," said the Rhode Island doctor.
6 How should my child's school be testing students and staff for the virus?
In December, the CDC endorsed "test-to-stay" guidance that allows students and teachers who may have been exposed to the virus to take rapid tests and return to the classroom if their results are negative.
It's a helpful approach, Duke's Zimmerman believes. Through the Delta variant wave, 98 percent of people who were exposed to the virus were never ultimately infected, she said — meaning that without test-to-stay, the vast majority of quarantines are forced to miss class without ever having gotten sick.
But testing can be costly and a heavy logistical lift. Furthermore, COVID tests are in short supply nationwide. To cut down on the total number of noses to swab, schools in her state of North Carolina target resources to lunchtime exposures, where children drop their masks, she explained, eliminating the possibility of quarantine among less-likely cases where both students are masked.
Also important, according to Zimmerman: testing location. If students need to travel to an off-site area to receive their tests, it can exclude youth without access to transportation from participating in the program, forcing them to miss class for quarantine and creating further setbacks for the students already most affected by the pandemic.
"Offering testing at individual schools (not centralized locations) is critical for [the] success of this program because it is more likely to provide equal opportunity to all eligible staff and students within the district," said the Duke pediatrician.
7 How should I navigate quarantine if my child or I test positive?
In late December the CDC reduced its quarantine guidelines for those who test positive for the virus from 10 days to five, a move that divided many in the medical community.
The takeaway, according to the doctors we spoke to? "Yes, returning to school or work five days after a known infection when someone is no longer symptomatic is fine," said Wurtz.
Emphasis, they noted, is on no longer being symptomatic. Many individuals will continue having symptoms well beyond the five-day quarantine recommendation. If that's the case for you or your child, you should continue to isolate until symptoms subside, or test results come back negative, as you may continue to be infectious, doctors said.
"Come back symptom-free," said Deeter.
8 How long will the Omicron surge last?
A bit of good news here.
Though epidemiologists don't know for sure how long the Omicron surge will last in the U.S., cases have begun to subside in South Africa, where the variant was first identified in late November. Some believe the peak in many American communities will arrive before the end of January.
"In most countries that saw Omicron, it went up sharply, which is happening now in the U.S., and it came down sharply," said Chan. "There should be a steep decrease in the near future for us."
Support The 74's year-end campaign. Make a tax-exempt donation now.