The 11 Best Education Articles from January: Teaching the Insurrection, How the Pandemic Is Forcing Kids to Juggle Class & Jobs, Schools Face Financial 'Triple Squeeze' & More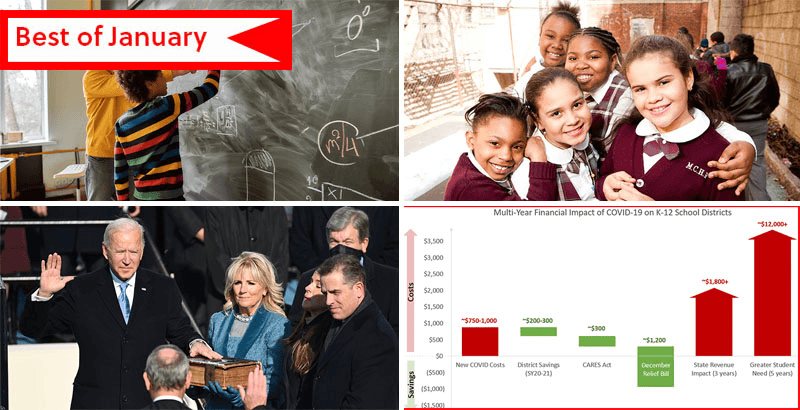 Every month, we round up our most popular and shared articles from the past four weeks. (Go deeper: See our top highlights from December, November and beyond right here)
New York's Times Square was all but deserted when the ball dropped on 2021, as America entered a new year — and a new presidential administration — still battling a pandemic that had shuttered the majority of America's classrooms. At The 74, our January coverage focused heavily on the early moves being made by the Biden administration to make good on a promise to reopen school campuses within 100 days, on the challenges being faced by many students in assisting parents through today's economic hardships while also trying to maintain remote learning, and on the fallout from the violent Jan. 6 invasion of the U.S. Capitol. From civics education to COVID learning loss, here were the most popular articles we published in January. (Reminder: You can also get alerts about our latest news coverage, exclusives and analysis by signing up for The 74 Newsletter)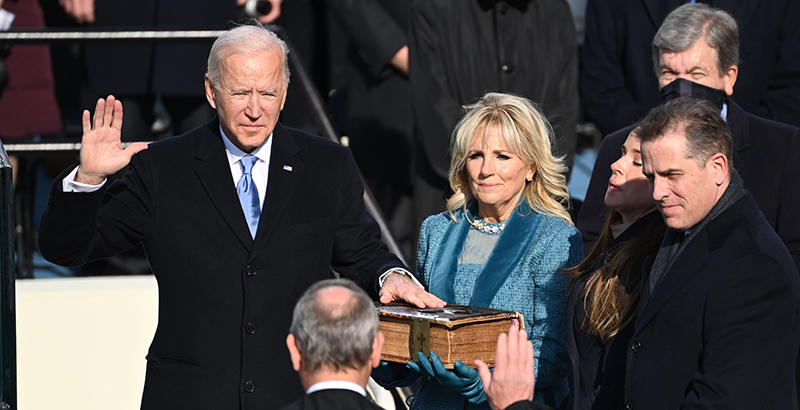 On His First Day in White House, Biden Dissolves Trump's 1776 Commission on U.S. History
Curriculum: In one of his first actions as president, Joe Biden signed an executive order rescinding the 1776 Commission, empaneled last year by then-President Donald Trump to promote patriotic education. The group, whose roster was announced only a month ago, included no experts in American history or K-12 education. Despite its brief lifespan, the commission released a report on Martin Luther King Day that attracted widespread scorn from the academic community for its attacks on identity politics and progressive reform movements. Significant portions of the text were also confirmed to have been lifted from previous works by panel members. In an email to The 74, Stanford University professor Sam Wineburg told reporter Kevin Mahnken that the commission's work is divisive: "It chooses one side in a historical debate and demonizes the other. The document discloses much more about sloganeering than serious historical study." (Read the full article)
—Related: Analysis — The 1776 Report Is a Political Document, Not a Curriculum. But It Has Something to Teach Us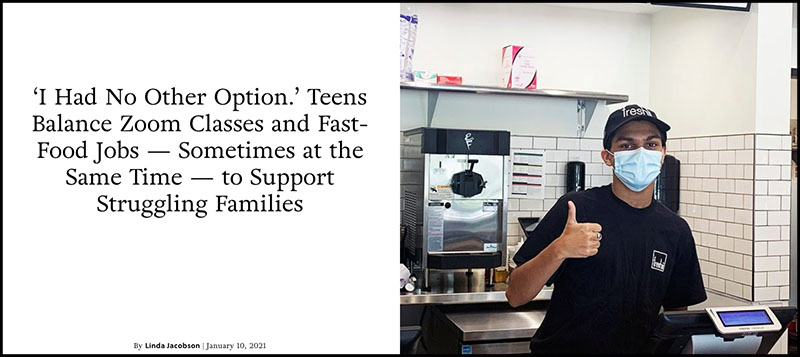 'I Had No Other Option.' Teens Balance Zoom Classes and Fast-Food Jobs — Sometimes at the Same Time — to Support Struggling Families
Remote Learning: Listening to Zoom classes while blending smoothies and cramming homework into breaks between customers are among the ways teens are bending the rules of distance learning to help their families survive. "It's not just to pay their cell phone bill. For some of them, it's like, 'I need to help my family pay the rent,'" a college and career counselor told reporter Linda Jacobson. One Los Angeles student became the primary earner in her family when both parents contracted COVID-19 and had to quarantine. While some teens are determined to manage their added responsibilities without falling behind, others say they're less motivated to keep up with remote classes. And counselors walk a fine line between being firm and showing empathy for students whose families are struggling. As one said: "I respect the hustle." (Read the full article)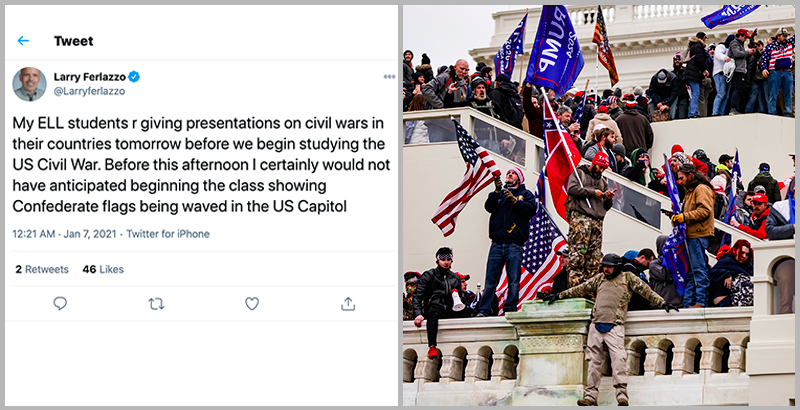 Lessons from an Insurrection: A Day After D.C. Rampage, How 15 Educators From Across U.S. Helped Students Make Sense of the Chaos
Politics: Teachers across the country faced their students last week with a gut-wrenching task: Talking to them about the violent insurrection that unfolded at the U.S. Capitol this month. One educator in D.C. drew historical parallels between the attack right in the students' backyard and white aggression at Woolworth's lunch counters in the 1950s and '60s. A Minnesota teacher discussed the limitations of the First Amendment. Students in Colorado and New York City compared Wednesday's police reactions to those of law enforcement during Black Lives Matter protests last summer. "There needs to be lessons, [class] discussions about what is happening right now," Washington Teachers Union President Liz Davis said. "It didn't happen in isolation." The 74 asked 15 educators how they were helping students make sense of the chaos; here's what they had to say.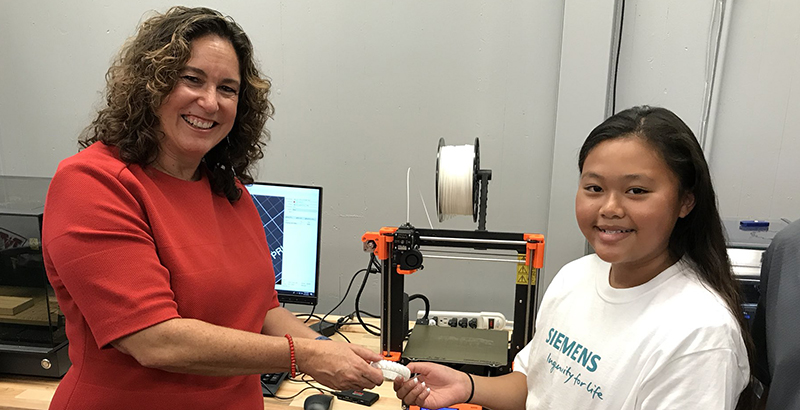 Charter School Advocates, San Diego NAACP Raise Objections to Biden's Pick for Number Two Spot at Education Department
Education Department: President Joe Biden scored points among most advocacy organizations with his choice of Miguel Cardona for education secretary. But some don't feel as positive about Cindy Marten, the San Diego Unified superintendent tapped for the deputy education secretary post. They point to her views on charter schools, which line up with those of the teachers unions. And the local NAACP chapter thinks Marten hasn't done enough to reduce racial disparities in school discipline. Nina Rees, president and CEO of the National Alliance for Public Charter Schools, said, "Cindy Marten is a curious pick for a deputy secretary of education nominee, given the Biden administration's call for unity, racial equity and support for working families." Read Linda Jacobson's report.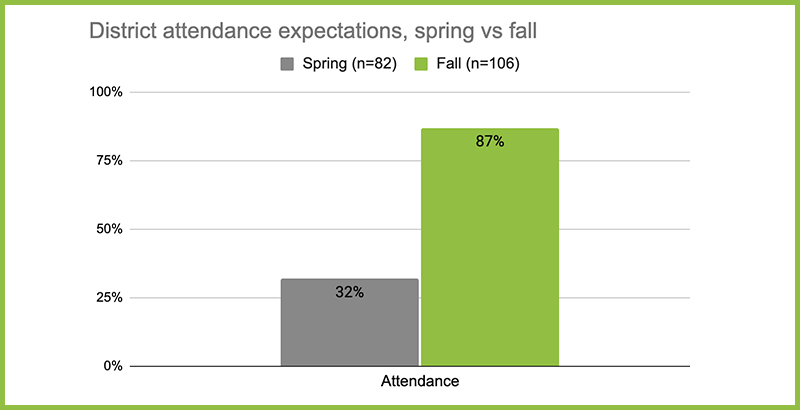 What Does 'Attendance' Mean for Remote Learners in a Pandemic? How 106 Districts Are Dealing With Absenteeism, Student Engagement & Grades
Analysis: As districts closed out their first academic quarter, educators reported increased absenteeism rates for both remote (double the rates they saw before the pandemic) and in-person learners. About a third of educators said unexcused absences would impact student grades and, potentially, prevent some kids from passing to the next grade level. Contributors Bree Dusseault and Alvin Makori of the Center on Reinventing Public Education report on their analysis of reopening plans in 106 large, high-profile districts, which finds that they have taken student engagement and attendance far more seriously in the fall than they did after schools first closed last spring. But many school systems have struggled to create consistent rules, especially for remote learners. What "attendance" means, especially for remote learners, is not so clear. The districts they're tracking show that much can be done to improve how attendance is recorded and what actions can be taken to maintain high expectations without penalizing students for challenging circumstances. (Read the full article)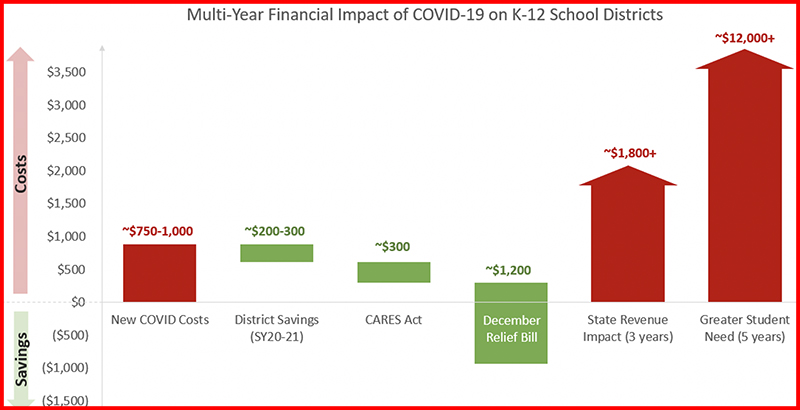 Caught in a Financial 'Triple Squeeze,' Districts Could See Annual Costs of $2,500 Per Student to Address Pandemic-Related Learning Loss
Big Picture: Getting students back where to they would have been academically if the pandemic hadn't occurred could cost schools an average of $12,000 to $13,500 per student over the next five years, according to a new report from Education Resource Strategies. The paper, focusing on large, urban and countywide districts, sees a "triple squeeze" of rising costs, flat or declining revenues and increased student needs, and assumes all students require additional learning time and could benefit from increased social-emotional support. Some would also need "high-dosage" tutoring, Linda Jacobson reports. The most recent federal relief bill — which amounts to roughly $1,000 extra per student — could cover some of those costs, but Georgetown University's Marguerite Roza warns, "It's not a windfall for sure." Even though President-elect Joe Biden is promising another large funding package, Roza said districts will need to pace themselves to avoid falling off a "funding cliff." (Read the full article)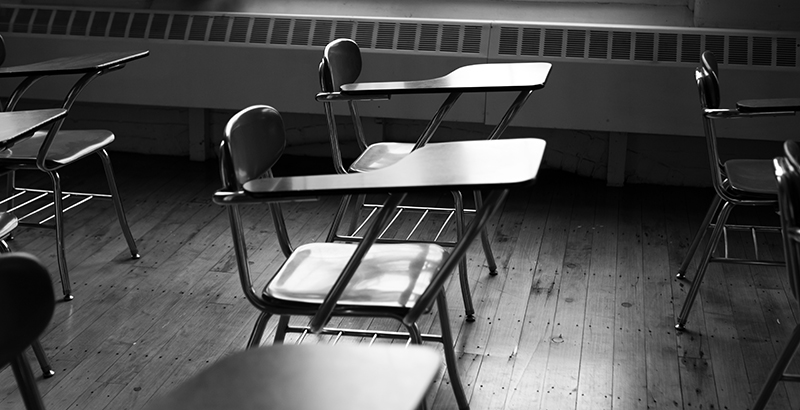 Phantom Students, Very Real Red Ink: Why Efforts to Keep Student Disenrollment from Busting School Budgets Can Backfire
School Funding: Millions of American students are missing from schools this year, and the officials tasked with balancing district budgets in the pandemic are under pressure to continue to keep their state tuition dollars flowing. Schools, the reasoning goes, can't take such huge financial hits at once, and it poses major problems if large numbers of school staffers are fired and all those kids then come back. Still, so-called hold-harmless efforts to keep student disenrollment from busting school budgets can backfire. Beth Hawkins talks with experts about what happens when the process of parceling out fiscal pain gets political, layoffs loom, classrooms become overcrowded and budgets end up getting balanced on the backs of the poorest children. We walk you through case studies of four states where well-intended efforts have had terrible consequences. (Read the full article)
—Special Report: Where Are The Kids? — The costs & consequences of COVID's missing students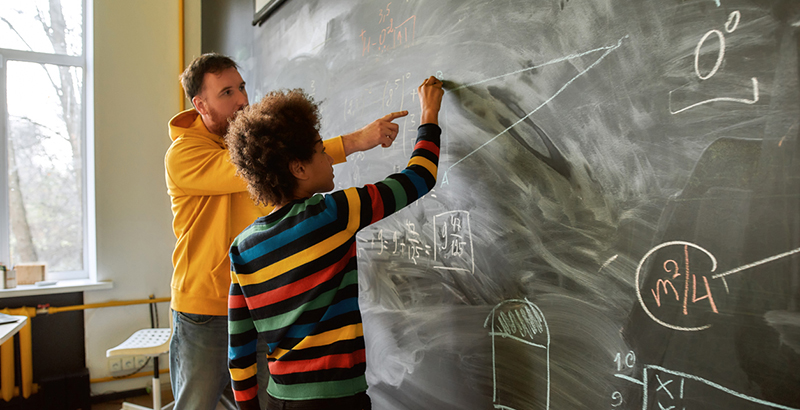 Every State & District Needs to Create a Learning Recovery Task Force — Now. Here Are Some Reasons Why
Learning Loss: School districts are like aircraft carriers: They turn slowly. Even a relatively simple change for helping students recover lost learning, extending the school year from 180 to 200 days, can be a massive undertaking. Teacher contracts must be renegotiated, facility leases dealt with, insurance policies updated. The degree of difficulty is even higher because districts are going to already be occupied reckoning with potential budget cuts, teacher retirements and other operational challenges. That's why, write contributors Elliot Haspel and Margaret Thornton, every state and district needs to create a learning recovery task force — now. From dealing with busted school budgets, teacher retirements and gaping learning gaps to potentially extending the school year and adding grade levels, they offer some suggestions for implementing all-hands-on-deck engagement to start undoing the damage wrought by COVID-19, and some recommendations for the incoming Biden administration. (Read the full essay)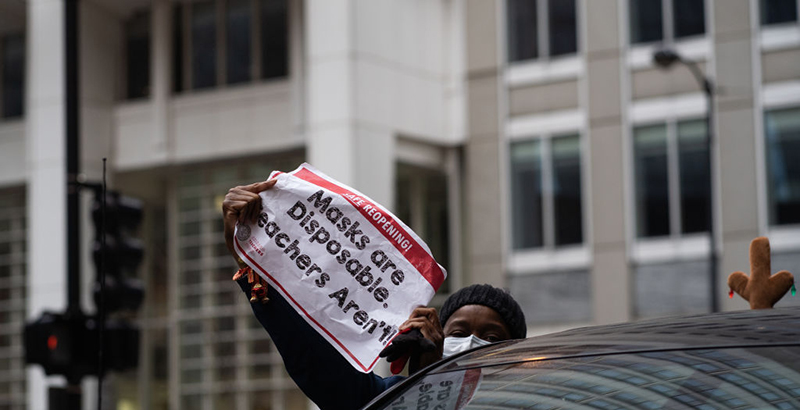 While Awaiting a Vaccine and Debating Reopening, District Responses to Medical Accommodations for At-Risk Teachers Vary Wildly Across the Country
School Safety: School clerk Deanna Myron hadn't planned on marking her 21st work anniversary on a Zoom call with fellow Chicago Teachers Union members, talking about medical accommodations. But her fiance has liver cancer, and her request to work full time from home had been denied; after refusing to report to school in person, she is working remotely five days a week for three-day-a-week pay. While the fear of COVID-19 is consistent across the country, districts' responses to teachers' requests for medical accommodations vary wildly. In New York City, the nation's largest district, over 34,000 of 38,000 requests from school staffers have been granted; in Houston, the seventh-largest, officials have granted almost none. Zoë Kirsch speaks to educators and experts about where the conflict over medical risk is headed, and looks at new school-by-school data from NYC's Department of Education on where staffers who receive accommodations work. (Read the full article)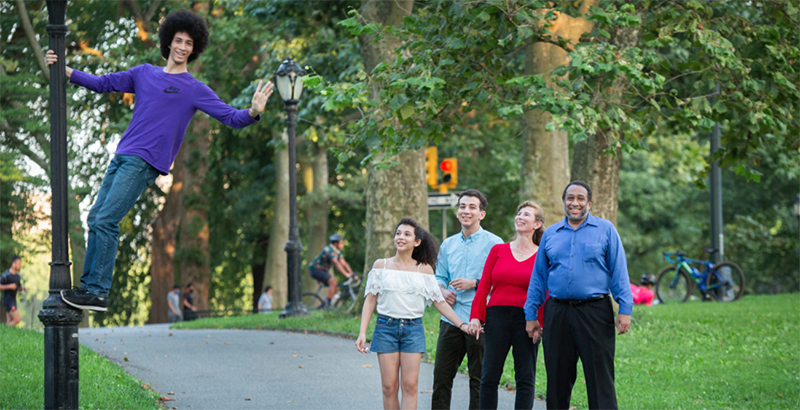 A Student's View: From One of New York City's Top High Schools to Homeschooling, in a Single Marking Period
First Person: Very often, it is parental dissatisfaction with the quality of education that leads a family to pull a child out of traditional classes and homeschool instead. But what happens when the catalyst is the student? At the end of October, contributor Gregory Wickham began to homeschool himself in lieu of completing his education as a student at New York City's Stuyvesant High School. There are many reasons he did this, he says, including greater educational and temporal freedom. Here, he describes his rationale — and the systemic advantages that allowed him to succeed — and explains not only why, but also how he homeschools, so others might find it easier should they wish to do the same. (Read the full essay)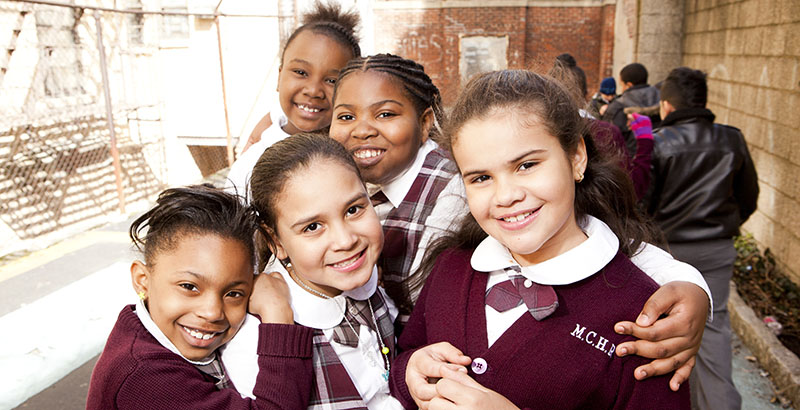 A Glimmer of Hope in Pandemic for Nation's Ailing Catholic Schools, But Long-Term Worries Persist
School Choice: Last spring, after her 6-year-old son's New York City charter school closed its doors in response to the pandemic, Sashaly Gomez would sit with the kindergartner through each school day to keep him on task. But when her employer reopened, Gomez knew Landon's learning arrangement would have to shift. "Either I would have to cut back from work or we would have to find a different alternative. We couldn't do remote," said Gomez. They eventually found Mt. Carmel-Holy Rosary school in Manhattan, where Landon, now a first-grader, has thrived. Many families have made similar moves, reviving Catholic schools that for decades have been bleeding students. But with church revenues down and many families in financial distress, experts say the long-term picture for parochial schools may not be so hopeful — and that the worst may be yet to come. Asher Lehrer-Small has the story. (Read the full article)
Support The 74's year-end campaign. Make a tax-exempt donation now.