'I Had No Other Option.' Teens Balance Zoom Classes and Fast-Food Jobs — Sometimes at the Same Time — to Support Struggling Families
By Linda Jacobson | January 10, 2021
This article is one in a series spotlighting the broader consequences of families disenrolling their children, students changing schools and children going missing amid the coronavirus crisis. See all our coverage at 'COVID's Missing Students.' (If you or a student you know changed schools or stopped going to class altogether because of the pandemic, tell us your story. On Twitter: #WhereAreTheKids and #IAmHere)
When the pandemic hit last March, Kashish Bastola, a high school junior in Frisco, Texas, immediately went to work at a Freshii fast food restaurant run by his father.
"I felt like I was protecting my dad as well as being productive for my family," he said. "My dad needed me there since we were understaffed."
But as he took orders, blended smoothies and washed dishes, Bastola listened in to his remote classes via a solitary earbud. 
"It was difficult to pay attention, of course, but I had no other option," said Kashish, who returned to the classroom this fall when Heritage High School reopened. "If a customer walked in, I would just take off the earbud, quickly take their order and make their food, and then put my earbud back in."
Like parents bouncing between work and their children's Zoom sessions, many high school students are maintaining a split focus, connecting to online classes while trying to bring home a paycheck. Students and school leaders say it's less about picking up extra spending money than a desire to support their families during the recession.
"It's not just to pay their cell phone bill. It's like, 'I need to help my family pay the rent.' Or, 'I need to have a job because otherwise, my family may not eat next month,'" said Joshua Weintraub, the director of college and career success at Lighthouse Community Charter School in Oakland, California. "For some of our kids, they're … often the most employable in their families because their English is better."
"If a customer walked in, I would just take off the earbud, quickly take their order and make their food, and then put my earbud back in." —Kashish Bastola, a high school junior in Frisco, Texas, on listening in to class while working.
But the reasons more students are opting to work are complex. In addition to helping pay bills, a job allows teens trapped at home since March to escape from the house. There's a normalcy in work, Weintraub said. "They're interacting with the world."
Academic dreams and family pressures
National data back that up. When the economy reopened last April, teens were among those to jump into the labor force, leading to the largest increase in employment among 16- to 24-year-olds in over 70 years, according to the Bureau of Labor Statistics.
Erica Arvizu, a senior at Mendez High School in east Los Angeles, has been part of her family's floral business since she was in elementary school. Now, she works almost nine hours a day, attending virtual classes in between arranging flowers.
When the shop closed for two months in the spring because of the pandemic, the inventory went to waste and employees couldn't work. "We just were living by what we had saved up," she said.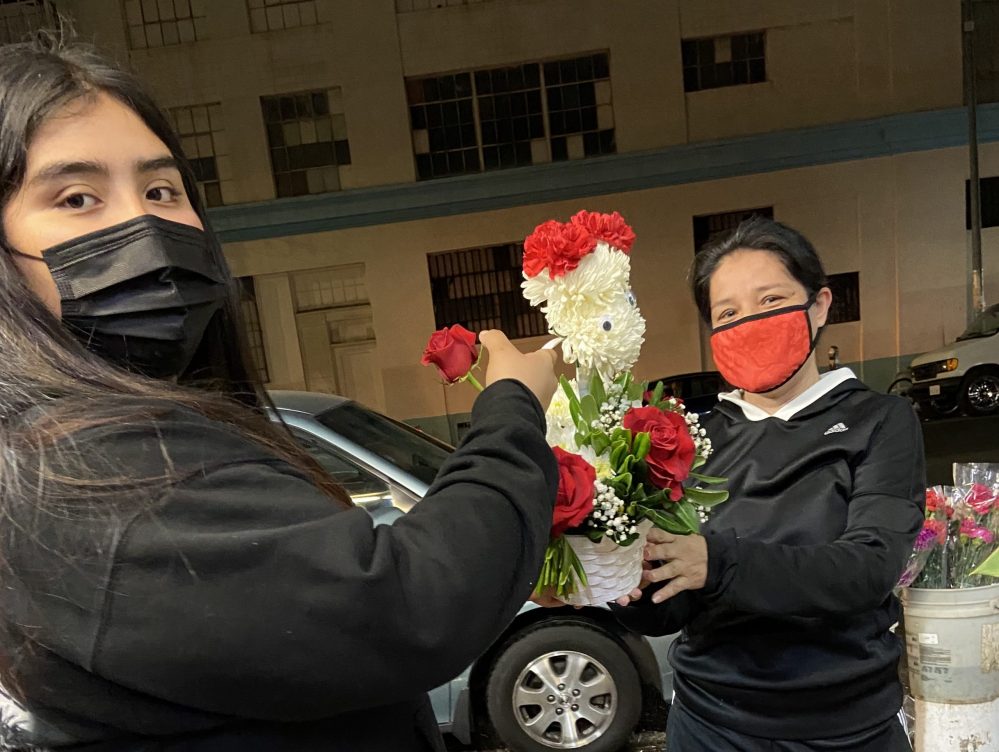 Elmer Roldan, the executive director of Communities in Schools of Los Angeles — a nationwide nonprofit that focuses on keeping low-income students on track — understands the tough choices students like Arvizu are making.
"While they have aspirations and they have academic dreams, they also realize their families have put pressure on them to step up and take on more responsibility to help with the finances," he said. 
He added that while many teens from low-income families feel the added weight of work expectations, employers often perceive Latino youth as more cooperative, harder working, and sometimes "more exploitable — this is especially true for undocumented youth," he said. 
His organization has stepped in to help high school students torn between the demands of home and school. They deliver weekly care packages with fresh produce to families, supply students with computers and internet service, and hold fundraisers to help replenish college savings.
"I stand in awe of these students. I respect the hustle." —Yvette Torres, a counselor at Lynwood High School in Los Angeles, on student workers.
High school counselors who'd normally help students complete college applications this time of year are finding students preoccupied with more pressing concerns. Yvette Torres, a counselor at Lynwood High School, also in the Los Angeles area, has even reached students by phone during school hours while they're working on construction sites. They log on to Zoom with their microphones and cameras off and catch up with assignments during lunch breaks.
"I try to remind them that it's important … to focus on school," she said, and that good grades now can translate into financial aid awards later. "Some students are able to balance work and school life. Others are not doing such a great job."
She empathizes with those who could lose their homes if they didn't contribute, and she sometimes appeals to teachers to grant students extensions on assignments.
"I stand in awe of these students," she said. "I respect the hustle."
'I never had a break'
Students don't always have understanding bosses or the flexibility to multitask at work. High school senior Johanna Lopez, for example, handles take-out and drive-through orders at a fast food restaurant in south Los Angeles, where she works three days a week and on weekends. Roughly half of her $700 paycheck helps her mother pay rent on the family's home.
"I felt like I needed to pitch in," said Lopez, who also attends Mendez High. On school days, she spends an hour getting homework done before clocking in to work at 5, and she's still setting aside some of her income for college. She would like to attend the University of California, Los Angeles, or maybe start at a community college. 
Lopez said her coworkers at El Pollo Loco — even though most haven't gone to college — encourage her, saying "Don't be like us."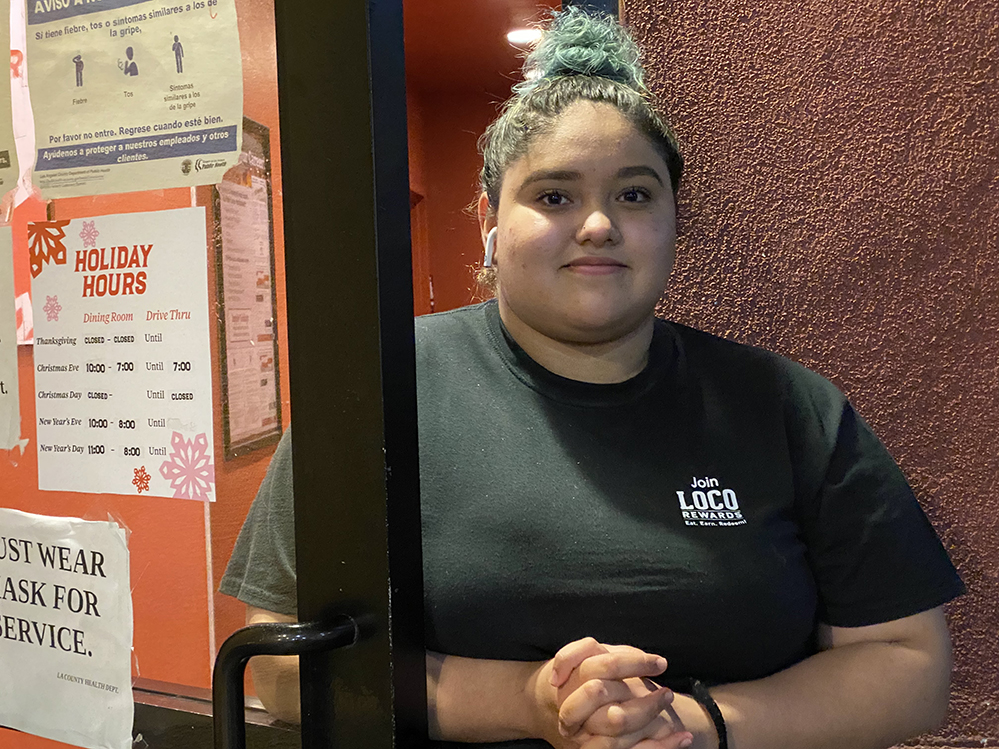 Some teens have been thrust into the role of primary earners for their families during the crisis. Emely Flores, another Mendez student, said she felt fortunate to be able to help pay for groceries and rent when both of her parents got COVID-19 and had to quarantine. But the responsibility wore her down.
"October was such a stressful month for me," Flores said. She earned $19 an hour working on campaign phone banks for Inner City Struggle, a civic engagement organization. She didn't want to give up her personal goal of training for the city's marathon, so she ran every morning at 6 a.m. before school. But she fell behind in one class and dropped an Advanced Placement course because she was worried she wouldn't keep up. "I never had a break."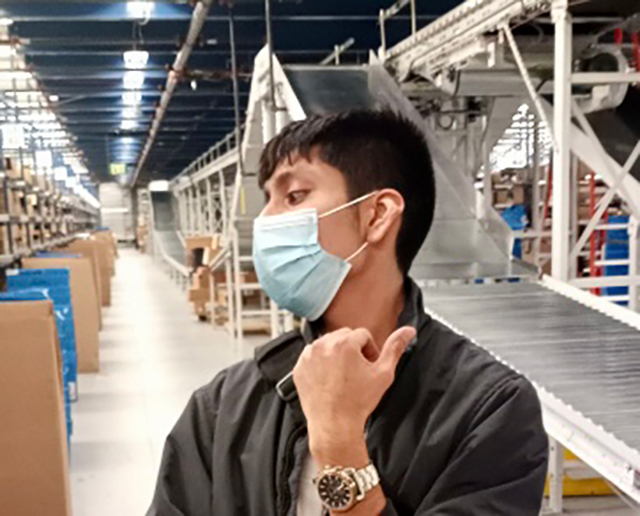 While some students are determined not to let their GPAs slide, others find it hard to be model students and productive employees at the same time. Eleventh-grader Carlos Martinez works 40 hours a week at a Macy's distribution center in Tulsa, Oklahoma. He increased his hours in the fall after his mother lost her job.
"It's kind of hard to get up and do Zoom," he said. He thinks he's fallen behind in his classes at Phoenix Rising Public School, but he said his teachers are "awesome" and offer to help him catch up when he's off work. "Sometimes you gotta do what you gotta do for your family." 
---
Lead Image: Kashish Bastola works with his father at a Freshii restaurant in Richardson, Texas. (Kashish Bastola)
Support The 74's year-end campaign. Make a tax-exempt donation now.