From Artificial Intelligence to Augmented Reality to Peer-to-Peer Learning, 7 Ed Tech Trends to Watch in 2020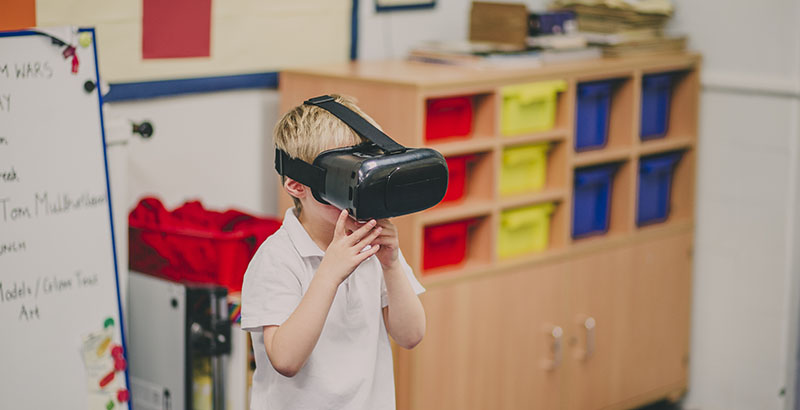 Technology has taken over the century, creating a rapidly changing landscape that has dramatically touched nearly every aspect of social interaction, business and entertainment. Education, though, has proved slow in experiencing the digital disruption, says Michal Borkowski, CEO and co-founder of Brainly, an online peer-to-peer learning community. He views the 2020s as technology's time to shine in education.
"While many new ed tech tools are emerging and helping to democratize education, the next decade will bring an even greater emergence of diverse platforms and resources for learners worldwide," he says. "I expect that in the next few years we'll see the education world opening up to these advances in new ways."
Here are some ed tech trends to watch in 2020 and beyond.
1 Using Technology to Create Equality
As approaches to education differ greatly from one district to another, from one teacher to another and from one school budget to another, Borkowski believes technology can be an equalizer. "Ed tech platforms serve as a single platform for every stakeholder in education to come together," he says. "They celebrate the uniqueness and individuality of every student by bringing all the elements of the classrooms — the teachers, the students and the parents — together." Technology can extend the classroom learning experience into the home, offering greater opportunity for all students, and it can better help teachers individualize learning opportunities in school.
2 Artificial Intelligence 
Artificial intelligence has improved quickly in the area of language, and Borkowski expects AI to further harness individualized learning, creating experiences that are specific to users and provide a "highly optimized, beneficial learning environment." As AI and automation enter into education through additional technologies and apps, teachers will have added access to make individualized learning easier to implement in classrooms across multiple subjects. And as the technology identifies specific student needs and provides opportunities for learning, teachers can better focus instructional time.
3 Augmented Reality
As educators look for ways to keep students engaged and give them out-of-the-classroom experiences, says Matt Noble, executive vice president for EF Explore America, augmented reality will continue to open up fresh worlds for students. "This new technology is designed to get students to look out rather than look down," he says. Since EF specializes in travel experiences for students, the company has integrated augmented reality to, for example, allow students visiting Washington, D.C., to see Martin Luther King Jr.'s "I Have a Dream" speech come to life on the steps of the Lincoln Memorial or to listen to a World War II veteran recount the Normandy beach landing on D-Day.
4 Technology in New Subjects
STEM — science, technology, engineering and math — has started making inroads toward STEAM, adding "art" to the moniker. "Advancements in ed tech are now at a point where learning can take place anywhere," Borkowski says. "Grade- and high-school-level teachers are experimenting with webinars, online tutorials and other forms of tech-based instruction to connect to students in environments where they are more inclined to learn." Expect innovative apps and programs to introduce students to new worlds, whether it's museums across the globe or ways to learn about digital art. With this increased emphasis on STEAM, expect to see new waves of technology with an emphasis on art. And once art takes center stage for technological growth, which subjects will be next?
5 Peer-to-Peer Learning
Brainly has planted its flag in peer-to-peer learning outside the classroom, with 150 million users answering education-related questions within its online learning community, and Borkowski believes this method will make its way into the schoolhouse as well. The idea of peer-to-peer learning invites those with knowledge or experiences to share with those seeking that same knowledge or experience — sort of crowdsourcing education. "Going beyond the traditional academics-oriented approach, crowd learning provides an authentic and enhanced experience by incorporating real-life skills and values in young minds along with the facilitation of learning," he says. "This does not just enrich their knowledge about a certain topic, but helps them understand a topic to its very essence rather than just on the surface level." Getting various perspectives via peer-to-peer learning can help that happen, and technology can expand the reach of peer-to-peer learning from a fixed classroom to places across the world.
6 Making Math Matter
Borkowski says that when Brainly enters a new market, about 60 percent of the initial activity surrounds math — it is the subject that students worldwide struggle with the most. But there are plenty of people out there looking to continue to provide help. Expect this focus on math to take a technological twist as more and more tools aimed at assisting math understanding debut and grow.
7 The Rise of Video
Video already dominates social media; we all know its use in entertainment and advertising. But video hasn't really taken off yet in education. Borkowski believes that video will grow in popularity, from online tutoring platforms to educational content. "We're expecting to see more of it," he says, "in the very near future."
Today's students grew up with technology and can "speak" it like a first language, Borkowski says. They can use technological tools and leverage them to improve their own knowledge better than ever before.
Support The 74's year-end campaign. Make a tax-exempt donation now.