Kindi, the Uber of English Reading, Links Syrian Refugee Students to Language Pals — & American Schools Are Getting In on the Act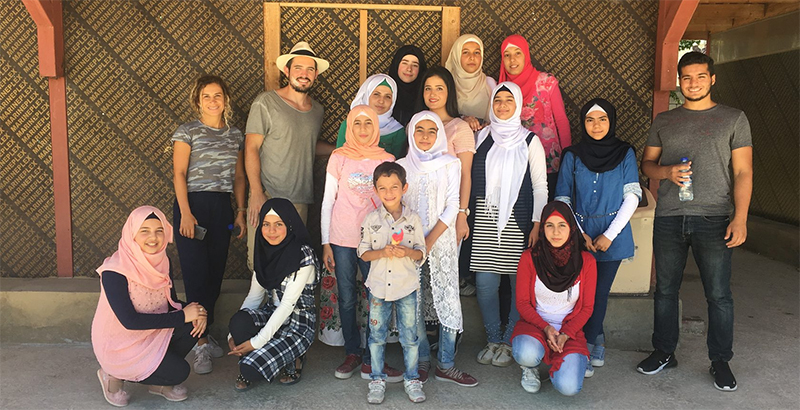 When Syrian refugees arrive in Lebanon, their Arabic language does them little good in school, where the curriculum is heavily in English. Mike Clarke, a New Jersey native who grew up 15 minutes from New York City, traveled to Lebanon three years ago to explore how technology applied to humanitarian situations and encountered this language issue. He was soon giving his time to read English books with students and realized that this simple act of one-on-one reading could happen from anywhere in the world — giving him an answer to the question he received most from friends in the United States: "What can we do to help?"
Clarke launched Kindi, the Uber of English reading, allowing non-English-speaking students to find someone to read with them in English. English speakers across the globe accept requests for help and engage in a short, one-on-one reading session. The student reads a book available through the app and the volunteer listens, giving help and direction when the student struggles with a word.
"Friends back home felt so far removed from these types of issues," Clarke says. "A light bulb went off in my mind that we can make the experience of me reading with these kids easily scaled virtually, so my friends who have time and eagerness to help can make an impact on a kid a world away by reading a five-minute story together."
Clarke started designing Kindi in early 2018, working in a program run by the MIT Media Lab Refugee Learning Accelerator and the Shuttleworth Foundation, and recently participated in the Impact Accelerator program based in Europe. He designed the app with Ahmad Ghizzawi, a Lebanese engineer completing a master's degree at the American University of Beirut who is now Kindi's chief technology officer, and lead designer Leen Naffaa, a Palestinian graphic designer based in Beirut who specializes in illustrations and user interfaces. Clarke moved to a refugee community in Lebanon near the Syrian border for more than six months of research and testing, and by February 2019 he had started running sessions weekly with a pilot school in Lebanon.
"MIT gave us enough to demonstrate that this was actually possible and built out our first version," Clarke says. "Since then, we have been super lean and haven't taken any money to keep this afloat." A support network includes Scholastic, which has given Kindi free access to content.
Kindi now has 250 volunteers in 18 countries, largely university students and employees of corporate partners, serving 1,000 mainly sixth- through eighth-grade students in three schools in Lebanon and Netherlands. "It seems like middle school and up is a really good target," Clarke says. "It is the right age where this experience is not too overwhelming and is interesting."
While Clarke loves the Uber-inspired randomness of pairing students with readers, meaning there isn't a set schedule, the Kindi team also saw the benefits of getting entire classrooms to partner up when an Ohio school participated in a pilot program.
Claire Conley, a middle school teacher at North Ridgeville Academic Center, stumbled across Kindi on the Scholastic Books Club Facebook page. "When I presented this idea to my students, they wanted to participate as soon as they could," she says. "They made arrangements to get to school as early as they could in order to participate."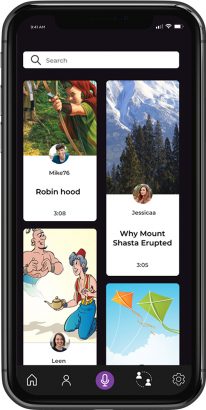 Working with Kindi gave the American students a window into a world beyond their own society and life. This was especially important at the middle school level, "where students are seeking to be part of the adult world and make their paths and imprints, but are not always certain of how to do this positively," she says.
"My students gained so much knowledge from this experience," Conley adds. "They learned to appreciate their education and what they have come to take for granted. They learned that they are capable of having a huge impact in the lives around them locally as well as globally."
Evelyn Dunlap, an eighth-grade Ohio volunteer, calls the experience "almost magical," while Fatima, a seventh-grader in Lebanon, says, "Kindi helps me feel much more confident in using English with my friends and in the classroom."
Fatima says she had difficulties in class because English was a language she did not use in her home country of Syria. Even now, in Lebanon, "I have no one to practice with," she says, meaning Kindi is her only avenue for improvement outside the classroom.
For Huda Janon, the English language director at Kayany, a government-accredited refugee school in Lebanon where Kindi conducted pilots, having students use the app allows them to "taste the joy of reading stories," in addition to providing them with access to materials that will help improve their linguistic abilities.
The Lebanese schools saw great improvements in comprehension and word pronunciation, as well as in students' ability to hold conversations — an unexpected benefit. "The students' self-confidence increased, and our precious ones became more daring and willing to carry conversations in English with foreign visitors and with other proficient speakers of English as a second language," Janon says.
Kindi's future could still take differing directions, but several new programs are already in motion. One is the Kindi Library, which lets users record and share their own audio stories, as well as discover and follow storytellers from around the world, in an effort to expand the content on the app.
"Voice is the new interface," Clarke says. "We talk to Alexa, we listen to podcasts, we watch animated films. And every voice is different. With the Kindi Library, we see an opportunity to create the world's most diverse community of storyteller voices."
Kindi for Classrooms, an option expected to be ready by fall, will offer more partnerships between schools and possibly activities beyond reading, like the cooperative writing assignments Conley put together for her students and their reading partners.
And Clarke is thinking about adding more languages and more connections across the world — and within the U.S. "The reality is there are plenty of children from migrant families in the United States who have the same exact problem," Clarke says. "I have talked to a number of English as a Second Language teachers interested in seeing how they can leverage something like this. And I have talked to students who are reading buddies and expressed interest in learning Spanish. I think it is important with Kindi to make it multidirectional. The kids in Syria could offer Arabic reading practice, and we could build a reading community around that."
Through it all, Kindi hopes to build connections. "The experience was of great value," Janon says. "And the students were always requesting more Kindi."
Get stories like these delivered straight to your inbox. Sign up for The 74 Newsletter