South By Southwest Education Preview: 12 Key Conversations About How Virtual & Augmented Reality Could Change Learning at SXSWedu 2018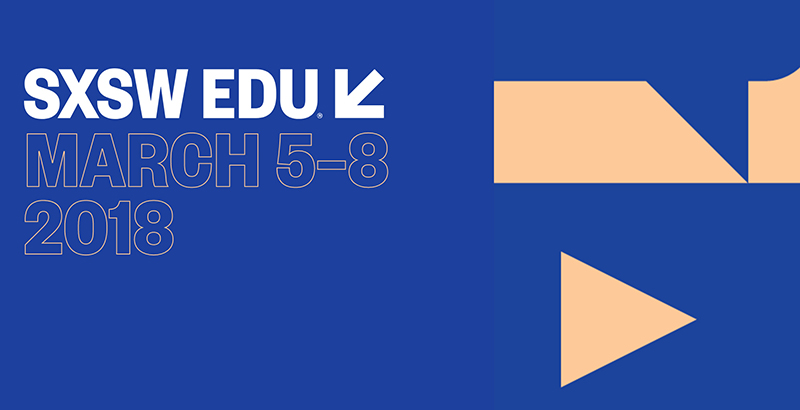 Prepare for a variety of realities hitting your senses at the March 5–8 South By Southwest Education event in Austin, Texas.
Virtual reality (VR) technology transports users to new locales, placing them in environments via special goggles that allow them to view the space in 3-D, whether it's the 2018 Winter Olympics, a European museum, or a California state park. Augmented reality (AR) overlays a digital world onto the real one, most often by way of a mobile device — think Pokémon Go. In education, it's most often used to unlock videos and images that explain real-world places in greater detail.
In the end, both realities aim to give students knowledge and experiences they would never otherwise have within the confines of a classroom.
Reflecting the increasing popularity of these cutting-edge educational tools, the 2018 SXSW event is giving VR/AR its own session track, allowing educators to explore how these technologies can help create global citizens, build empathy, and even stimulate lessons in science, technology, engineering, and math (STEM).
Here are some key VR/AR sessions worth exploring inside the Austin Convention Center (ACC) and the Hilton Austin.
Monday, March 5
Kick off your VR/AR experience March 5 with an 11 a.m. panel in ACC Room 19A exploring how "Students Can Build the VR/AR Worlds of the Future." Learn from four experts — Jordan Budisantoso of Washington Leadership Academy, Rafranz Davis of Lufkin ISD, Jessica Lindl of Unity Technologies, and Mark Suter of Elida High School — who are already using tools to teach coders, artists, and designers to create their own worlds.
At 1 p.m. in Hilton's Salon F, Maya Georgieva of Digital Bodies will investigate the latest trends and signature immersive projects in VR and AR education. She will discuss how VR, AR, and artificial intelligence will converge in immersive learning.
Wrap up the VR/AR day at 3 p.m. with a five-person summit session in Hilton's Salon K, discussing how new technologies can enhance human empathy while expanding learning experiences.
Tuesday
At 12:30 p.m., join four panel members — Seth Andrew of Democracy Prep, Monica Ares of Facebook, Sandra Rodriguez of MIT, and Tina Tran of Oculus — as they discuss how VR field trips not only offer exploration but also can teach empathy and contribute to the development of global citizens. The session runs for one hour in ACC Room 10AB.
Black Gotham Experience will lead participants through a sample of the walking tour, history, and culture featured in its visual storytelling project focused on the African Diaspora in New York City. In a two-hour session starting at 1:30 p.m. in ACC Room 8ABC, learn how to leverage immersive technology, including VR/AR, to place viewers in the story, experiencing untold narratives.
The NYU Tandon School of Engineering offers insights into launching your own VR series. The 30-minute session starts at 4 p.m. at Hilton's Salon G.
Wednesday
Experience a short, 30-minute talk at 11 a.m. on empowering students to produce VR content. Located in ACC Ballroom EFG.
Also at 11 a.m., speakers from SeirenFilms and Mik by TrackLabs will walk attendees through using analog and digital story tools for immersive experiences. Workshop participants can create prototype scenes with audio, pictures, and text in an open-source, code-free web tool to export and view in phones and on VR headsets. Located in ACC Room 8ABC.
"The Reality of AI in Education" talk at 2:30 p.m. in ACC Ballroom EFG will have speakers from IBM discussing how artificial intelligence creates lifetime learners.
At 4:30 p.m., experience how California State Parks uses VR and video conferencing to offer virtual field trips and interact with students. A park ranger demo is part of the event at ACC Ballroom EFG.
Cap off your day with one of two opportunities:
— A one-hour 5 p.m. panel session with representatives from Google, subVRsive, StoryUP, and the Texas State Historical Association in ACC Room 3 will discuss the opportunities of VR field trips.
— Or, opt for a quick, 20-minute chat in ACC Room 19B with Susan Kessler of Hunters Lane High School to share case-study results on the promising practice of VR in K-12 classrooms.
Thursday
Wrap up your VR/AR experience with an 11 a.m. session at Hilton's Salon A with Matt Sparks of STEM 3000 discussing the dark side of VR, debating ethical considerations around safety, empathy, bullying, financial barriers, privilege, privacy, and data collection.
Learn more about SXSW EDU 2018 learning spaces events and all the VR/AR events.
Get stories like these delivered straight to your inbox. Sign up for The 74 Newsletter