CareerVillage Offers Underserved High Schoolers a Crowdsourced Portal for Career Advice — and Now, Google Wants to Help It Grow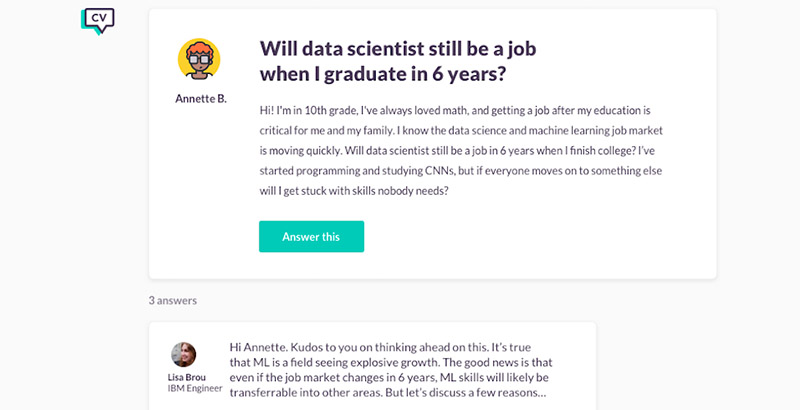 A high school sophomore from a disadvantaged background dreams of becoming a neonatal nurse. But the resources available to her don't provide much information about how to make that dream a reality, and she doesn't know any nurses to ask for advice. Internet searches turn up a flood of information, much of it not relevant.
Jared Chung doesn't want this student to lose her dream and give up on finding a path to her favored career. That's why he and his wife, Jennifer Pan, founded CareerVillage, a nonprofit website that crowdsources career advice for youth.
The site allows students to search and read questions from other students and advice and answers from registered volunteers. Those wanting more answers can create a profile and ask their own questions.
"A young person will start on CareerVillage reading questions posed by other students and learning from what others are exploring," Chung says. "When they are ready to post their own questions, they can ask anything they want, and we match questions to relevant volunteers who answer the questions. When they get that answer, they can go in and ask more questions and find other forms of advice."
With 3.5 million students now using CareerVillage, and 28,000 registered volunteers answering their questions, Chung is excited about the next step in the platform's growth. A new partnership with Kaggle, a Google company, entered CareerVillage into a competition that challenges data scientists from all over the world to build new algorithms to more efficiently match the site's professional volunteers with career questions. Google is sponsoring the contest and will award $15,000 in prizes to competitors who write the best scripts.
Improving the student-to-volunteer interaction "is the most important thing we can be doing at CareerVillage to have the most impact," Chung says, and crowdsourcing a new solution for his platform fits its mission perfectly. "Kaggle is one of the leaders and pioneers in the social-impact sector," he says, "and for a nonprofit like CareerVillage, it is really important to make sure the data science is participatory. It is super exciting and important, not just what we are doing, but how we are doing it by inviting people to participate."
CareerVillage has a personal connection to both Chung and Pan. Pan came to this country with no network or social capital, and because her parents spoke no English, she was forced to fend for herself when it came time to look for a career. Chung grew up in New York attending public schools, but his family ran into financial troubles. For him, a career represented financial stability.
The two started CareerVillage in their living room in 2011 as a passion project while Chung was working for a large consulting company. He made it his full focus in 2013. "We don't want career readiness to be something where you have to be affluent to have it," he says. "The gold-standard knowledge source should be open to all. That is what we are really trying to help the community build."
He thought getting in front of underserved youth would prove the tricky part, but 95 percent of young people served on the platform found it on their own, through Google. "Youth are actively using the internet to look for information to prepare for their futures," Chung says. "But the information out there is almost always not for them and leads to a lot of dead searching."
Now, through the platform, a student — high school sophomores and juniors represent the main user demographic — poses a question and the system figures out whom it can notify immediately, whom it can notify the next day and then in a week to find answers from multiple perspectives. With a 96 percent answer rate and the average question receiving more than one response in a day or two, there is a potential for further dialogue. The work with Kaggle aims to improve that connection, alerting volunteers at the perfect time for them in order to get students more answers more quickly.
Those questions vary as widely as the users on the platform, starting with a student's point of exploration. They range from basic — "I'm interested in working with animals, but I don't want to be a vet. What can I do?" — to extremely detailed: "What credentials do I need to be a level-three neonatal nurse?"
"I think that represents to me that sometimes the students have something in mind, and it is hard to find somebody who is doing the exact job they are aiming for," Chung says. "That is the value for them and the life-changing opportunity to keep their dreams alive."
Get stories like these delivered straight to your inbox. Sign up for The 74 Newsletter