This Week in Education Politics: Shutdown Slowdown, Ed Dept. Nominees, Discipline Reform & More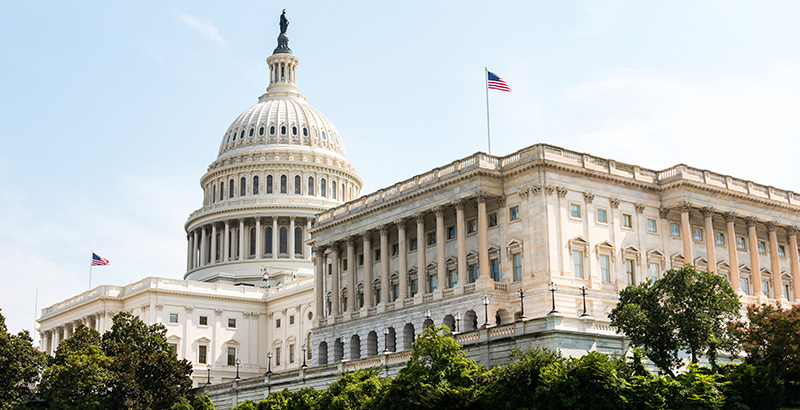 THIS WEEK IN EDUCATION POLITICS publishes most Sundays. (See previous editions here.) You can get the preview delivered straight to your inbox by signing up for The 74 Newsletter; for rolling updates on federal education policy, follow Carolyn Phenicie on Twitter @cphenicie.
Update, 10:30 a.m. Monday: The Senate is scheduled to vote at noon on a bill to fund the government through Feb. 8 and reauthorize the Children's Health Insurance Program. It would also have be approved by the House before the government can reopen. Meanwhile, the president's planned remarks on tax cuts and school choice no longer appear on his Monday schedule; the White House has not responded to a request for confirmation that the event has been postponed. 
The word of the day may be shutdown, but that doesn't mean the ed policy calendar has gone blank. A preview of the week's events below; as always, if you have tips or suggestions or events to add to next week's roundup, please forward them to carolyn@the74million.org.
INBOX: SHUTDOWN SHOWDOWN — With congressional leaders unable to reach a deal, the federal government officially shut down Saturday, and Democrats, congressional Republicans, and President Trump continued to trade jabs through the weekend in a bid to assign blame for the closure. As of noon Sunday, senators were slated to vote at 1 a.m. Monday on a proposal to reopen the government through February 8, possibly including an extension of the Children's Health Insurance Program and disaster aid for states hammered by hurricanes this fall, according to The Washington Post. The deal, though, doesn't address protections for Dreamers, the young people brought to the country illegally as children, and it remained unclear if enough Democrats would vote for the bill to meet the Senate's 60-vote threshold, Politico reported.
It's also National School Choice Week. GOP lawmakers held a rally on Capitol Hill last week, ahead of a planned House recess, to celebrate their victory in expanding 529 tax-advantaged savings plans to pay for private K-12 tuition and call for more advocacy to expand choice. (Here's my piece on the event.) More than 32,000 events and activities are planned across the country, according to organizers.
This week's calendar:
MONDAY: SCHOOL CHOICE — President Trump is slated to give remarks "on the success of the tax cuts and school choice" at the White House Monday afternoon. (Update: As of Monday morning, this event no longer appears on the president's public schedule)
TUESDAY: WORKFORCE SYSTEMS — ACT, the nonprofit best known for administering the eponymous college entrance test, will introduce new policy platforms on K-12 education, higher ed, career and technical education, and workforce development, and will hold an event on aligning education and workforce systems. The 74's own Andy Rotherham moderates.
The House last year passed a reauthorization of the primary federal law governing career and technical education, the Carl D. Perkins Act. The bill would require schools to better align their CTE offerings with local employers' needs. It has yet to be considered in the Senate.
THURSDAY: HILL EVENTS POSTPONED? — The House was slated to be on recess this week, but the Senate HELP Committee has two education events scheduled for Thursday, both of which would be postponed if the government is still shuttered.
First, the committee is slated to hold its third hearing on reauthorizing the Higher Education Act, this one focused on access and innovation.
Then, in the afternoon, members are scheduled to hold a hearing on the nomination of Frank Brogan to be assistant secretary for elementary and secondary education. Brogan was lieutenant governor under former Florida governor Jeb Bush and led the higher education systems in both Florida and Pennsylvania.
Previous committee hearings for sub-Cabinet nominees have focused on the same issues that surrounded Education Secretary Betsy DeVos's nomination: Title IX, ESSA, vouchers, and special education.
HELP last week advanced the nominations of Mitchell Zais to be deputy secretary; Jim Blew to be assistant secretary for planning, evaluation, and policy development; and Kenneth Marcus to be assistant secretary for civil rights. Civil rights groups have come out against Marcus's nomination, saying in a letter earlier this month that he "has not demonstrated a willingness and ability to enforce civil rights laws and protect all students in our country from discrimination."
THURSDAY: DISCIPLINE REFORM — The Thomas B. Fordham Institute will hold an event on school discipline, particularly examining how school practice has changed in the wake of a turn away from zero-tolerance policies of the past decades and toward more restorative justice practices, and whether that's doing good or harm to schools. Panelists include Cami Anderson, former Newark schools superintendent and founder of the Discipline Revolution Project, and Fordham president Michael Petrilli.
FRIDAY: EDUCATION SAVINGS ACCOUNTS —  Jeb Bush will give a keynote address on "why customization and personalization are needed for the future of choice" at the American Enterprise Institute, followed by a panel discussion on the future of education savings accounts and new forms of learning.
Get stories like these delivered straight to your inbox. Sign up for The 74 Newsletter