Republicans Kick Off National School Choice Week by Celebrating Rare Legislative Win in an Otherwise Tumultuous Year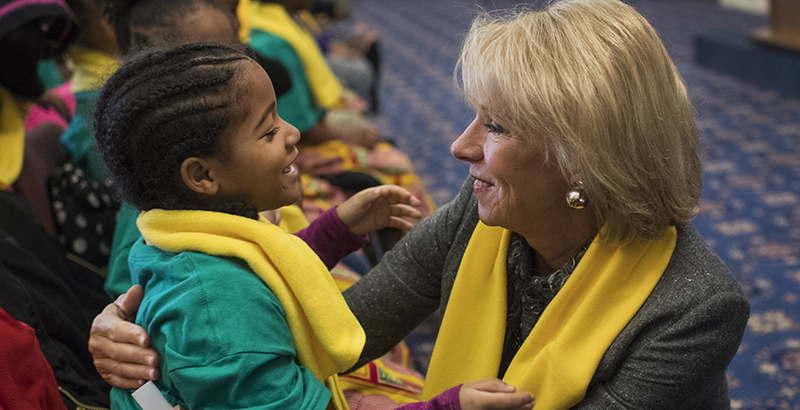 Washington, D.C.
After decades of policy proposals and press releases calling for vouchers and other non-traditional education options, Republicans are relishing their first big win on school choice, a victory in a year otherwise marked by legislative disarray.
"We had a national victory for school choice last month that will resonate for years to come," said Sen. Ted Cruz, Republican of Texas. He spoke of the issue he championed, an expansion of 529 tax-advantaged savings plans to cover private K-12 tuition, at the National School Choice Week rally on Capitol Hill last week.
Education Secretary Betsy DeVos also briefly spoke at the rally, the first time an education secretary has done so, providing a sharp contrast to last year's event, which was held in the midst of her contentious confirmation process — largely over the very issue of school choice.
"I hope you will go out from here and you will tell your stories, that you will encourage others who haven't yet joined us to do so," DeVos told the roughly 200 assembled students from six D.C. charter and private schools.
For every student who is able to choose the school that best meets their needs, there are dozens that can't, the secretary said.
"We need to collectively rethink how we do education here in this country. We need to give parents empowerment and choices to choose the right school, the right education, for all of their children," she said.
The 529 expansion, which Cruz called "the most significant federal school choice legislation in the history of our country," came after a surprisingly messy year for Republicans, unable to pass major legislation besides the tax plan despite their control of the White House and both houses of Congress. Even a federal expansion of school choice, a largely popular idea in the party, was in question, given that there was skepticism from some GOP caucus members and advocates about whether the federal government should push to expand choice.
Republicans have advocated, mostly unsuccessfully, for federal school choice programs for decades.
In 1970, Richard Nixon established a presidential commission to study school finance, particularly the "financial crisis of parochial schools," The New York Times reported at the time. Ronald Reagan proposed using Title I dollars to provide vouchers for low-income students. George W. Bush wanted to make private school vouchers an option for students who attended failing schools under No Child Left Behind. And Donald Trump in his first budget request proposed a $250 million voucher pilot program and $1 billion public school choice program through Title I.
Last month's final victory came on the heels of some drama — as judged by the standards of the United States Senate, at least.
After losing two Republican votes, Cruz said Senate staff called Vice President Mike Pence to come to the Senate and break an expected 50–50 tie.
While Pence, with his full motorcade, was making the drive from his residence to the Capitol, Sen. Joe Manchin, a Democrat from West Virginia, unexpectedly voted yes, so staffers called Pence's team and said the vice president was no longer needed, Cruz said.
After some lobbying from Democrats who opposed the measure, Manchin switched back to a no, necessitating a third call to the vice president to come to the Senate floor and ultimately approve the proposal.
Cruz said he came to the rally to celebrate that victory and encourage continued advocacy to expand choice. "This is a fight about our future, this is a fight about our children, this is a fight about our country," he said.
Cruz tied the issue of school choice to the legacy of Martin Luther King Jr., whose birthday was celebrated at the start of last week and whose "I Have a Dream" speech turns 55 this year.
"[King's] vision, that dream, is every bit as powerful today as it was 55 years ago, and school choice, the reason we are gathered here today, is the civil rights issue of the 21st century," Cruz said.
Get stories like these delivered straight to your inbox. Sign up for The 74 Newsletter