Cami Anderson: It's 'Back to School' Time, but Punitive Discipline May Be Driving Some Students Away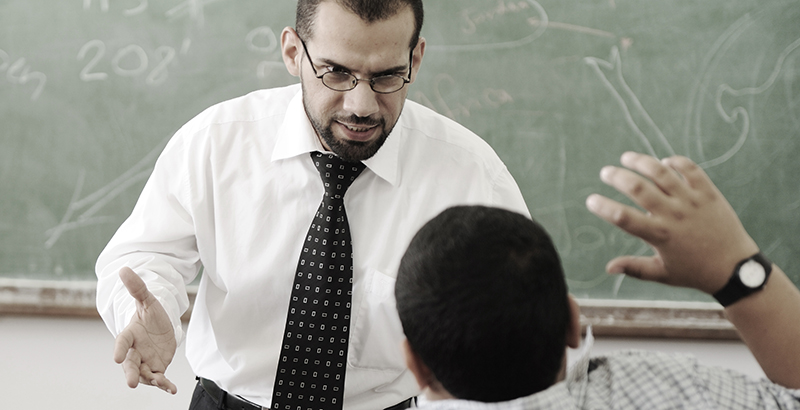 It's the time of year when we all hear a lot about kids going back to school. It is generally a time of great relief for lots of parents, excitement for educators looking to start fresh, and joy for kids who were bored over the summer.
But, having spent over two decades trying to close opportunity gaps for our most vulnerable students, I am literally pained wondering how many public school students we lost over the summer. Thousands of K-12 students across the country are attending a different school this year than they did last year — and almost 1 in 4 students in low-income urban and rural school systems. And there are many who haven't come back to school at all.
In Newark and in New York City's alternative District 79, where I served as superintendent, every year after the first week we tried to track down each and every student who hadn't come back, or was sporadically attending school in the first month. One pattern was hard to deny: A majority of students who didn't come back or who were not attending regularly had gotten into trouble in school, and were likely victims of extremely biased school discipline practices. Many of them — the ones most at risk of dropping out — had attended multiple schools in multiple years.
This sort of educational "mobility" has serious costs for kids, particularly poor kids. Students growing up with significant risk factors face long odds of staying in school and graduating, and research shows that kids do better when they form deep bonds with staff and engage in familiar rituals. It's critical for students to experience trust, stability, and predictability — which is why there is a strong correlation between student mobility and dropping out. Even when we tell ourselves that giving students a "fresh start" is good for them (though, obviously, being stuck in a failing school leads to worse long-term outcomes than moving), statistically, that often isn't the case.
Mobility has a lot of causes, and the reasons are notoriously hard to track. Some are beyond the power of schools to control. Poor families move more often than their wealthy peers. Families in the 21st century are increasingly complex, with kids living in shared custody, foster care, and/or kinship with adults zoned for different schools. Families with relatives overseas visit for long stretches over the summer and come back when they can afford to, not necessarily in alignment with the school calendar.
But here's an uncomfortable truth: A lot of kids who aren't in the same school this year as they were last year (or, worse, aren't in school at all) are gone because their old schools kicked them out or pushed them out, often as a result of discipline issues.
Overly punitive discipline policies have turned school into the first place where many black kids are systematically punished for the color of their skin. Black students are 3½ times as likely to be suspended from school as their white peers — often for the same behaviors other students get away with — and account for half of school-based arrests despite making up only 16 percent of public school enrollment. Students with disabilities and those who identify as LGBTQ are also disproportionately suspended.
Suspensions cost students thousands of hours of learning every year, often derailing their academic and economic futures. Students who have been suspended even once are three times as likely to be incarcerated later — generally, the first step toward a lifetime stuck in the revolving door of a dehumanizing criminal justice system. This is where the shameful school-to-prison pipeline starts.
It's time for educators and education leaders to shine a light on this long-ignored problem and start working to find solutions.
The good news is that some schools are already pioneering new, innovative practices, rooted in research, that point the way forward. Trainings can help educators understand and manage their unconscious biases. Teachers can help students learn social and emotional skills, like self-management and conflict de-escalation, just like any academic subject. Schools can support students to become leaders and develop healthy identities and relationships. Superintendents and principals can focus on hiring and retaining staff with the mindset and skills to build strong, inclusive classroom cultures. And they can introduce alternatives to suspensions, like restorative circles and in-classroom interventions, that hold students accountable for their behavior without shutting them out from school.
Also, some systems are becoming much more aggressive about pulling kids back to school, measuring mobility, and connecting with families. High-performing district and charter schools across the country are, literally, going door-to-door to make sure all students are in school and to gather firsthand feedback about how to stop conditions that made students stop coming. Leaders who conduct outreach and have the courage to really listen will find too many families and students give detailed descriptions of being encouraged not to come back to school, being sent home regularly, or flat-out told they are not welcome.
Our most vulnerable students have to overcome enormous educational obstacles before they even get to school. The last thing we should be doing is slamming the door in their faces once they arrive — or, worse, creating conditions that make it hard, if not impossible, to come back. The relationship among school mobility, biased discipline, and the loss of too many young people is an overlooked problem — and one that we can, and should, fix.
Cami Anderson, superintendent of Newark Public Schools from 2011 to 2015 and superintendent of alternative high schools in New York City (including the suspension centers and the schools on Rikers Island) from 2006 to 2015, is the founder of the Discipline Revolution Project, a coalition of education leaders working to find new approaches to school discipline.
Support The 74's year-end campaign. Make a tax-exempt donation now.