DeVos Déjà Vu: Battles on Vouchers, ESSA, Title IX Confront Ed Dept. Picks in Confirmation Hearing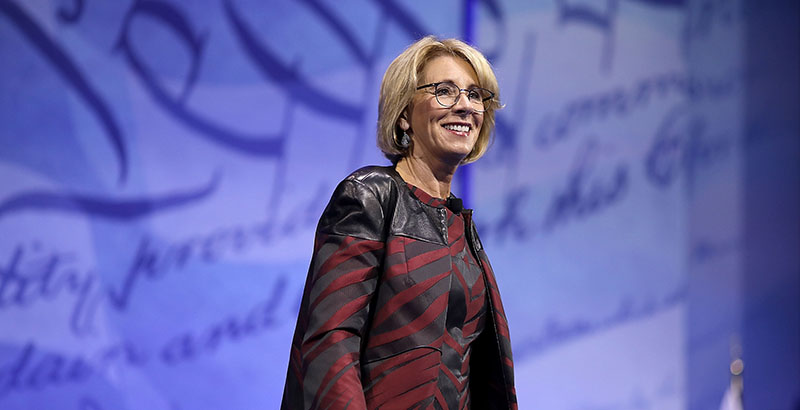 Washington, D.C.
The familiar battles that have surrounded Education Secretary Betsy DeVos since her own contentious confirmation — private school choice, implementation of the Every Student Succeeds Act, Title IX, and even guns — remained at the fore Wednesday afternoon as a Senate committee considered two top Education Department nominees.
The Senate Health, Education, Labor and Pensions Committee considered the nominations of retired Brig. Gen. Mitchell Zais to be deputy secretary and James Blew to be assistant secretary for planning, evaluation, and policy development.
Much of the focus stayed on those hot-button issues because — other than Chairman Lamar Alexander — no Republican asked any questions of Zais or Blew, or the two Labor Department nominees who also testified Wednesday.
Democrats zeroed in particularly on vouchers, which DeVos advocated both before becoming secretary and in her first budget proposal.
Zais, after a career in the Army, served as president of Newberry College, a Christian college in South Carolina, and for one term as state superintendent in South Carolina, an elected position. As the department's would-be No. 2, he got far more questions than Blew.
He was clear that his views on choice align with those of the Trump administration.
"The contentious issues in K-12 education are simple to me," he said, noting that he will always favor supporting students over systems.
"I believe that one size doesn't fit all in education and that low-income families deserve the same right that high-income families have always enjoyed, which is to choose a loving environment, which is a good fit for their child," he said.
Blew, who has led various education reform groups, most recently Student Success California, meanwhile, offered a "ringing endorsement" of the "limited but very important" role the federal government has in education, specifically enforcement of civil rights laws and assistance for low-income students and children with disabilities.
(LA School Report: What to Know About Jim Blew, the Los Angeles Education Advocate Who Was Just Nominated for High-Level Department of Education Post)
Democrats on the committee sparred with Zais and Blew over familiar voucher themes: whether evidence shows they work, and whether special education protections apply, a continuing source of rancor in DeVos's dealings on Capitol Hill.
Zais, in response to a question from Sen. Al Franken, said that "the result is improved outcomes" when parents are given a choice. Franken then cited a New York Times article that showed poor results from large voucher programs in Ohio, Florida, and Indiana. Zais said he wasn't aware of that research and conceded that his "improved outcomes" assessment was "anecdotal."
Blew, responding to questions from two senators, meanwhile, reiterated that schools that receive federal dollars must follow the Individuals with Disabilities Education Act. Democrats had pointed to a Florida scholarship program in which families with special needs children give up some legal rights under the law in exchange for tuition assistance.
Sen. Patty Murray, the committee's top Democrat, who led a narrowly unsuccessful attempt to block DeVos's confirmation, said that Congress didn't permit ESSA to be used to push vouchers on states.
"I'm going to work every day to make sure the department doesn't overreach on that area," she said.
She also reiterated her concerns that the Education Department was approving state accountability plans that don't comply with the law's guardrails designed to protect low-income students, children of color, and other historically underserved groups.
Zais said he's unaware of the specifics of any state plan approved that doesn't conform with the law, but he added that "I can assure you that if confirmed, I will work to ensure that the federal law, as specified in ESSA, is followed."
Alexander, too, focused on ESSA, but on his well-known concern that the Education Department shouldn't force its own edicts on states in violation of the underlying law.
He exacted a promise from Zais that he wouldn't overstep the law's boundaries.
"I understand absolutely the job of the secretary and the Department of Education is to ensure that state plans comply with the law — no more, no less," Zais said.
The issue of guns didn't touch on grizzly bears, as it did in much-mocked fashion during DeVos's January hearings. Instead, Sen. Chris Murphy of Connecticut asked whether Zais backed a South Carolina bill that would have required students to learn about the Second Amendment via a curriculum "developed or recommended by the National Rifle Association."
"It does not seem appropriate to me that any political group should be able to write curriculum for our nation's students," Murphy said.
Zais said he believes students should be familiar with the Second Amendment, but doesn't back an NRA-crafted curriculum and didn't support that bill.
Murray also asked about still-pending guidelines for how campuses should handle allegations of sexual assault under Title IX. DeVos earlier this fall revoked Obama-era rules.
"That lack of movement is particularly concerning as interim guidance appears inconsistent with previous guidance …" and seems to let schools off the hook for protecting survivors, Murray said.
Blew said he "hear[d] your impatience about the lack of movement" but said it would be inappropriate to comment on the process itself.
Both Blew and Zais said that sexual assault is unacceptable, and Zais said the department should promulgate clear guidance to help colleges adjudicate the issue.
The committee was also slated to consider the nomination of Timothy Kelly to be assistant secretary for career, technical, and adult education. The administration withdrew his nomination after finding Kelly's personal blog on which he had written posts offensive to Muslims, efforts to recruit women and girls into science careers, and Head Start parents, Education Week reported.
Besides DeVos, Peter Oppenheimer, assistant secretary for legislation and congressional affairs, is the only nominee confirmed by the full Senate. Three other nominees, in addition to Blew and Zais, are pending. The Trump Administration Wednesday evening announced the nomination of Johnny Collett to be assistant secretary for special education and rehabilitative services. Collett is currently the director of special education outcomes at the Council of Chief State School Officers.
An initially very slow pace for Education Department nominations  — at one point earlier this fall, leaving the department with the highest vacancy rate of any Cabinet-level agency — has picked up in recent months.
Get stories like these delivered straight to your inbox. Sign up for The 74 Newsletter