Senators Focus on Campus Sex Assault, Disabled Student Rights in Confirmation Hearing for Two Ed Dept. Nominees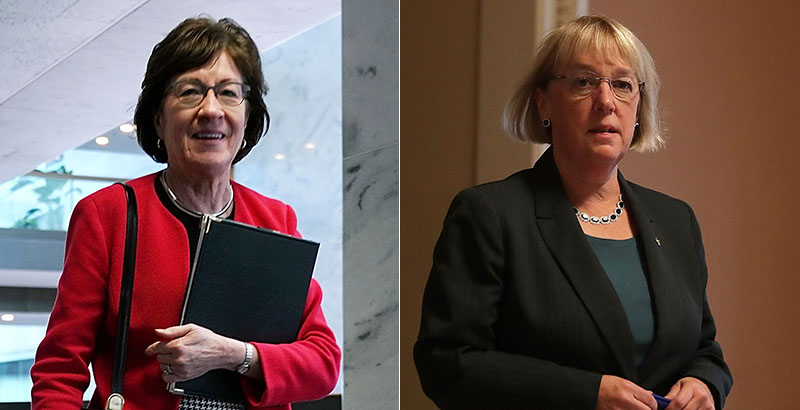 Washington, D.C.
Campus sexual assault, school discipline, special education, and school choice were, not surprisingly, the focus of senators' questioning Tuesday of two nominees who would lead the Education Department's oversight of civil rights and special education.
The Trump administration's primary changes in education policy this past year have been in civil rights, and President Donald Trump and Education Secretary Betsy DeVos have been vocal backers of private school choice.
The administration's revocation of Obama-era guidance setting standards for how colleges handle allegations of sexual assault was one of the first issues brought up at the Senate Health, Education, Labor and Pensions Committee's hearing on Kenneth Marcus to be assistant secretary for civil rights and Johnny Collett to be assistant secretary of special education and rehabilitative services.
The guidance, which was praised by women's rights groups, required colleges to weigh the truth of assault allegations at a lower standard of evidence. Conservatives and some legal scholars decried the new standard as detrimental to the due process rights of the accused, and noted that the Obama administration implemented it through a "Dear Colleague" letter rather than by Congress enacting a new law or through the formal federal rulemaking process.
Marcus, answering questions from ranking Democrat Patty Murray, said he supported withdrawing the guidance. Murray, who has been one of the Trump administration's chief counterweights on the issue, said doing so would make it less likely for victims to come forward.
"I am really concerned that the department is now sending a signal to schools that sexual assault will not be taken as serious[ly]," she said.
Later in their exchange, Marcus added, "I consider sexual assault on campus to be a matter of very great seriousness and one on which there should be clear law."
Sen. Lamar Alexander, the Republican chair of the committee, focused his questions on the procedural concerns around the rules, namely the lack of congressional action or federal rulemaking.
Marcus said he agreed with Alexander's assertion that such a change should be made through a formal rulemaking process, and that while there are situations where agencies like the Office for Civil Rights "have the discretion to issue guidance materials," those "do not change the law in any way."
Sen. Susan Collins, Republican of Maine, raised concerns about the delay in setting new rules. DeVos announced a change to the rules and revoked the old guidance in September, but the department has not yet announced how or when it will write new rules. It said colleges and universities, in the meantime, can decide on their own whether to hold the "preponderance of the evidence" standard the Obama administration required they use to prove accusations, or the "clear and convincing" evidentiary standard that is harder to meet.
"The problem is that no timetable for the regulatory process has been established. I think many of us are concerned about the legitimate criticisms of the guidance that have been raised by legal organizations, but it also is concerning that the process seems to be in limbo," Collins said.
Marcus said he wasn't privy to any internal conversations about a timetable for new regulations; Collins urged him to "make it a priority to get that going" once he is confirmed.
On a related issue, Marcus wouldn't pledge to continue publication of a list of colleges with open federal Title IX investigations, but did promise to listen to arguments for and against doing so. The Obama administration began publishing the list in 2014 in response to victim advocates who wanted more transparency around colleges and universities that were being scrutinized for mishandling allegations of campus sex assault. Colleges and universities said the list unfairly cast them in a negative light.
Senators also questioned Marcus about disparities in school discipline based on race and whether "disparate impact" — where there are different outcomes for students of one group even if there's no formal discriminatory policy — is a concern for the Office for Civil Rights.
Sen. Chris Murphy, Democrat of Connecticut, asked whether a school in which African-American students were disciplined at much higher rates, or faced harsher consequences for the same infractions, would merit investigation.
Very large disparities are grounds for investigation, but "my experience says that one needs to approach each complaint or compliance review with an open mind and a sense of fairness to find out what the answers are," Marcus said.
Marcus also agreed with a later assessment from Sen. Tim Kaine, Democrat of Virginia, that "widely disparate" statistics on discipline or another issue "should cause you to dig in further." Investigators should look deeper into the veracity of any "neutral explanation" offered for such a disparity, and then also consider whether another policy could be implemented to achieve the same goal without a disparate impact, Kaine added, summarizing their views.
Marcus's most contentious exchange came with Sen. Elizabeth Warren of Massachusetts, who questioned whether he would "commit to fully enforcing civil rights laws and protecting all students from discrimination and harassment."
Marcus said yes, but refused to commit to federal enforcement in hypotheticals Warren raised, including a district where majority-white schools have more experienced teachers and better supplies than majority-black schools, or a district that refuses to enroll students in kindergarten who can't prove their U.S. citizenship.
The first matched the details of an enforcement the Education Department took against Toledo, Ohio, last year, Warren said. The Supreme Court in the 1980s ruled that all students in the country, regardless of immigration status, may attend public K-12 schools.
"My position would be that I would want to ensure that the OCR enforces civil rights law to the maximum extent possible," within legal limitations, Marcus said, adding that in many of those cases, the Justice Department would be involved for enforcement, a scenario that is coordinated through the department's general counsel, not the Office for Civil Rights.
Marcus, who previously served in the Office for Civil Rights during the George W. Bush administration, founded the Louis D. Brandeis Center, which advocates for civil and human rights for Jewish people. Pro-Palestine groups have criticized Marcus for what they say are inappropriate and illegal efforts to conflate advocacy for Palestine with anti-Semitism.
A group of about half a dozen protesters sat silently in the hearing Tuesday, wearing keffiyeh, the black and white scarves that have come to symbolize Palestinian advocacy, and red tape over their mouths that read "Palestine."
Trump told Israeli and Arab leaders on Tuesday that he plans to recognize Jerusalem as the capital of Israel, The New York Times reported, a move that Arab and European leaders said could derail peace negotiations and possibly spark violence.
Testing, ESSA, vouchers at issue in special ed
Collett, who has served as a special educator and director of the Kentucky office for special education, got questions on how special education students would be treated under private school voucher programs, a question that has followed his would-be boss, DeVos.
Federal protections under the Individuals with Disabilities Education Act generally don't apply at private schools, and states are not always good at informing parents of those changes when they use publicly funded vouchers for their special needs children to attend private schools, a GAO report released last week said.
Collett, in answers to questions from Sen. Al Franken, Democrat of Minnesota, noted that the Education Department doesn't have the authority to require states share that information, but he said he would be "eager and open for the opportunity to talk to the secretary … and work with whomever to see how best the department should respond to this regulation."
Franken, who is facing a potential investigation by the Senate Ethics Committee after five women recently came forward to say he groped them, was not present Tuesday during most of the questions involving campus sex assault. It's not uncommon for senators to come and go during hearings. Franken had some of the most stinging exchanges with DeVos during her own confirmation hearing.
In answering questions from Sen. Maggie Hassan of New Hampshire, Collett said he wasn't in a position to speculate on state plans under the Every Student Succeeds Act that illegally group students with disabilities with other subgroups of students, possibly masking the performance of one group.
Get stories like these delivered straight to your inbox. Sign up for The 74 Newsletter