The Week Ahead in Education Politics: DeVos Testifying on Ed Funding, the House Talks Apprenticeships, Dems Eye School Safety & More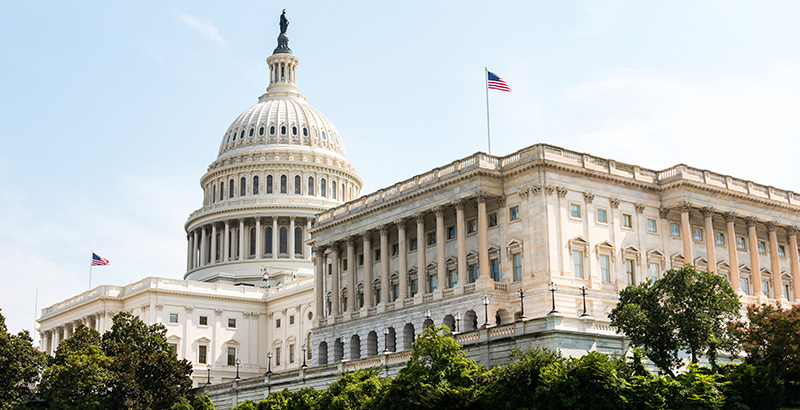 THIS WEEK IN EDUCATION POLITICS publishes most Saturdays. (See previous editions here.) You can get the preview delivered straight to your inbox by signing up for The 74 Newsletter; for rolling updates on federal education policy, follow Carolyn Phenicie on Twitter @cphenicie.
INBOX: FUNDING – The 'Groundhog Day' loop that is federal government funding returns this week.
Current allocations expire Friday, and after lawmakers reached a deal to raise the overall spending level for the next two years, Hill watchers are expecting a complete bill that funds the government for the rest of the year rather than another 11th-hour stopgap.
Though there is more money to go around, there are "substantial competing claims" for those same dollars, including biomedical research and veterans' health programs, David Reich, a senior fellow at the Center on Budget and Policy Priorities, said at a panel Friday.
Beyond tracking the usual marquee education programs, like Title I for low-income students and the grants that fund special education, education watchers will surely be looking to see if lawmakers increase funding for mental health programs, violence prevention, counselors, and school security upgrades in the wake of the Parkland, Florida, shooting.
Sen. Lamar Alexander said earlier this month that more money could be coming through Education Department grants known as Title II, which pay for teacher training and salaries, and Title IV, a catchall provision for school funding programs. Other funding could come through Department of Justice grants.
Also on the calendar: Education Secretary Betsy DeVos on Tuesday testifies before the House Appropriations Committee on the Trump administration's fiscal 2019 budget. Her testimony to House and Senate funding committees last year primarily revolved around her proposal for a private school choice program and whether participating private schools would have to honor civil rights protections for students, particularly those with disabilities or LGBT kids.
The administration this year asked for $1 billion in "opportunity grants" for private school scholarships even as it sought to cut the Education Department's budget by 5 percent overall. Presidential budgets are messaging documents generally, but particularly this year, when Congress is unlikely to adopt the administration's suggested reductions when it has agreed to a higher overall spending level.
MONDAY: CITY SCHOOLS — The Council of the Great City Schools, which represents the country's 70 largest school districts, holds its annual legislative conference in D.C. this week. Leaders will hear policy briefings on happenings on Capitol Hill and the Department of Education and will pay visits to congressional offices.
TUESDAY: SCHOOL SAFETY — Democrats on the House Education and the Workforce Committee and members of party leadership will hold a forum on school safety. Members will hear from "experts and practitioners on research and best practices around promoting improved school climate through evidence-based preventative measures," according to a release from members. The forum organizers have also invited DeVos to testify.
TUESDAY: APPRENTICESHIPS — The House Small Business Committee will hold a hearing on apprenticeship initiatives for small businesses. It's part of a series of hearings on "strategies to mitigate small business workforce challenges caused by the skills gap."
WEDNESDAY: INDIAN EDUCATION — The Senate Indian Affairs Committee looks at the fiscal 2019 budget proposal for Indian programs, which includes the Bureau of Indian Education. The administration proposed $741.9 million for the agency, some of which goes to management costs and postsecondary institutions. That would be $143.6 million less than current-year spending. It also proposed creating a public lands infrastructure fund to pay for sorely needed repairs at BIE schools as well as improvements to national parks and wildlife refuges.
THURSDAY: WEST VIRGINIA STRIKE — Teachers and labor union leaders from West Virginia, where educators held a successful nine-day strike to call for increased pay, will discuss their efforts in a panel discussion at the Center for American Progress. Teachers in other states are considering following suit.
Get stories like these delivered straight to your inbox. Sign up for The 74 Newsletter