By the Numbers: President Trump's 10 Biggest Proposed Cuts to U.S. Education, Ranked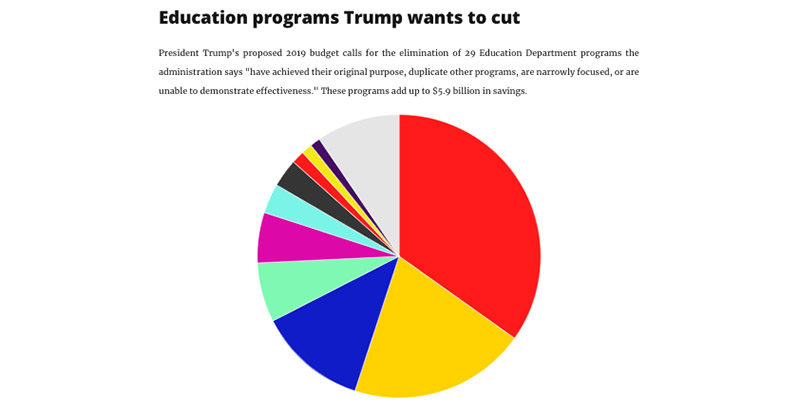 If a president's budget proposal is a roadmap for the commander-in-chief's priorities, the 2019 fiscal plan released Monday spells out some clear winners and losers in education.
While the budget overall proposes spending increases for key Trump campaign promises, such as expanding the military and immigration enforcement, the president's proposal looks to slash the Education Department's budget by more than 5 percent, cutting back the agency's $63.2 billion in discretionary funding by $3.6 billion. The Trump administration initially sought much steeper cuts — totaling $8 billion — but the administration released an addendum after Congress reached a two-year spending deal last week.
School choice proponents are the clear winner in Trump's 2019 spending plan, which aims to invest $1 billion in "opportunity grants" to create a private school voucher program. The request also includes $500 million in charter school funding, a $160 million increase in the federal government's current investment in the schools. STEM education would also get a boost from the budget proposal, which includes $200 million in grants for science, technology, engineering, and math programs.
"Quality education exists when parents have a voice in choosing their child's K-12 schools and students have the tools they need to succeed," the budget states. "Decades of investments and billions of dollars in spending have shown that an increase in funding does not guarantee high-quality education."
More broadly, however, the proposal looks to scale back federal investment in schools. Although the budget puts an emphasis on education to combat the opioid epidemic, the school climate grant program used as a vehicle to achieve those efforts is slashed from $67.5 million to $43 million.
Overall, the proposed cuts announced Monday are dwarfed in comparison to the president's goals last year, when Trump proposed gutting the Education Department by $9.2 billion. Congress, however, largely ignored his requests. Yet the budget offers insight into the president's thinking.
The plan released Monday would scale back, eliminate, or streamline 39 programs the administration says duplicate other programs, are ineffective, or would be "more appropriately supported" by state, local, or private funds. Of those, 29 would be eliminated outright. From the list of programs Trump hopes to scrap altogether, here are the top 10, based on budget amount, along with the administration's justification for the cuts:
1. Supporting Effective Instruction States Grants — $2,055,800,000
The program provides professional development opportunities to teachers and works to reduce class sizes. The program, the proposal argues, is "largely duplicative," since other federal funds can be used on professional development.
2. 21st Century Community Learning Centers — $1,191,700,000
This federal grant supports before-school, after-school, and summer school programs for nearly 2 million students. However, to justify the program's elimination, the budget says it struggles to improve student achievement since "just two-fifths of program participants attend on a regular basis."
3. Federal Supplemental Educational Opportunity Grants — $733,100,000
This program allows higher education institutions to provide students need-based aid. The Trump administration argues the program is a duplicate to Pell Grants and "its allocation formula is not targeted efficiently."
4. Student Support and Academic Enrichment Grants — $400,000,000
This federal block grant helps states provide a well-rounded education to students by improving school conditions and the use of technology. But the initiatives authorized under the program, the administration argues, "generally can be supported with funds from other sources," such as Title I grants.
5. Gaining Early Awareness and Readiness for Undergraduate Programs — $339,800,000
Commonly known as GEAR UP, the program helps low-income K-12 students prepare for college. The program, the administration argues, could be covered by federal TRIO programs, which support low-income, first-generation, or disabled college students, or through Title I grants.
6. Teacher and School Leader Incentive Grants — $200,000,000
This program provides funding for projects that develop performance-based pay in low-income schools, but the initiative, the budget proposal says, "has delivered limited evidence of improved teaching or learning."
7. Comprehensive Literacy Development Grants — $190,000,000
This program, which works to improve literacy instruction, "has limited impact," according to the budget proposal, and its activities could be supported by Title I.
8. Strengthening Institutions — $86,500,000
This program helps higher education institutions become self-sufficient but, according to the budget proposal, "duplicates activities that may be supported with other federal funds."
9. Promise Neighborhoods — $73,300,000
The program supports local partnerships to implement neighborhood-based plans to address the educational, health, and social service needs of low-income families. But previous recipients, according to the budget proposal, "have struggled to effectively implement all program components, improve outcomes across the broad range of program goals, and build sufficient capacity to maintain program beyond the initial 5-year grant period."
10. Impact Aid Payments for Federal Property — $68,800,000
This program provides assistance to local school districts that have lost a portion of their local tax base due to federal government land ownership. But the budget proposal argues that most districts have received payments for 40 years or more — "sufficient time to adjust to the removal of federal property from their tax rolls."
Get stories like these delivered straight to your inbox. Sign up for The 74 Newsletter