The Week Ahead in Education Politics: DeVos and Democrats Expected to Clash as Ed Secretary Testifies on Budget; Committees Look at Child Abuse Prevention, Apprenticeships & More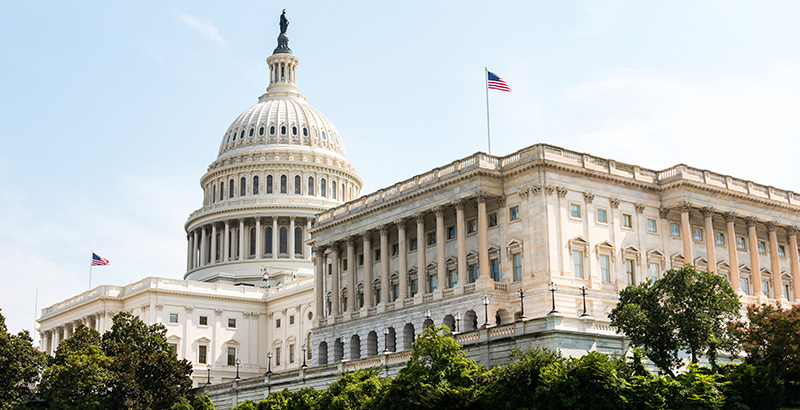 THIS WEEK IN EDUCATION POLITICS publishes most Saturdays. (See previous editions here.) You can get the preview delivered straight to your inbox by signing up for The 74 Newsletter; for rolling updates on federal education policy, follow Carolyn Phenicie on Twitter @cphenicie.
INBOX: DEVOS TO THE HILL — Education Secretary Betsy DeVos will testify on the administration's budget request before both the House and Senate this week.
She's clashed with Democrats in these hearings before. A brief rundown:
—In 2017, she battled with House Democrats over civil rights protections for students participating in a proposed voucher program. In the Senate, she similarly faced questions on civil rights protections, particularly for LGBT students, and on ESSA implementation.
—Last year was more of the same. She again went several rounds with members of the House Appropriations committee on protections for LGBT students and battled with them on school safety issues, while a hearing at the Education Committee turned to vouchers for military families and immigration enforcement at schools.
This year should be no different, with Democrats having already panned the administration's budget requests. The proposal, like the administration's last two, seeks deep cuts to long-standing Education Department programs and expansion of school choice initiatives. DeVos is set to appear at a House Appropriations subcommittee on Tuesday, and one in the Senate on Thursday.
ICYMI: WHITE HOUSE ON HIGHER ED — The White House put forward its priorities for the ongoing rewrite of the Higher Education Act, focusing on workforce needs.
Additionally, President Trump signed an executive order that will require colleges that receive federal research dollars to certify that they're upholding the First Amendment. The executive order also will require the Education Department to post more student earnings and loan default data on the College Scorecard, and to put together a report on "risk-sharing," the idea that colleges should be held financially responsible when graduates can't repay their loans.
MONDAY: PUBLIC SCHOOLS WEEK — The Learning First Alliance, an umbrella group of a dozen education groups, hosts Public Schools Week, including Capitol Hill events on protections for students with disabilities and church-state issues in education.
MONDAY: FREE SPEECH IN HIGHER ED — The Bipartisan Policy Center holds a panel discussion on free speech and intellectual diversity in higher education. The event is a kickoff of the group's Campus Free Expression Project.
TUESDAY: CHILD ABUSE PREVENTION — A House Education and Labor subcommittee holds a hearing on strengthening prevention and treatment of child abuse and neglect. A federal law, the Child Abuse Prevention and Treatment Act, is due for reauthorization; Sen. Lamar Alexander, chairman of the Senate Health, Education, Labor and Pensions Committee, has listed the reauthorization as among his priorities.
TUESDAY: CIVIC PARTICIPATION — The Thomas B. Fordham Institute holds the latest in its 20/20 speaker series, this one focused on schools' obligation to foster a sense of patriotism and why a good education means an open debate that challenges a person's ideas. William Damon of Stanford and Robert P. George of Princeton will speak.
TUESDAY: WORKERS' RIGHTS — The House Education and Labor Committee holds a hearing on protecting workers' rights and "the need for labor law reform." Several states passed laws in the run-up to the Janus decision last year to strengthen public sector union rights ahead of the Supreme Court's decision to end mandatory union dues.
WEDNESDAY: APPRENTICESHIPS — A House Education and Labor subcommittee holds a hearing on "innovations in expanding registered apprenticeship programs." Apprenticeships have been one of few policies with bipartisan support in recent years.
WEDNESDAY: BUDGET MEMBER DAY — The House Appropriations subcommittee opens a hearing for House Members to share their spending priorities in the Education, Labor and Health and Human Services departments.
Support The 74's year-end campaign. Make a tax-exempt donation now.