DeVos's School Safety Commission Will Be Just Cabinet Secretaries, Will Begin Work 'Within the Next Few Weeks,' She Tells Congress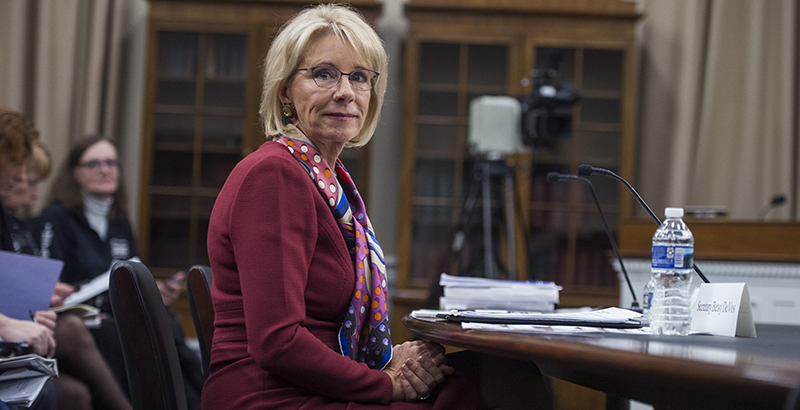 Washington, D.C.
Four cabinet secretaries — but no teachers or other interested school parties — will be part of President Donald Trump's new federal school safety commission that will begin hearings sometime soon, Education Secretary Betsy DeVos said Tuesday, as she called for more federal funding for school safety.
DeVos was testifying Tuesday morning to a subcommittee of the House Appropriations Committee just as news emerged of yet another school shooting, this one reportedly having injured two students at Great Mills High School in southern Maryland. The shooter was killed after a school resource officer fired at him, though as of Tuesday evening it wasn't clear whether the officer killed him or he was struck by his own bullet.
After calls for action — much of it coming from the student survivors of the February 14 Parkland, Florida, school massacre — the White House announced earlier this month that DeVos will chair a school safety commission. The group will study several issues, including raising the age to buy guns, a ratings system for violent video games, and best practices for campus safety.
DeVos said that she, Attorney General Jeff Sessions, Health and Human Services Secretary Alex Acosta, and Homeland Security Secretary Kirstjen Nielsen will be the only members of the task force.
They will be hearing from "a wide variety of experts," DeVos said, and the first meeting will take place "within the next few weeks." The commission has a "very keen sense of urgency," DeVos said, but she wouldn't give a timeline on when it would wrap its work and make any recommendations.
Rep. Katherine Clark, Democrat of Massachusetts, who asked about the specifics of the commission, was clearly skeptical of DeVos's pledge of urgency given that it had not started meeting yet and would include only four cabinet members on the panel.
DeVos had said earlier this month that "a wide array of practitioners," including teachers, would be on the commission.
DeVos was called to testify on her fiscal 2019 budget proposal, even as lawmakers and Hill-watchers are awaiting a $1.2 trillion spending bill that would fund the entire federal government for the rest of the current fiscal year. The government will be facing its third shutdown of the year if lawmakers can't come to terms on a spending package by the Friday deadline.
Though Rep. Rosa DeLauro of Connecticut, the subcommittee's ranking Democrat, in her opening statement raised "serious concerns" about reports that DeVos wants to eliminate her department's budget office, the secretary got no questions on the issue.
On school safety, many members' questions focused on DeVos's proposed elimination of what's known as Title IV, a $400 million flexible grant program that could be used to pay for mental health services, school counselors, and violence prevention programs. The administration's 2019 spending proposal budget would cut 5 percent from the Education Department's budget overall.
DeVos reiterated that the budget proposal was prepared and presented before the shooting at Marjory Stoneman Douglas High School and the original cuts shouldn't necessarily stand.
"As you know, this budget was presented several months ago. Our current scenario suggests that we should revisit this again, and I would welcome Congress's doing so," DeVos said.
In her opening statement, DeVos said schools must have resources for counselors, safety infrastructure, and violence prevention programs.
"We owe the victims of school violence nothing less," she said.
DeVos wouldn't take a specific stance on whether the minimum age of purchase for so-called long guns should be raised from 18 to 21, but it is one of the issues the school safety commission will examine.
She also wouldn't commit to an idea from DeLauro that there be a prohibition on federal funding going to training teachers to carry weapons on campus, one of the primary proposals Trump has offered in response to the Parkland shooting. There is widespread opposition from parents and teachers, and DeVos supports local control of education issues, DeLauro said.
DeVos said it is "an important discussion and important consideration" and "in addition to many other factors that play into a culture of violence that I think we can all agree has taken root in our country. There are many issues to be addressed here."
The secretary, who supports allowing districts to arm teachers, was also asked about her much-pilloried comment during her confirmation hearing about some schools needing guns to protect against "potential grizzlies."
"If I had it to do over today I probably would've used a different example," she told Rep. Mark Pocan, Democrat of Wisconsin.
The broader point, she said, is that if there are guns in schools, they need to be in the hands of the "right people."
Although Democrats scoffed at DeVos's seeming reluctance to commit to specific gun control positions, Rep. John Moolenaar, Republican of Michigan, DeVos's home state, said it's good that the education secretary, as head of the committee, hasn't yet made up her mind. It wouldn't make much sense to have a commission investigate those issues if she already had solidly formed opinions, he added.
Besides the school safety commission and specific gun control provisions, many of the members' questions focused on a 2014 Obama administration document aimed at reducing suspensions and expulsions of students of color. Republicans have tied it to the Parkland shooting, and it was the focus of a simultaneous House Judiciary committee meeting.
Civil rights and private school choice
Democrats also raised, as they did last year, the subject of civil rights protections for students attending private schools under various voucher and private choice programs. The administration's 2019 budget proposes $1.1 billion for private and public school choice programs.
Rep. Nita Lowey of New York, the ranking Democrat on the full Appropriations Committee, asked what response, if any, DeVos had to a November government watchdog report recommending that parents of students with disabilities get better information about the protections they give up when attending private school.
DeVos and Lowey talked in circles around each other about the appropriate federal role, given that the Individuals with Disabilities Education Act is the federal law that offers protections, but the participating students studied by the Government Accountability Office used state-funded voucher programs.
"I agree with you that parents should have information and should have the fullest amount of information when making a decision for their child with a disability, but it is a state matter and a state issue," DeVos said.
If there are ways Congress can clarify the law to change the Education Department's duties in sharing information with parents, lawmakers should address that, she added later in response to a question from another member.
DeVos also got into a back-and-forth with Clark, as she did last year, about the protections for LGBT students in private school voucher programs. Where federal dollars flow, federal civil rights laws follow, the secretary said.
There are no federal laws explicitly protecting LGBT students, and the Trump administration did away with guidance that applied Title IX protections banning discrimination based on sex to transgender students.
Get stories like these delivered straight to your inbox. Sign up for The 74 Newsletter