Even Before the Supreme Court Ruled Against Mandatory Union Dues, 7 States Moved to Protect Unions. But Will Those New Laws Stand?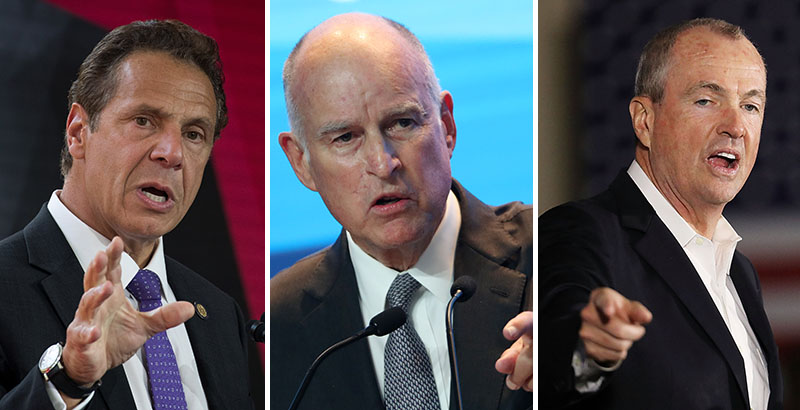 Anticipating a landmark Supreme Court decision with the potential to erode public-sector unions' status and influence across the country, Democratic lawmakers this spring began preemptively enacting new laws designed to help labor groups maintain their members and ensuing monetary clout.
The new laws, passed in a handful of staunchly liberal states in early 2018, generally fall into a few similar categories: giving unions greater access to employees through mandatory orientations or by providing workers' contact information; providing for automatic dues collection; or limiting the window during which employees can revoke their union membership.
The Supreme Court ultimately ruled in late June in Janus v. AFSCME that dissenting employees cannot be forced under the First Amendment to pay any dues to public-sector unions, even to support collective bargaining and other shared benefits. The 5-4 decision handed down June 27 was both avidly watched and widely expected.
New York lawmakers passed, and Democratic Gov. Andrew Cuomo signed, a law in April that permits unions to meet with employees during work time, requires employers to share employee contact information with unions, and allows unions not to provide certain benefits, such as professional development or some counseling and training programs, to non-members.
A press release from Cuomo's office directly linked the new law to the Janus ruling, and, in a speech, the Democratic governor now seeking a second term tied the decision to a litany of conservative federal policies under President Donald Trump, from the tax reform bill to limitations on immigration.
"Too often, and at the hands of this federal administration, we are seeing the labor movement going backwards. Our efforts to protect working men and women are moving labor forward, making the workplace fairer and more just than ever before," said Cuomo, who called New York "the most heavily unionized state in the nation."
Laws giving more protections to public-sector unions passed in at least six other states in the last legislative session: New Jersey, California, Maryland, Delaware, Hawaii, and Washington state.
The money and power public-sector unions derive from their large memberships and captive dues revenue have been a boon to the political successes of Democrats across the country. Many progressives believe the real goal of the Janus case was not lofty First Amendment considerations, but an effort by big-moneyed conservative donors to rein in that political clout.
In education, some reformers have seen teachers unions as both an ally in helping boost school spending and an impediment to implementing policies that could benefit children, like expanded charter schools or tenure reform.
"If we go in a post-Janus world to a place where there are no longer agency fees that would ensure that workers pay for the benefits and protections they receive, it is important that workers know what their unions do, the protections they have as union members, and are put in contact with unions and make it easy for them to join and have their voices be heard," Alex Rowell, an economic policy analyst at the liberal Center for American Progress, told The 74.
CAP issued a paper just after the decision, advising state lawmakers on how best to protect unions as a result of Janus, including recommending many of the same remedies states have already adopted.
AFSCME, the union that lost the case, and the American Federation of Teachers are donors to CAP. CAP and The 74 also share some contributors.
Democrats in Congress have also introduced a bill that they say would guarantee public employees the right to organize and collectively bargain over wages, hours, and other conditions of employment; it is sure to go nowhere while Republicans retain control.
Conservatives have blasted the state-level laws as enacting unfair hurdles for dissenting employees who want to leave the union.
"Instead of leaning into the voluntary unionism and saying 'Hey, you know what, let's make our union representation so great that people want to voluntarily pay for it,' they've gone the other way and said, 'How can we stop people from exercising their First Amendment rights,' " Patrick Semmens, vice president for public information at the National Right to Work Legal Defense Foundation, told The 74. The foundation represented Janus.
Many of those new laws are sure to face challenges in the wake of the Janus ruling, particularly after the court also ruled that employees must affirmatively choose to join unions, rather than requiring dissenters to opt out, which is how it works now in several states. Several of the state laws have clauses that would allow the rest of the legislation to stand if one portion is ultimately overturned.
"I think the Janus ruling went further than most observers expected, and it definitely calls into question the legality of some of the laws that are trying to trap public employees into paying," Vinnie Vernuccio, a senior fellow at the conservative Mackinac Center, told The 74.
New Jersey Gov. Phil Murphy, who in May signed a law expanding unions' access to workers, said in a statement that some provisions may be in conflict with an eventual Janus ruling.
"In the event that appropriate clarifying amendments are necessary following the Supreme Court's decision, I will work closely with the sponsors to enact any required changes," he said in a statement.
Lawsuits are already percolating through the courts based on the Supreme Court ruling: At least one group of teachers is suing for restitution of dues they've already paid. That group of California educators is led by Rebecca Friedrichs, the plaintiff in a similar lawsuit in 2016 that ended in a draw after the death of Justice Antonin Scalia.
To be sure, there have also been anti-union bills proposed and passed during the same time period in several states.
Several would have prohibited automatic deduction of union dues from employees' paychecks; others would have required employers to hold elections to recertify union representation or banned public-sector unions from using union dues for "partisan" activities, including lobbying and voter registration drives.
And Iowa lawmakers in early 2017 passed a law that limited the scope of what public-sector unions could bargain for to just wages, with some other exceptions for police and firefighters.
Immediately after the ruling, conservative groups began a concerted campaign to tell employees they no longer have to be union members, Bloomberg reported.
Unions have vowed to fight those efforts. National Education Association President Lily Eskelsen García in an interview with Education Week said the national union will help state affiliates with a "defense against the dark arts" campaign.
Some states already aimed to limit those groups' access to employees; in California, the dates and locations of union orientations cannot be revealed publicly.
Cuomo signed an executive order prohibiting disclosure of New York public employees' contact information; he also said more laws might be necessary.
"In New York, we say no way, no how to union busting. New York is a union state, and as long as I am governor of the state of New York, we will do everything in our power to protect union members and ensure the labor movement continues to deliver on the promise of the American dream," he said.
Other states' union protection efforts include:
● California: An addendum to the 2018 budget bill prohibits disclosure of the time and place of new employee union orientations, requires unions rather than employers to collect union enrollment or cancellation forms, and mandates that employers confer with unions on any communications about the Janus decision or union membership. It passed in June 2018 and followed rules in 2017 that required employers to provide unions with employees' contact information and give them the regular opportunity to meet with new employees.
● Delaware: A law passed in March would let unions set the terms under which employees could end automatic dues payments; if they don't do so, the term would automatically be the period 15 to 30 days before the employee's work anniversary date.
● Hawaii: A new law would require employees who no longer want dues automatically deducted from their paychecks to notify unions within 30 days of the anniversary of the first deduction; the unions would then notify employers.
● Maryland: Two separate laws, one covering teachers and the other covering public university employees and other state workers, require unions to have access to new employee orientations and mandate that employers provide unions with employees' contact information, passed in spring 2018.
● New Jersey: The "Workplace Democracy Enhancement Act" allows unions to meet with new employees, requires employers to turn over employees' contact information, and requires employers who discourage employees from joining a union or encourage them to quit a union to reimburse the union for lost dues.
● Washington: The legislature passed, and Gov. Jay Inslee signed, bills that would provide for automatic dues deduction and union access to new employees.
Disclosure: The Bill & Melinda Gates Foundation, Carnegie Corporation of New York, Walton Family Foundation, Bloomberg Philanthropies, and the California Community Foundation provide financial support to the Center for American Progress and The 74.
Get stories like these delivered straight to your inbox. Sign up for The 74 Newsletter