Trump Proposes New School Choice Investments, 10 Percent Cut to Other Education Spending in Budget That Echoes Those Congress Has Twice Rejected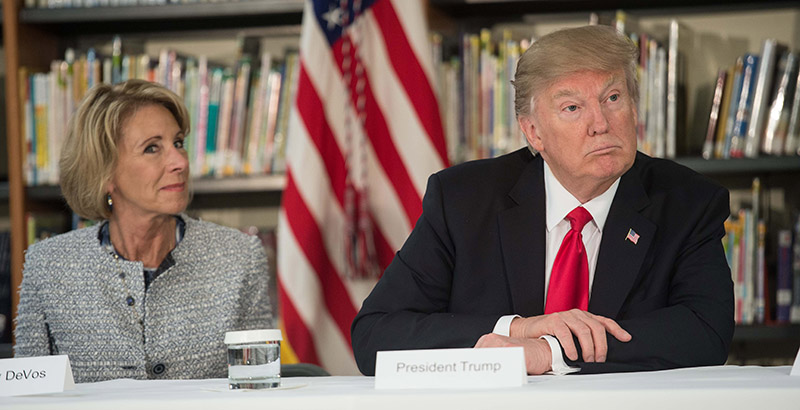 The Trump administration Monday put forward a budget that would make new investments in choice and school safety programs, even as it looks to cut funding by 10 percent — proposals that have gone nowhere in the last two budget requests.
The department is seeking level funding for major K-12 programs, and elimination of those that it has sought to cut the last two years, including funding for afterschool programs and teacher training. Overall, the administration is asking for $64 billion in discretionary funding for the department, a reduction of $7.1 billion from the current fiscal year.
Every president's budget proposal is an inherently political document that is often largely ignored by Congress; Trump's is doubly so with Democrats in control of the House. Lawmakers have not agreed to any of the large-scale cuts to education spending that Trump has sought.
"I've got to acknowledge up front that Congress and the administration have not been synced up, or on the same page, around the total funding number for the department," Jim Blew, assistant secretary for planning, evaluation, and policy, said on a call with reporters Monday.
The cuts for education programs are "based on a desire to have some fiscal discipline and to address some higher-priority needs" elsewhere in government, he added.
Rep. Nita Lowey, the chair of the House Appropriations Committee, in a press release called the overall budget, which also includes a request for additional funding for the border wall, "even more untethered from reality" than the last two, and said it has "no chance of garnering the necessary bipartisan support to become law."
On choice, the administration is seeking $500 million for the federal Charter School Program, an increase of $60 million. The department also seeks to increase the amount of Title I funding states can set aside to support public school choice; officials highlighted efforts in several states to provide online course access.
Many of the administration's biggest asks for school choice — including doubling the D.C. Opportunity Scholarship program and creating a $5 billion federal tax credit proposal — are part of other departments' budgets.
At the K-12 level, the department requested to keep marquee programs at current funding levels, including Title I grants for low-income schools ($15.9 billion), Individuals with Disabilities Education Act grants ($12.4 billion), Impact Aid for schools that educate federally connected children ($1.3 billion), and career and technical education ($1.3 billion).
The largest proposed cuts to K-12 are repeats from past years' budget proposals: Title II grants for teacher salary and training, 21st Century Learning Center afterschool programs, and Title IV grants under the Every Student Succeeds Act that provide for everything from arts education to technology.
"We find those programs to be either ineffective, duplicative of other activities, or better funded by state and local government," Blew said.
Despite frequent requests to eliminate the programs, Congress has continued funding them and, in the case of the Title IV grants, dramatically increased funding, which can be used for mental health and school safety initiatives. It gave $400 million for the grants in fiscal 2017, then increased it to $1.1 billion in fiscal 2018 and $1.2 billion in the current year.
Other, smaller programs the department seeks to eliminate include Alaska Native and Native Hawaiian education, the Special Olympics, gifted education, arts, and history and civics.
Besides choice, the administration's other big funding increase requests come in the areas of school safety and professional development.
On school safety, the department asked for $200 million for School Safety National Activities, an increase of $105 million from the current year, to fund emergency planning, counseling and emotional support, and behavioral improvement programs.
The funding wouldn't be tied to arming teachers, Blew said. The Trump administration has supported doing so as an effort to combat school shootings, and it reportedly considered allowing schools to buy guns and train teachers with federal dollars.
For professional development, the department asked for $300 million for education innovation and research, an increase of $170 million. It would fund, among other things, a competitive grant program that would give teachers stipends to select their own training options.
"Teachers are generally very unhappy with professional development in their districts right now," Blew said, adding that Education Secretary Betsy DeVos often hears those complaints from educators.
This program, if adopted, would "rigorously evaluate" the use of those stipends, sometimes also called teacher vouchers or teacher wallets, Blew said.
The department also asked for level funding of the $200 million teacher and school leader incentive program, with $110 million going to mentoring programs, a new use, and increased compensation for highly effective teachers, particularly in the STEM fields.
Get stories like these delivered straight to your inbox. Sign up for The 74 Newsletter